Education Action: Toronto
Online Clearing House
February 25, 2014
---
Nigel Barriffe's Candidacy
The Staying Power of Ontario's Deficit Games
Tackling Ontario's Public Services Deficit
Can Ontario Get Child Care?
Austerity U: Preparing Students for Precarious Lives
The Financial Facts at the

TDSB


An Ontario Village loses its Library and possibly its School
Special Education's Place in Ontario's Streaming System
The "Standards" Assault on American Education
---
Dear Friends,

It's not usual for us to ask you to participate in a particular election campaign. But with Nigel Barriffe's candidacy for the provincial

NDP

this year in Etobicoke North (right there at the centre of Ford Nation) this seems like a very good moment to make an exception.

Nigel needs canvassers to help him reach out to the community – now and after the election. And he needs people to spread the word as well as donations to help fund his campaign. So please go to his website, sign up for the list-serve, and provide your views at nigelbarriffe.com. His campaign can be reached through email at nigelbarriffe@ontariondp.ca and by phone at 647-797-3993. You won't regret your support. He's a remarkable candidate.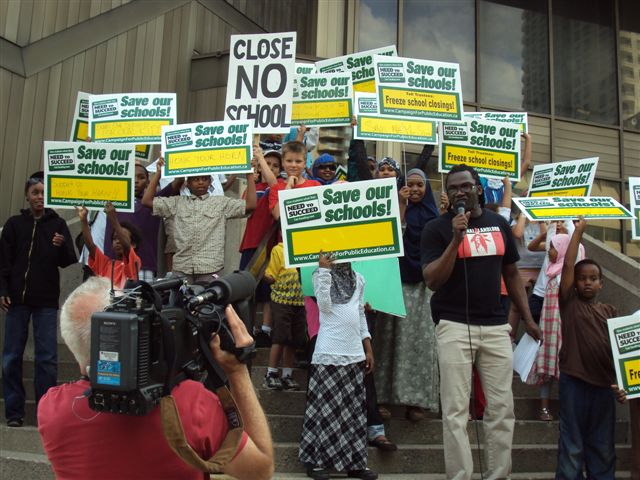 Nigel Barriffe speaking to a combined demonstration at the Toronto District School Board to stop school closings and to support the Queen's Plate Drive community in recovering their neighbourhood school.
From the beginning of Education Action: Toronto, Nigel has chaired our branch in Etobicoke North (centred in Rexdale), where he grew up and where he works as an elementary school teacher. Throughout these years, he's been an extraordinary community organizer and a powerful spokesman for the area's citizens – mostly working people, many of them newcomers to Canada. He has been at the centre of an educational reform movement in Rexdale – from resisting school closures and education cutbacks to supporting its many immigrant communities in their concern for a more relevant curriculum, authentic evaluation and an end to the streaming of schoolchildren by race and social class.

Nigel plays an important role in Toronto's elementary teachers' union, where he has worked hard for stronger community outreach and deeper democratization for rank-and-file teachers. On a broader front, he's taken leadership on a wide spectrum of educational and social justice issues: He is the Board Chair for Educational Attainment West, Board member of the Urban Alliance on Race Relations, and a member of the Good Jobs For All Coalition and chaired its last conference on Good Green Jobs. He is on the Anti-Poverty Community Organizing and Learning (

APCOL

) Steering Committee, participates in a number of community-based environmental initiatives, is a former Co-Chair of the African Heritage Educators' Network (

AHEN

), and is currently the Treasurer of the Ontario Alliance of Black School Educators (

ONABSE

). His efforts have been recognized through a number of community service awards including the 2011 Urban Heroes Award and the 2012 J.S. Woodsworth Award. He has coached many Rexdale community sports teams, including the Rexdale Women's soccer team, which won the bronze in the Canadian National Championships in 2000.

It's clear he's a great candidate, who is going to stand up for the right things.

But more importantly, Nigel brings two essential policy commitments to his future work as an

MPP

and they are the main reasons why we are asking you to support his candidacy.

The first is Nigel's commitment to democratize the

NDP

– to work hard, with similarly minded

NDP

ers, to bring the party's constituency organizations and local memberships (expanded by a strong organizing effort) into the heart of party policy-making, so that the resultant policies have real substance with solid grassroots support. A great many

NDP

ers are deeply embarrassed by the party's avoidance of leadership on anything that might make a real difference in the lives of working people. It is next to impossible to believe, for example, that the party can't find a way to support a $14 minimum wage – a position supported by almost every progressive organization in the province. Or that it has nothing substantial to say about pension reform or public transit. Or that it has no economic strategy for the province. Or that in education there is no longer a party platform in support of desperately needed changes; there's not even a set of education policy papers available.

Overall, as so many of us know first hand, the Ontario

NDP

is largely an open-ended shell of an organization and most of its members are not a bit happy about it. The good news, however, is that the party can be taken in a progressive direction by a broad coalition of community activists, unionists, and concerned citizens, building their base at the constituency level. If we put our minds to it. Teachers, education workers and engaged parents could play a very important role in such a coalition. And Etobicoke North, right now, is a great place to start such organizing – offering one important arena to help recreate a party that will have a positive impact on the lives of Ontario's working people. A victory in Etobicoke North will also send a strong message that the austerity and union-busting policies of the current Liberal government (which we saw in Bill 115) – not to mention those of Tim Hudak – will find increasingly powerful resistance.

Secondly, as an

MPP

, Nigel is committed to making his campaign theme – "Building Home in Etobicoke North" – a reality on the ground. He looks forward to helping develop a powerful community organization in Etobicoke North – perhaps a genuinely representative Community Council – that will take on key issues for the area and make sure the community perspective reaches into all levels of government – federal, provincial, municipal and school board. Such an organization would not only press for broad policy reform at these levels but would also fight to bring significant power back to local communities– in school councils, in hospital boards, in planning departments, in environmental agencies, in industrial initiatives, in union and community organizing, in parks and recreation, etc. This kind of community building is essential for the development of broader social movements or political parties. Without this popular base – taking on the power of our great corporations – progressive measures initiated at more distant levels of government will end up being co-opted, undercut or simply abandoned.

The leading edge of neo-liberalism is, of course, the "austerity" agenda – the current regime of social service spending cuts (now front and centre in education) running parallel with revenue cuts through tax breaks for the rich and the corporations. What follows in this Clearing House are a number of pieces focused on the "austerity" agenda that Nigel, and others like him at Queen's Park, are going to have to tackle directly.

We begin with two blogs by Hugh Mackenzie (produced for the Canadian Centre for Policy Alternatives). They first show how the Ontario government has pumped up its deficit projections to justify further spending cuts and then propose a more progressive tax system instead and a better use for the money it brings in. Donald Hughes then returns us to the issue of Ontario's underfunded childcare system and argues that there is a lot more work for the

NDP

to do on this issue. Next, Alan Sears and James Cairns take us into the world of university cutbacks and the complex issues of resistance in campus politics. This is followed by two very useful documents on the finances of the Toronto District School Board, passed on to us by Trustee Chris Glover. In these documents one figure really stands out: from 2009-10 to 2013-14 the

TDSB

was required to reduce its budget by roughly $40 million a year. Only in this coming election year has this figure been significantly reduced. Finally, on the "austerity" front, Samantha Craggs reminds us how small communities in Ontario are being consistently hammered by provincial cutbacks – in this case the village of Millbrook losing its library and now likely its elementary school.

The neo-liberal agenda in our schools consists, of course, in a lot more than continuing cutbacks and the related pressure to privatize. There is also a direct assault on working-class children, particularly those who are poor or racialized or differently gendered. It's rooted in the province's "expectations" curriculum, in its standardized testing, and in the expansion of its official profiling. But where the rubber really hits the road is the province's streaming system. In this particular struggle, we're very pleased to be able to introduce a reworking of an older Our Schools/Our Selves book now entitled Restacking the Deck: Streaming by Class, Race and Gender in Ontario Schools. It's a collection of integrated essays by six writers you've already been introduced to in this Clearing House – David Clandfield, Bruce Curtis, Grace-Edward Galabuzi, Alison Gaymes San Vicente, David Livingstone and Harry Smaller. You can order a copy from its publisher, the Canadian Centre for Policy Alternatives (see the ad on the side). You can also go to the

CCPA

's website (policyalternatives.ca) to read and download David Clandfield's chapter from the book on "Special Education and Streaming."


Finally, it's important that we keep abreast of what is happening with the neo-liberal agenda south of the border. Because what happens there can cross over into Canada in a breathtakingly short time. The article we're attaching (from Rethinking Schools) is by Stan Karp, one of America's leading educational analysts, who focuses on the most recent corporate initiative in his country: a nation-wide intensification of standardized testing called the "Common Core State Standards" (

CCSS

). Karp not only outlines the increased destructiveness of this initiative, he reminds us that it is part and parcel of the broader corporate assault on public education with an end to creating "a market-based, non-unionized, privately managed system."

Don't forget: Back issues of Education Action: Toronto's Clearing House can be found on our website: educationactiontoronto.com. And, if you know anyone or any group who might be interested in receiving articles from us, please send us along their emails.


In solidarity,

George Martell, David Clandfield, Faduma Mohamed
Education Action: Toronto
---
The Staying Power
Of Ontario's Deficit Games
Hugh Mackenzie

Six years after the global recession plunged governments the world over into fiscal deficit mode, Ontario remains mired in deficit scare tactics engineered by the previous McGuinty government.

In its waning years, the McGuinty government invested heavily in creating an atmosphere of fiscal crisis in Ontario. The objective was to push the reset button on an exercise in public services rebuilding that had outpaced the tolerance of the Liberals' more conservative backers.

The government, led by its Minister of Finance Dwight Duncan, seized upon the downturn in revenue caused by the 2008-09 recession. It argued expenditures were out of control and the province was saddled with a structural deficit that could only be addressed by cutting public services and by going after public sector unions.

To put it simply, before Ontario had begun to recover from the deepest global economic recession since the 1930s, the government declared that the obvious was not true – the deficit was not cyclical – and set out to scare Ontarians into accepting austerity as the only viable response.


---
Tackling Ontario's
Public Services Deficit
Hugh Mackenzie

… Looking forward, it is essential that Ontario consider all of the options available to rebuild the province's capacity to pay for public services.

The personal income tax – Ontario's only truly progressive revenue source – could be made more progressive and generate more revenue by creating new higher marginal tax brackets at the top of the income scale.

Increasing the marginal tax on the richest 1% by simply one percentage point could yield up to $250 million in additional revenue.

Doing the same for the richest 10% could expand potential additional revenue by $640 million.

Doing so would also have a redistributive effect on Ontario's growing income inequality problem.

Ontario could also lead a national debate on tax loopholes that cost the province and the federal government billions…


---
Can Ontario Get Childcare?


Donald Hughes

At the recent Conservative convention in Calgary, Stephen Harper referred back to one of his first acts as Prime Minister, which was to demolish the national childcare framework. Harper referred to the childcare program as "lobbyists, academics and bureaucrats" and suggested that now the money (in the form of a small tax credit) was in the hands of "Mom and Dad."

Harper seemed fairly confident that the popular publicly-funded child care program in Quebec could be contained to that province, and that the federal government wouldn't play much of a role in child care policy for the foreseeable future.

Despite Harper's confidence, there's a real opportunity for the labour movement, the women's movement and other justice-oriented social movements – especially in my own province of Ontario – to push forward on child care and build an affordable non-profit model that meets people's needs.


---
Austerity U: Preparing
Students for Precarious Lives
Alan Sears and James Cairns

…Students graduate from university with a legitimate expectation of a somewhat better life than they might have had otherwise. Many take on debt and work grueling jobs in order to pay the high costs of school on the assumption that they're doing what needs to be done in order to survive after graduation. But increasing numbers of graduates are facing brutal conditions: high unemployment among younger workers, the disappearance of well–paying, stable jobs, a lack of social programmes, and ever-increasing expenses for housing and other necessities.

Governments, business leaders, and their supporters in the media are blaming universities for these problems, arguing that post-secondary education is simply not preparing students for the real world. A recent column in the Globe and Mail was headlined: "Student debt crisis? No, expectations crisis." Its author routinely accuses universities of offering irrelevant degrees and students of foolishly enrolling in irrelevant programs, depriving themselves of the skills necessary to compete on today's job market. Yet, with the possible exception of a quite limited number of skilled trades jobs, there is simply no basis for claiming that there is an actual skills shortage among university graduates seeking employment.

The real shortage is good jobs. The real culprit is corporations and governments that have spent the last 30 years gutting the workplace, wiping out jobs with some degree of security, decent pay and benefits, and replacing them with various forms of precarious employment. It is common to hear students talk about having to work unpaid internships in order even to be considered for entry-level paid positions. They are keen and capable; it's the opportunities for well-compensated work that are missing.

Yet from the point of view of employers and governments, the problem is not a lack of decent jobs available to young people but the hopeful attitudes of students and recent graduates. The key to preparing students for the real world they face upon graduation would be to shatter their expectations of a decent life by teaching disentitlement either openly in the curriculum (for example, through entrepreneurship education) or through the structure of the system (for example, through user pay, sharp tuition increases, and ever-expanding class sizes)…


---
Financial Facts: Revenue
& Expenditure Trends
Toronto District School Board

Every day, we welcome more than 232,000 students and 160,000 life-long learners at 588 buildings across the Toronto District School Board (

TDSB

). More than 40% of our graduates rank as Ontario Scholars and more than 80% of

TDSB

graduates go on to university or college. Nearly a quarter of our students were born outside of Canada and more than 100 languages are spoken within our school communities. Our focus is to ensure that each student has the support needed to be a successful, confident, and engaged learner and citizen. It is important to us that everyone feels welcome and respected when they enter a

TDSB

school.

We are committed to the effective use of resources and we are proud to be part of an inclusive public education system that values innovation in reaching every student.

This document presents the

TDSB

's financial information from 2009-10 to 2013-14. It focuses on the Board's key expenditure areas and identifies major operating costs. The basis of the data presented in the tables is taken from the Board's audited financial statements and budget projections for 2013-14.


---
This Village is Losing its Library
– and Now Possibly its School
Samantha Craggs

School supporters were surprised this month when the citizen accommodation review committee (

ARC

) struck by the board recommended closing Millgrove, Greensville and Spencer Valley and building a new 525-student school on the Spencer Valley site.

It also recommended closing Beverly Central and Dr. John Seaton and building a new school on the Beverly Central site.

"You can't do that to a community." – Coun. Judi Partridge

The Millgrove decision is a double shock for the Flamborough community that contains only a school, a library, a general store, a United Church and three child care centres nested around the school.

The school and the library serve as meeting places, and are integral to the fabric of the village, said Coun. Judi Partridge of Ward 15. "The school becomes part of the reason for being for that community," she said.

The library is also an "essential service" for Millgrove, said Partridge, who was elected after the decision to close the branch. And the spectre of school closure is even worse.


---
The Problems with the Common Core


Stan Karp

The trouble with the Common Core is not primarily what is in these standards or what's been left out, although that's certainly at issue. The bigger problem is the role the Common Core State Standards (

CCSS

) are playing in the larger dynamics of current school reform and education politics.

Today everything about the Common Core, even the brand name—the Common Core State Standards—is contested because these standards were created as an instrument of contested policy. They have become part of a larger political project to remake public education in ways that go well beyond slogans about making sure every student graduates "college and career ready," however that may be defined this year. We're talking about implementing new national standards and tests for every school and district in the country in the wake of dramatic changes in the national and state context for education reform. These changes include:
A 10-year experiment in the use of federally mandated standards and tests called No Child Left Behind (

NCLB

) that has been almost universally acknowledged as a failure.
The adoption of test-based teacher evaluation frameworks in dozens of states, largely as a result of federal mandates.
Multiple rounds of budget cuts and layoffs that have left 34 of the 50 states providing less funding for education than they did five years ago, and the elimination of more than 300,000 teaching positions.
A wave of privatization that has increased the number of publicly funded but privately run charter schools by 50 percent, while nearly 4,000 public schools have been closed in the same period
An appalling increase in the inequality and child poverty surrounding our schools, categories in which the United States leads the world and that tell us far more about the source of our educational problems than the uneven quality of state curriculum standards.
A dramatic increase in the cost and debt burden of college access.
A massively well-financed campaign of billionaires and politically powerful advocacy organizations that seeks to replace our current system of public education—which, for all its many flaws, is probably the most democratic institution we have and one that has done far more to address inequality, offer hope, and provide opportunity than the country's financial, economic, political, and media institutions—with a market-based, non-unionized, privately managed system.
---
This email was sent by Education Action: Toronto
1698 Gerrard St. East,
Toronto, On. M4L 2B2