Critical Ontario Election 2022, and the case for the NDP
This article is reprinted with permission from and thanks to Doug Little and the Little Education Report
Why do the Ford PCs have to go?
The case against Ford and his notorious private high school attending, university frat boy Minister of Education Lecce, who's bilious motivation in life seems to be racking up selfies, is legion. Lecce is famous for "meeting with" almost everybody except teachers and education workers and their unions who have been deliberately frozen out. Ford and Lecce did so much damage to the education system that the Coles Notes version will have to do for this piece. The entire education community has suffered from Ford's total incompetence and neglect during the Covid 19 crisis.
The response to Covid made zero attempt to adjust class sizes even in hard hit boards, the covid testing was a farce, educators are still not required to be vaccinated. The ventilation piece was generally too little too late and as a direct result, children who are carriers spread the virus far and wide, closing the system for much of 20/21, and many schools are still going remote in 21/22. No N95 masks or other PPE was available or even allowed.
Bill 124 hit teachers and ed workers hard with 1% wage controls which also applied to nurses and the public sector, but, in order to put a stick in educators eye, the Tory supporting, police and fire unions were exempted and gained a 2% raise. Ford also killed the new LGBT+ sex ed curricullum, attempted to force four high school credits on-line, later reduced to two, and set up virtual education for privatization. Ford forced teachers to pass a math test regardless of their teaching area, and set out to slash $1.6 billion from already underfunded Ontario education. The schools are still falling apart and billions behind in maintenance and repair. This is a disastrous educational record. We don't really need Captain Obvious to point this out.
The Case for the NDP in 2022
Parties in QP legislature
Seats 2018
Vote % 2018
Close 2nds
< 5%
Other 2nds
> 5%
Angus Reid poll
October 2021
PC
76
40.64%
10
27
34%
NDP
40
33.69%
12
50
32%
Lib
7
19.3%
3
21
25%
GPO
1
4.64%
0
0
4%
The chart above summarizes the political situation heading into the 2022 run up to the provincial election June 2 2022, 4 months from now.
Heading into the "phony war" the situation is becoming clearer as we leave the federal election in the rear view mirror. During the federal election some polls showed the Ontario Liberal Party, OLP, under Steven Del Duca, moving into second place, however the federal – provincial overlap seems to be responsible for that. The first major poll on Ontario voters since the federal election, by Angus Reid, shows, as in the chart PC 32% ONDP 32% and the OLP at 25% with the GPO at 4%. It takes 63 seats to win an Ontario election in the 124 seat legislature. The NDP have 40 incumbents and 12 close seconds, (less than 5% gap) for a total of 52. The OLP have 7 incumbents and 3 close seconds for a total of 10 which would give those two parties 62 except for the fact that a few of the close seconds are in NDP-OLP ridings. Add in Mike Schreiner with his one Green seat in Guelph and the whole thing is close right now.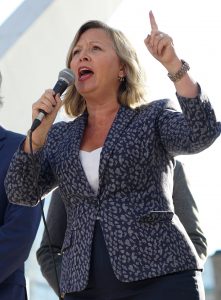 The idea of the parties standing down in some seats in favour of the other is always a non-starter. It then falls on Ontario voters and progressive groups like the education unions to do some very serious thinking about which parties and seats to support. The position of your scribe at this report is that voters and public interest groups for this election, should think primarily in terms of almost all out support for the Andrea Horwath led, Ontario NDP, while supporting the 7 OLP incumbents and Mike Schreiner in his Guelph seat. Davenport MPP Marit Stiles has been a stand out performer as the Official Opposition education critic.
Liberal leader Steven Del Duca is charismatically challenged in the extreme, and the OLP was less than teacher friendly during their 14 years in power where they tried more than once to control teacher wages, never did refinance the Mike Harris cuts, left the schools in terrible physical shape, with a $15 billion maintenance and repair backlog that actually grew during their 14 years in power.
We cannot even be sure the OLP would choose the NDP over the PCs in a minority government. In the dying days  of the 2018 election, when the Liberals were sure they would lose but it was unclear who would win, Kathleen Wynne warned Ontario of "labour strife" if the NDP were to win. The OLP lost 1 000 000 votes in 2018, leaving them primarily a party of affluent urban Ontarians in Toronto and Ottawa. Nevertheless, any seats they can win are seats denied to the PCs.
Ford, at the present time, is below the 37% threshold set by Bob Rae, in 1990, as the lowest % to ever win a majority government in Ontario. Defeating Ford looks doable but it's also tight. The Tories have an overflowing war chest largely filled by the landlords and developers that are the primary PC sugar daddies.
If you scroll to the very bottom of this Wiki you can review the 2018 results for every Ontario riding. If you go to Elections Ontario, the info is much less accessible.
https://en.wikipedia.org/wiki/2018_Ontario_general_election
It takes more than voting to win elections. Elections are won by door to door canvassing, phoning, yard signs, and political donations. If you really want Ford out, you need to involve yourself in these activities.
Doug Little has taught at every level of the Ontario school system from hard scrabble elementary and secondary schools for the urban poor to elite public schools in Toronto's toniest neighbourhoods. He taught politics in two community colleges and "The Politics of Ontario Education" at York University (2000-2003). He was a school trustee on the Toronto Board of Education (1980-85) and the Metro School Board (1983-85) where he crusaded for more support for Adult Literacy.