Education funding: the elephant in the room
Let's talk about the elephant in the room when it comes to publicly funded education in Ontario. As the mother of an 11 year-old autistic student and as a taxpayer, I have seen governments come and go making grandiose claims on how they were going to make sweeping changes to the Ontario Education system to ensure all student needs were being addressed. Too often, the opposite happens. To get elected in 2018, Doug Ford thought his party would appeal to social conservatives if it promised to roll back the sexual education curriculum to 1998 and rewrite it. The result was pretty much the same curriculum. He brought in mandatory online learning, cut school board budgets and increased class sizes. The list of problems brought on during the Conservatives' first government is lengthy .
Flavour of the day
Governments like to go with the political flavour of the day. There's been the  focus on literacy and numeracy, heck even Science, Technology, Engineer and Mathematics (STEM) programs when it seemed like kids needed more of that. There have been questionable moves like relying on the Education Quality and Accountability Office (EQAO)  to set standards for learning.There have been bizarre demands like the Ministry of Education's  requirement back in 2007 for students to have 15 minutes per day of specially timetabled exercise and mandatory e-learning in order to graduate.  We've seen the current government decide to rewrite a new health curriculum and make it pretty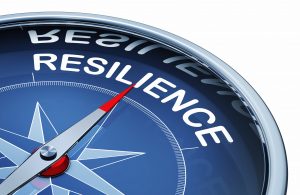 much the same as the one it replaced.  Then there was the famous and sudden need to "build resiliency" amongst Ontario students by making their classes larger and introducing mandatory online learning. The most recent announcement, which encourages students to go into apprenticeship to earn a Skilled Trades Certificate over a high school diploma, suggests that less education is better for our economy. Government micromanagement of schools, teachers and school boards continues to this day with the Better Schools and Student Outcomes Act.
What about delivering the basics?
But when it comes to delivering on the basics of what schools should offer, that's another matter.  The Ford government,  after a global pandemic, pretends that students and their teachers, were not affected by the poor decisions to close schools and then reopen them without addressing real concerns  surrounding COVID-19 in schools: lack of proper ventilation, large class sizes and complete disorganization. The result was that some school boards attempted to create Hybrid learning, where teachers taught kids in the classroom while others watched from home.

Education policies are much like the case of Long Term Care Homes (LTC). The Ford government decided that Ontario seniors would be "fine" while being isolated from their families. There were no proper measures to ensure the safety of those seniors, so many of them were infected and died. Families are still waiting to see significant changes to LTC that will make things better for residents but we are seeing the push for more private LTC homes. They still need to address many of the worst cases of infections and lack of progressive policies to protect our most vulnerable. 
Schools were crumbling before the pandemic and some were even deemed officially "sick" due to poor ventilation and air circulation where illnesses would circulate within communities like wildfire. Governments over the years have racked up nearly $17 billion in repair backlogs for their buildings: buildings where bathrooms are uninviting at best and hygienically questionable at worst. It baffles me that children who aren't the cleanest to begin with are being sent into schools where facilities are often outdated and beyond their expiration date. You know when your child "holds it" all day that things aren't that great.
In Ontario we are seeing week after week, month after month, announcements from the Ministry of Education trying to suggest that they are taking measures to improve schools and funding by offering parents $200 here and there, suggesting that they are creating better curriculum and adding educators all while schools are in serious crisis dealing with violence and  lack of supports for student learning.
But, the province is not helping boards replenish the school board reserve funds they had to use to pay some of the costs of COVID  and they are left in an economically unsustainable, financial position. It is clear in the last budget that the Grants for Student Needs  (GSN) has decreased significantly since Ford's government took office. A recent article by Ricardo Tranjan of the Canadian Centre for Policy Alternatives (CCPA)  notes that, taking into account an inflation rate of 16.9 percent since 2018, these grants have actually dropped by $1,200 per student for the 2023-24 school year. 
School boards face deficits for the coming year. Ottawa-Carleton DSB is looking at cutting staff  to deal  with a $15-20 million shortfall. Toronto DSB is short $61 million even after it went into its reserve funds to the tune of $70 million to pay for COVID costs because the Ford government wasn't going to put up the money. Currently the board is looking at cuts of 522 staff now that the  province has ended its one-time COVID funding of $31.5 million. 
What does this all mean for parents and families?
If you are just entering the education system, you have no idea of the history of education nor what exactly boards do.  How do schools operate or receive funding from government? What programs  are available (or were available) to students and how do you advocate for your child as they go through the system? As a new parent, I was more concerned about the day-to-day details of my child's well-being in school. I wondered if lunch was being eaten, friends were being made, lessons were interesting and if they were feeling good about being in the classroom.

As a parent, I saw an abrupt change the year that the Ford government took office. At  first it wasn't noticeable because educators weren't dealing with the aftermath of  a pandemic. Schools seemed to manage because there were supportive social programs within municipalities and communities which existed to serve as supplements to schooling. While not perfect, these programs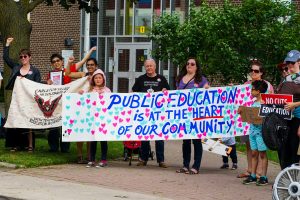 were there to assist students with not just educational but social and emotional support. On June 7th, 2018 after the provincial elections which saw the Ford government take power, parents had no idea what was in store just a few short years ahead. 
In 2018, my partner and I were unaware that our child would be diagnosed as being autistic in the year 2021. We were unaware that we would need to partner with the school along with other practitioners, like Holland-Bloorview, to create a support plan to assist our child in their academic and social pursuits. We had little understanding that the Ontario Autism Program would be unavailable to many families, including ours, creating a backlog of now over 60 thousand children to service in Ontario. This left many autistic families to rely heavily on support in schools for their children.   

COVID – a useful crisis
In grade 2, just as our child  was about to go on March Break in 2020, the global pandemic closed schools everywhere. His world was thrown into chaos. The online classrooms set up to help cope with the crisis, were frustrating for both students and teachers. Somehow the school year wrapped up with a heaviness felt by so many families and school communities. Little did we know that students in Ontario would be out of classrooms the longest and be forced back into classrooms with little to no improvements to ventilation. Schools were no longer a place for communities to gather for fear of spreading COVID-19.
Further to these challenges, a new form of "Hybrid" online teaching  was forced upon by certain school boards in an attempt to deal with little pandemic funding offered by the province. Hybrid teaching went along with the Ministry's already existing decision to mandate two online courses in order to graduate from high school. Even without further study into the effects of online learning or how it might affect students with diverse needs, Minister of Education, Stephen Lecce without consulting parents, students or educators, decided what was going to be best for students. 
Our family decided to keep our child home to learn online despite the fact we really wanted to send them to in-person school. But with a family member facing a stroke, for whom we were primary caregivers, we felt it was something we had to  do to protect our vulnerable seniors from further harm. With our child staying home to learn online we saw a slow decline in their mental health, frequent meltdowns from waiting online due to "Hybrid" classrooms, students acting inappropriately on screen during class time and obvious trauma from constantly shifting protocols from the Ministries of Education and Health. 
COVID-19 testing was just a suggestion rather than an investment to keep school communities healthy and in-person at school. This confusion created a division within parent communities again, many having endured long work hours online, losing their jobs or worrying about being infected while on the job in education, healthcare and other essential work. Rather than making all efforts to ensure the health of the most vulnerable, there was a push back on parents to make desperate  choices for their families and placed further  stress on already stretched home lives.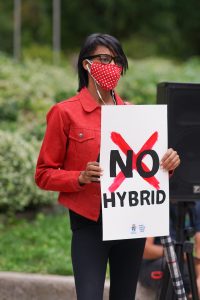 Students would be in and out of school several times and asked to shift constantly from in-class to online and in some cases hybrid. It was not without its consequences to mental health, behaviour and loss of learning for students. Had students been properly supported by the Ministry of Education we would not be seeing students struggling to reintegrate into classrooms. This "resiliency" used to justify larger class sizes when the Tories took office and still  expected by Minister Lecce manifests as violence in schools, mental health challenges and learning loss. For the Ministry of Education to suggest everything was done to "protect and ensure students were thriving" and not just surviving, is unsubstantiated and a shameful attempt to blame educators, administrators and families for asking more from the government during a global pandemic. 

As COVID-19 protocols began to lift in 2022, we would see Lecce make several announcements about supporting families doling out over $600 per student in a short period of time. It is no wonder that the GSN has gone down significantly since a portion was given to families in lieu of providing support in schools at a time when students and educators need support. Students such as our child who identifies as neurodiverse would be subjected to further difficulty as the years continued. Using the term inclusive as a way of justifying leaving students in a regular classroom with no support or less access to specialized classes for diverse learners, will in fact harm more students.

These types of decisions would continue for the duration of the pandemic, creating further mental distress in students, their families and educators. Minister Lecce's announcement that 625 nurses would be hired in schools to support students during the pandemic was the proverbial unicorn, since it's not clear how many nurses actually appeared in any school building. 

The current situation
As students move towards high school there are concerns by many TDSB parents that they are not being considered for specialized programs via portfolio or a proven interest. They have now been relegated to a lottery system, which could arguably do more harm than good for equitable access to specialized courses such as music, STEM, visual/cyber arts, drama, dance and alternative learning. With reduced funding, there will be less teachers to teach specialized curriculum like swimming, as is the case at our school. Many specialized programs are on the chopping block of many school boards at both the elementary and secondary levels.

Further to dismantling of various programs, key specialized classes such as Special Education support many students who identify as neurodiverse or have alternative learning needs. They are quietly and slowly being shut down across various schools boards. Where will these students go? They will be stuffed back into crowded classrooms with no additional support. Many families with autistic children cannot afford private schools because they are already paying out of pocket for therapies outside the public school system to help their children manage their day to day lives. 
At the Welcome to Kindergarten hosted by the school, parents are invited to meet teachers and acclimatize new students to the building. During an orientation, families are given a little bag with activities to do at home identifying foam letters and numbers, along with a pair of small children's scissors and a small book to read to your child. 
That bag could have been a lot bigger given what parents really need to know.  I had no idea at the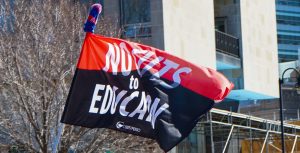 beginning of our journey into our publicly funded school, what the Grants for Students Needs (GSN) was or how it would impact my individual school. I had no idea who to call if something wasn't going well or if I had questions. All my questions seemed to fall onto the classroom teacher whom we were very lucky to have over the first two years of our child's academic life. She was quick to help out when there were social concerns or classroom dynamic issues.
Often parents have no understanding of the political, socioeconomic and historical bag of missteps by previous and, certainly, the current government that has affected the state of publicly funded education. The time is now for parents to speak up about the inequities caused by an underfunded education system and its effects on student's mental, emotional and academic success.   
Sandra Huh is the Parent Co-Chair of York Communities for Public Education and the parent of a child with special needs attending a publicly-funded school in Ontario.