Education workers pledge action
Change these days requires a tremendous push from many organized groups of determined people. That much is clear from the massive climate change protests around the world. It's clear from the walk-ins for education that groups like West End Parents for Public Education have supported, from the folks living in the Jane-Finch area who asked pointed questions last week about the future of their children's education.
Doug Ford may look like he's pulling in his wings a bit – saying that he's going to continue the $231 per month child benefit he cut from low income families and that he won't cut the $28 million from Children's Aid Societies he planned. But what will he do in the next 2 ½ years? These are the ones after the federal election when Tories no longer need to fear leaving federal leader Andrew Scheer out in the cold. Mr. Ford's kinder face has more to do with this than any revelations he might have had about his policies to date.
There are still 10 000 teachers to be cut from education. By 2021-22 we'll see a $2.1 billion shortfall in the dollars government should spend just to keep up with inflation. School boards  everywhere spent last spring deciding who to cut, what programs to eliminate, how much to charge kids for outdoor education and other experiences that used to be just part of their rite of passage through school. It goes on.
Canadian Union of Public Employees (CUPE) education workers pushed back hard at Education Minister Stephen Lecce and stopped him from gutting their sick leave benefits; they got money for local programs that help kids and hire workers.
Now, with their contracts up for negotiation, it's Ontario's teachers who are up to bat and their rank and file are organizing. Take a look at Ontario Education Workers United (OEWU) . It is a broad group of teachers and other people working in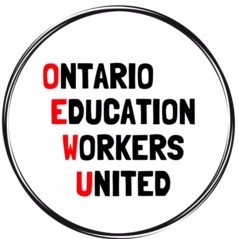 education who are working  to get their colleagues and allies to support job action if that's what it is going to take to:
reverse the cuts that have already been made and, just as important
make sure that the provincial government, after a generation of shuffling feet, finally comes across with reasonable funding for schools.
It's vital to let union leadership know that there are large and widespread numbers of education workers behind them who are willing to mount a real fight. Secondary teacher, Melanie Willson argues that union leaders need to prepare members for this fight and get behind them. Her colleagues expect to push hard against the Ford government to restore what it's cut and replenish what has been left to wither over the years "if schools are generally going to be places that are equitable."  So far this year, Ms. Willson has seen a huge loss of high school course options across the Toronto District School Board (TDSB), cuts to outdoor education and less professional development.
As Peel region teacher, Zain Ghadially points out bargaining is about  the public good as well as working conditions. He believes that "education is in a state of crisis and this is the tipping point."  He wants to broaden issues – to push the idea that "public education is the great equalizer."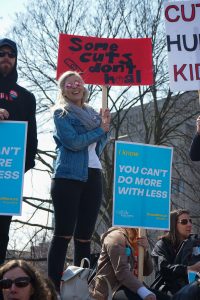 Organizing must go beyond teachers Melanie Willson adds. OEWU has been working over the past few weeks to support education workers in CUPE. According to Elementary Teachers of Toronto (ETT) member Laura McCoy, another key issue is that parents and other community members understand that "bargaining is for public education" – not just getting the next contract. So, while education workers may need to go all the way to support job action; they also must ally with the community that sends its kids to schools. This is the thrust behind the work of education union members in places like Los Angeles and Chicago who realized they couldn't in conscience, fight for contracts that didn't include better schools and services inside them.
Parents, students and community members must be in the middle of this struggle. The fight with a government that started out by cutting health, childcare, education and municipal representation, to name just a few things, has to involve everyone affected. Opposition will only succeed if everybody who cares about the future of public education organizes to preserve it.
To that end, there is something education workers can do. OEWU's Facebook group has about 1 500 members. But that's not enough; education workers are asking their fellows to make a commitment, to sign a pledge that they are willing to go beyond complaint or even holding up a sign at a demonstration, but to put themselves – and their union leaders – on the line to fight the Ford government:
"We are ready to fight. As public school education workers from a variety of unions across the province, we are prepared to take collective action, including strike action, until all cuts to education are reversed and the Ontario Government reinvests in the schools and communities our students deserve. We stand behind our union leadership and our union negotiators in the fightback against these cuts.
We make this pledge because we cannot in good conscience stand by and watch our provincial government undermine the education of the over 2 million students who depend on Ontario's public schools, while rewarding their friends and corporate donors with favours and generous tax cuts. The young people of our province deserve better."
If you'd like to learn more about  Ontario Education Workers United, here's a recent podcast.