Educators fight for change in Chicago
Educators are fed up and they're becoming more and more politically active across the continent. In Los Angeles, thousands of teachers went out on strike in January not just for wage hikes and better working conditions but for better learning conditions in LA schools and the neighbourhoods around them.
Last year, members of Oklahoma's largest teachers' union, Oklahoma Education Association demanded more funding for state schools. They even pushed for a repeal of a capital gains tax break that applies to wealthy people there. In West Virginia, teachers among the lowest paid in the U.S. struck for a 5 percent increase in 2018. They went out on strike again last February, when the West Virginia state legislature introduced a bill allowing unlimited charter schools as well as a voucher system to enable parents to send their children to private schools. Teachers got the West Virginia House of Delegates to back down. Vouchers were killed and charter schools were limited to two.
There is a theme running through all of this: public schools and the neighbourhoods that rely on them must be supported by activist unions.
Chicago teachers strike
The determination of educators was made clear in two strikes led by the Chicago Teachers Union (CTU) over the past few months. In December, 550 CTU members working for the charter school group Acero Schools walked out after they failed to reach an agreement over higher pay and lower class sizes. Their pay was about $13 000 less on average than those in the Chicago public system and charter teachers work longer hours. Teachers won competitive salaries, a shorter school day, preparation time and a shorter school year.
Working beside teachers at Acero, are paraprofessionals, educators who give extra help to kids with special needs, school office workers and other people who keep schools running. These folks, paid far less than teachers, went out on strike with them and won a salary schedule, higher pay and paid leave. A paraprofessional now has a chance to seek more training and maybe become a teacher.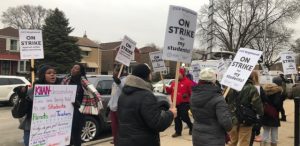 Just a little more than two months ago another charter group, Chicago International Charter School (CICS ) settled on a 35 percent increase in wages after a nine-day strike. New teachers there were making $44 000 per year, about $8 000 less than their colleagues in the public system. The contract also included reduced class sizes to 28 students with a cap at 30 and improved special education.
Charter schools in Chicago
These were the first strikes against charter schools in U.S. history. Privately run, charter schools have been a presence in the U.S. for decades. They're touted as an alternative to public schools that have been underfunded for generations. Charters receive tax money to run their schools, but they don't have to follow the same rules as their public counterparts. In Los Angeles, for instance, charters don't have to accept kids with high needs. In Chicago, until recently charter schools haven't had to bother with unions, saying that they can be more innovative without them.
While charters in Chicago aren't supposed to be for-profit organizations, CICS contracts out management of its 14 schools to other management organizations. Some schools are subcontracted to a third manager. CICS receives money for all the students enrolled under its umbrella, takes a cut for management costs and distributes the rest to schools. Individual operators at the schools take another cut for their management costs. What's left goes towards running the schools: paying staff, maintenance, books and so on.
The Chicago Teachers Union and its members won an agreement that future increases in school funding would go to schools rather than CICS management fees. There were other important changes, like an agreement to provide special education support in CICS schools. CTU also managed to have schools with high immigrant enrollment declared "sanctuary schools" – off limits to immigration officials looking for people to deport. This also applied to Acero schools where ninety percent of students are Latino.
What's at stake for Chicago schools
CTU understands that there is a lot at stake in Chicago schools outside of the usual collective bargaining issues. Carol Caref of the CTU told School Magazine that the union has changed since the 2010 election of new and more activist leaders. Just as hard as they work for better wages and working conditions, they have to fight for better conditions in Chicago schools and the neighbourhoods around them. They've made alliances with unions representing health care assistants – their children go to Chicago Public Schools too.
Like Toronto, Chicago aspires to be a global city – a centre for finance and technology. But that means people with limited means are forced out of the downtown by lack of affordable housing. School populations decline and teachers are lost. So, affordable housing now is an issue for the CTU – for the neighbourhoods it serves as well as for the educators it represents who are also having trouble finding a place to live within their budgets. The union is currently scrutinizing a huge development called Lincoln Yards, saying that it threatens to make housing even less affordable, while it diverts money from schools. Ms. Caref says that working on bread and butter issues like this has been "part of our philosophy since we came into office in 2010 and it resonates with our members."
She points out that her union pushed hard against former mayor, Rahm Emmanuel to improve conditions in and around Chicago schools. When he closed 6 public mental health clinics in 2012, the move hurt families with kids who didn't have the money to use private clinics. When he set about closing 49 under-enrolled schools across the city to save money CTU ran a mayoral candidate against Mr. Emmanuel who came close to winning, though nearly all the schools remained closed.
Over the years it has pushed him to improve school funding. It's demanded that Mr. Emmanuel put more resources like librarians, social workers, nurses and counselors into schools in poor neighbourhoods. It fought for years to get an elected and representative school board for Chicago rather than one appointed by the mayor. A bill supporting just such a school board was passed in April by the Illinois House of Representatives.
School closures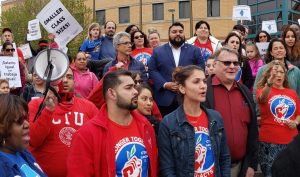 The union fights the disruption to learning that happens when the public board, Chicago Public Schools closes schools. This has gone on since 2002. Sometimes it's because a school is under-enrolled, but other poorly funded schools can be closed for "poor performance" – based on standardized tests administered by the Illinois State Board of Education. These schools may be deemed "turnaround schools", where the entire staff can be fired and a private operator called in to take over. Ms. Caref says these operators add to the problem of low enrollment because they open up a new school in neighbourhoods with an existing school, draining it of kids.
Ironically, a Huffington Post article from 2017 says that one such turnaround school, Bethune Elementary taken over by a private operator, faced being closed itself – because of reportedly poor performance.
Just like in Ontario, the politics of education in Illinois screams out for strong union leadership. In 2010, the Illinois senate passed a bill creating a longer school day and streamlined teacher dismissal procedures. It tied teachers' jobs to student performance, making it possible to be laid off based on student test scores.
The CTU got 90 percent support for a strike vote in 2012 and after a seven-day strike, teachers won a pay increase and preference to be rehired by the school board if they were put out of work. Still, the evaluations and layoffs based on test scores as well as the longer school day remained. Take note, Ontario teachers.
Chronic underfunding by the state
Teachers and school workers here should also note that, just like in Ontario, a huge part of the problem with Illinois school boards is that the state has a record of chronic underfunding. In Illinois, local taxpayers – depending on the size of their wallets – can pick up the slack in funding their schools, leaving wealthy districts spending as much $32 000 (USD) per pupil and poor areas as low as $5 000 (USD). After a long and nasty fight, in 2017 Illinois passed legislation raising taxes and creating a new but complicated school funding formula. There is still a lot of work to be done before the money actually gets to Chicago schools.
Activist unions
The Chicago Teachers Union points out the activist direction that Ontario educators and school workers must take. We have made a start here with a mass protest by 20 000 people on April 6. But, the Ford government shows no sign of backing down on its plan to reduce the quality schools to the point that it can make the case they need to be run on a different basis – like offering vouchers for parents to have more so–called "choice" in where to send their kids. Certainly, a government that declares the province "open for business" has already considered opening up services to competition – perhaps something akin to charter schools that would operate more like businesses and find more "efficiencies" as Mr. Ford likes to call them, through lay-offs, cuts to services, elimination of programs and jobs.
Educators and all public sector workers really have no choice but to become highly political – standing up not only for their schools and jobs, but for basic needs like affordable housing, decent public health, legal aid, good daycares and the rest of the essentials that make this province liveable.
It will soon be too hard to climb out of the hole Doug Ford is digging. He and his party of cheerleaders must find no respite in their constituency offices or at Queen's Park from the onslaught of protests by parents, educators, students, health workers, advocates for cities and the environment and all their friends and neighbours. It is going to cost money and it's going to need co-ordinated protests and strikes.
Tory MPPs need to get the message that the 2022 election has started and that the campaign is in earnest. They ought to fear for their seats just as they must be hounded from office.