FORDWATCH
It's been busy since the Ford government began to dismantle basic government programs and divide Ontarians.
But it's also been a busy time for those who oppose this government. This opposition is growing as workers,  students, parents, educators, renters, people who need health care, a place to live,  who use transit, who need childcare for their kids – all of these and more begin organize to defeat this government.
At School Magazine we think people might want some basic information about the Doug Ford government as opposition to it grows. So we've put together this list of worrisome actions this government has taken since it took office on June 29, 2018 .
We hope this is useful in your efforts to oppose this government. If we've missed or mistaken anything below, please let us know at: eatomag.18@gmail.com
Updated to January 6, 2022
By subject and date, here is what Doug Ford's government has done, caused or is planning so far:
Education
Rolled sexual education curriculum back to 1998 – July 11, 2018.  Teachers were no longer permitted to use the 2015 sexual education curriculum due to complaints by social conservatives supporting Ford. A "snitch line" was set up by the government for parents to identify teachers not complying with new rule. It led to lawsuits from Canadian Civil Liberties Association and Elementary Teachers Federation of Ontario over rights of children to be accepted for their gender identity and for teachers to teach – now pending Source: Globe and Mail
2019 02 12 – Social conservative group led by Tanya Granic Allen called for resignation of Education Minister because government lawyers conceded that teachers can refer to the 2015 curriculum. Source: QP Briefing
Cancelled writing teams for American Sign Language and Languages of Indigenous peoples – July 9, 2018 – Source: CBC
Cut $ 100 million funding from Greenhouse Gas Reduction Fund for school repairs to improve energy efficiency – July 15, 2018  Schools across Ontario face a $15.9 billion backlog in repairs– Source: Globe and Mail
Pulled $500 000 from Toronto after-school music project for 275 at-risk youth – August 25, 2018. – Source: CBC
Paused the Parents Reaching Out Program (PRO) – October 22, 2018 . Provided grants for local parent councils to hold meetings and run community events like Math nights Source: CBC
Cancelled over $300 million in funding for expansion of university and college campuses in Brampton, Milton and Markham – October 23, 2018. Source: Global News
Is considering cut of $1 billion or more to education – November 16, 2018. Source: Education Funding Guide 2018-19-  MET
Scrapped Ontario's first -ever French-language university costing about $80 million and focusing on technology, business and health sciences – November 19, 2018. Source: CTV News
 Cut $25 million from the Education Programs- Other fund which provided program money for students at risk like paying older students to tutor younger ones – Dec 15, 2018. Source: Toronto Star
Reduced post-secondary tuition fees by 10 percent without any plans to fund the schools that will bear the cost. At the same time eliminated free tuition for lowest income students. January 17, 2019. Students lose 6-month grace period for starting to pay back loans.  Source: CBC
Made student fees, like student union dues, optional – then described their activities as "crazy Marxist nonsense." 2019 02 11: Source: Toronto Star
Considered removing caps to class sizes for Kindergarten and primary grades – Jan 25, 2019 Source: Globe and Mail.
Ongoing issue

said he wouldn't guarantee full day kindergarten beyond 2019, then backtracked, so who knows what will happen

? –

January 30, 2019. Source: Global News
Hired unsuccessful Tory candidate, Cameron Montgomery to $140 000 p.a. job chairing board of Education Quality and Accountability Office (EQAO)- February 19, 2019   Predecessor earned @ $4 000 p.a.       Source: Toronto Star
Deputy Minister of Education, Nancy Naylor informed school districts to be cautious in hiring teachers for the next school year given expected increases to primary class sizes in the Fall.  February 28, 2019  Source: Globe and Mail
Deputy Minister  asked school districts to estimate changes in enrolment and details about supports that are in place to allow for the integration of high needs' students starting April 1st, 2019.   March 8th, 2019 Follows changes made by the Conservatives to the current autism programs; changes protested by hundreds of people in front of Queen's Park yesterday.  Source: Globe and Mail
Education Minister, Lisa Thompson, announced that the government plans to increase average class sizes for high school students from 22 to 28 students and for grade 4 to 8 by one student. March 15, 2019. The government also announced that it would ban cell phones in the classroom, make high school students take 4 e-learning credits, phase in a new math curriculum, and that there will be a new sex-ed curriculum. In the new curriculum, gender identity and gender expression will not be taught until grade 8, and parents will be able to exempt their children from sexual-health education. Source: Globe and Mail
Current estimate is 800 to 1000 teaching jobs lost in Toronto alone – 3600 across Ontario
Thompson cut $250 million in funding schools across province

She also cut local priorities funding for special needs students by $350 million 

Source: Ministry of Education
Thompson told CBC that having more students per class in high school will improve students' coping skills and resiliency, which will better prepare them for life after high school.
When asked about upcoming collective agreement bargaining, the minister responded that the process should be based on good faith dialogue and constructive conversations.  March 20, 2019. Source: CBC Radio 1 interview
150 000 students across Ontario walked out of class for an hour, protesting increased class sizes, e-learning and losing variety of courses on offer. April 4, 2019. Source:Toronto Star 
Ford Government announced planned annual Math test for teachers April 4, 2019 Source: Toronto Star
EQAO has developed the test and a call for tenders has gone out inviting private companies to bid on administering the test.
The Ontario government is set to cut 3,475 teaching positions by 2023, saving about $851 million over four years.  The P.C. government also mentioned the idea of legislated caps on wage hikes for teachers and hospital workers. April 5, 2019. Source Globe and Mail 
Bear in mind that previous estimates have placed jobs cuts across the province as high as 10 000
Thousands rallied at Queen's Park to protest education cuts. Ontario Secondary School Teachers Federation President Harvey Bishof said the Minister of Education should listen to the students and that our education system needs investment, not cuts.  April 7, 2019. Source: Toronto Star
Peel District School Board has issued layoff notices to almost 200 high-school teachers. More than 120 Peel Board elementary teachers also received surplus notices.  The Toronto District School Board said that as a result of the Ontario government increased class sizes, it would have about 1000 fewer teachers in four years.  April 17, 2019. Source: Globe and Mail.
TDSB grappled with a bigger shortfall than anticipated because of changes in funding by the Ford government.  The shortfall of $67.83 million instead of $54.4 million could result in cuts to busing of French immersion students, the cancellation of International Baccalaureate programs in elementary schools, a reduction in the number of learning and reading coaches, guidance counsellors, and custodians May 13, 2019 Source: Toronto Star
TDSB class-size increases would force it to cancel 313 high-school courses.  Some other courses will have larger class sizes or combined grades and levels.  Services like library and guidance will be reduced. May 18, 2019, Source: Globe and Mail 
Students have launched a court challenge to prevent the Ontario government from making some fees optional at universities and colleges.  The Canadian Federation of Students and the York Federation of Students hope for a repeal of The Student Choice Initiative stating that the policy lacked consultation and aims to stifle political opposition.  May 29, 2019, Source: Globe and Mail
Class-size rules force the York Region District School Board to nix more than 120 courses. June 6, 2019, Source: Globe and Mail
Changed Education Ministers– Stephen Lecce, parliamentary assistant to the Ford replaces Lisa Thompson who moved to government and consumer serviceJune 20, 2019, Source: Global News
Backtracked on planned class-size increase. The average would go from the current average of 22.5 to 25 students, instead of the previously planned goal of 28. Harvey Bishof, head of the Ontario Secondary School Teachers' Federation, said the offer contains a "poison pill" in the form of the elimination of all local class-size caps.  October 25, 2019, Source:The Globe and Mail
 but this still remains to be seen since he is using this as a bargaining chip with teachers negotiating  contracts
Expanded  the role of the agency that administers standardized tests to students. EQAO will start testing future teachers in Math. Teacher Unions believe that progress would be better achieved by providing support for students and teachers.  Sam Hammond, president of the Elementary Teachers' Federation of Ontario remarked that it makes little sense to test elementary and high school teacher candidates on similar math concepts. August 27, 2019. Source: Globe and Mail.
The TDSB lost 296 full-time positions due to Ford cuts. The cuts reached through layoffs and attrition affect the following positions: principals, custodians, athletic and reading coaches, speech pathologists, social workers, guidance counsellors, psychology staff, and librarians. August 27, 2019. Source: CP24.
Ontario student groups face shortfalls under the Doug Ford government's move to make some student fees optional. Campus daycares, newspapers, food banks, aboriginal programs, and many other groups are affected by the reduced funds.  October 25, 2019 Source: The Globe and Mail
Ontario court quashes province's post-secondary student fee opt out order. November 22, 2019, Source: Toronto Star
Parents will have the option for kids to attend school fully online next year. NDP Education Critic Marit Stiles warns that the Ford government had previously advocated for permanent online learning, which could lead to more privatization and cuts to education in the future. She stated that online learning does not meet the needs of all learners. Stiles said that the government should invest to get students back to schools that are safe, with improved ventilation systems, smaller classes, and additional mental-health resources. May 4, 2021,  Source: CTV News
Internal documents from November 2020 show that when Stephen Lecce said COVID-19 wasn't spreading in schools he did not know if this was true. In fact, Dr Peter Juni, the province's table's scientific director, says there is ample evidence world-wide that in-person learning can spread community transmission. June 1, 2021  Source: thestar.com
Principals, school boards question Ontario's plan to host outdoor graduations for all grades. The Ontario Principals' Council stated that it's unrealistic and disrespectful to expect such a shift at this point of the school year. June 3. 2021, Source: cbc.ca
TDSB and TCDSB won't have outdoor graduations despite the Ontario Government encouragement. Months of planning have already gone into creating virtual graduations, with costs already incurred. June 4, 2021, Source: globalnews.ca
Tony Pontes, executive director of the Council of Ontario Directors of Education said the government is contradicting itself by keeping schools closed but allowing in-person activities. He also stated that directors had told Ford over a month ago that outdoor graduations were not feasible. June 2, 2021, Source: thestar.com
Educator job actions 2019- 20
Teacher contract talks hit snag. Harvey Bishof, president of the Ontario Secondary School Federation, is troubled that the Ontario government wants to remove many items from local bargaining, moving them to be negotiated centrally, taking away local solutions to issues that have local impacts. May 25, 2019, Source: Globe and Mail
New Minister of Education, Stephen Lecce, announced that high school class sizes will not be as large as anticipated.  The former Minister of Education, Lisa Thompson, stated in March 2019 that the numbers would increase from 22 to 28 for the 2019-2020 school year. The message is now that the increase is to be phased in over 4 years, going from 22 to 22.5 for this school year. August 22, 2019. Source: CBC News.
Ford government continues to use this as a reason to dig its heels in on further concessions, like cost of living increase for teachers and eliminating cuts, saying it's done enough.
Elementary teachers' union asks for conciliation in bargaining with province and school boards amid growing frustrations at the negotiating table, the union says.  October 16, 2019 Source: Toronto Star
Ontario elementary school teachers vote 98 per cent in favour of strike action. November 1, 2019 Source: Global News
Ontario's public high school teachers are expected to be in a legal position to strike or stage work disruptions around Nov.18. October 28, 2019 Source: Ottawa Citizen,
Ontario Catholic school teacher union (OECTA)  voted on province-wide strike next month in response to what it calls 'reckless cuts' proposed during bargaining. October 20, 2019. Source: CBC
All OECTA members across the province walked off the job on January 21, 2020
Ontario public elementary teachers began a work to rule campaign on November 26, which would target ministry and school board administrative tasks.  November 14, 2019, Source: CTV News
Ontario high school teachers joined elementary teachers in job action. November 21, 2019, Source: Ottawa Citizen
Ontario high school teachers have voted 95 per cent in favour of a strike. Education workers in the same union voted 92 per cent in favour of taking strike action. November 18, 2019, Source: CTV News
Ontario backed down on online high school courses, cuts requirement from 4 to 2. Sally Meseret, president of the Ontario Student Trustees' Association, states that this mandate still has the potential to negatively impact Ontario's students who possess a variety of experiences and backgrounds. November 22, 2019, Source: Globe and Mail
Ontario public high school teachers held 1-day strike after contract talks stall. December 4, 2019, Source: Global News
Secondary teachers held another day of strike action December 11, 2019 after talks broke off between the government and OSSTF and walked out on

teachers walked off the job 3 more days in various locations during December and January
Ontario elementary teachers ramped up their work-to-rule campaign by not planning any new field trips or distributing letters or memos from schools and boards.  December 7, 2019, Source: CBC
Elementary teachers stopped spending their own money on schools supplies, and filling out comments on report cards
Stopped supervising extra-curricular activities or field trips in an escalation of their work-to-rule campaign on January 9, 2020
Waterloo Public School Board postpones EQAO test. The tests were to be held next week but Education Minister Stephen Lecce announced that school boards could make their own decisions on whether to conduct the test in January or in June as the work-to-rule high school campaign includes not preparing students for EQAO. January 9, 2020, Source: Globalnews.ca 
Ontario French language teachers plan to start withdrawing some services in job action that will start Thursday. January 13, 2020,  Source: ottawacitizen.com, 
Public Elementary teachers held a series of day-long strikes during this week across the province protesting lack of progress in contract talks, underfunding education, lack of written assurance that full day kindergarten would be maintained, lack of special education support, increases to class size. For the first time in more than 20 years all teachers' unions in Ontario are involved in job action as negotiations have stalled. January 20, 2020, Source CBC News
Elementary school teachers announced four more school boards will shut down on a fourth day of rotating strikes on Thursday January 23. There are still no bargaining talks scheduled. The one-day strike on Thursday will take place at the Avon Maitland, Halton, Niagara, and Lakehead school boards.  January 20, 2020, Source: Globe and Mail,

Ontario provided up to $60 a day for child care during teacher strikes at an estimated cost of $48 million with an administrative cost of $300 000.

 January 16 & 20, 2020 Sources: Globe and Mail, CBC Metro Morning
All Catholic teachers across the province went out on a day-long strike January 21, 2020, Source : CBC News
additional 1 day strike on February 4, 2020
The head of ETFO, Sam Hammond, named some of the issues concerning teachers including funding for special education, strategies to address violence in the classroom, maintaining kindergarten programs, fair hiring practices, class sizes, and compensation.
ETFO announced a province-wide strike will be held in all  public elementary schools on Tuesday, February 11th. ETFO escalated its job action this week and is now targeting each board twice a week. ETFO president, Sam Hammond, said the union was close to a deal last week when the province's negotiators suddenly tabled proposals that ETFO could not accept.February 5, 2020,  Source: globalnews.ca,
English Catholic teachers plan staggered strikes next week. The union is meeting with the province this Wednesday to resume mediated talks. February 18, 2020, Source: cbc.ca,
had not presented the new proposals to his union but in a press conference while exploratory talks were under
Accessibility
Wheelchair user and former Lieutenant-Governor David Onley, who is reviewing the implementation of the Ontario's Accessibility for Ontarians with Disability Act, said Ontario will miss accessibility goals for 2025.  March 9th, 2019. He provided 15 recommendations to the current Progressive Conservatives who, since being elected, froze work by committees tasked with developing accessibility standards.  Source: Globe and Mail 
Arts and Culture
Slashed $5 million from base funding for Ontario Arts Council – December 14, 2018. Source Global News
Planned to legalize tailgate parties. Any parking lot or venue within a reasonable distance from a major sports complex would be able to apply for a special occasion liquor permit.  NDP deputy leader John Vanthof says legislation is used as a decoy from the real issues that Ontarians are facing. April 8, 2019 Source: Globalnews.ca
Cut Ontario library services funding in half. April 19, 2019. Source: Toronto Sun
2019 Provincial Budget
Canadian Centre for Policy Alternatives (CCPA)asked Ford government to consider reducing provincial deficit by other means than spending cuts.  The Pro As well, pro- business Ontario  Chamber said the Ontario government is possibly inflating the deficit figures for the purpose of fear mongering leading to cuts in the public service.  It was suggested that the government could preserve and expand the number of public service positions by raising taxes for wealthiest Ontarians. April 5, 2019. Source: CBC Radio 1, 
Limitd spending increases for health care and education  Plans to create a task force on school boards to find efficiencies.
Changed universities by linking funding to performance outcomes that have not been stated.
Budget for Legal Aid Ontario slashed by more than 30%.  The budget includes expanded access to alcohol and gaming.  April 12, 2019. Source: The Globe and Mail, 
The government said that Legal Aid served 100 000 fewer clients last year but the union representing lawyers who work for Legal Aid Ontario said the number of clients served by the agency's duty council is up 2.1% over that period. April 26, 2019. Source: The Globe and Mail
Slashed Ontario Music Fund by more than half. April 29, 2019. Source: Globe and Mail
Community and Social Services, projected to be $392 million less than last year.  Seniors Affairs cut to $24.2 million from estimate of $28.9 million.
Unspecified research programs at the Ministry of Health cut by $51.7 million.
Indigenous Affairs budget is cut by $28.3 million.
Agriculture and Rural Affairs spending on public health and the environment is down by $9.7 million. May 10, 2019, Source: Toronto Star
2021 Provincial Budget (NB: no formal budget for 2020)
"This budget is just classic trickle-down economics and it's the last thing communities need," CUPE Ontario President Fred Hahn said about the 2021 Ontario budget, also pointing to the lack of paid sick days. March 25, 2021, Source: cp24.com 
Business
Killed legislation to reduce scalping prices – July 4, 2018. Shelved portion of an anti-scalping law that would have outlawed resale of tickets at over 50% mark-up. Source: CBC
Forced CEO of Hydro One to retire and its board to resign – July 11, 2018. Mayo Schmidt received $400 000 payout in lieu of post retirement allowances. Washington State regulators withdrew from a bid by Hydro One to take over Avista due to political interference – at a cost to Ontario taxpayers of $100 million. Standard and Poors downgraded Hydro One credit rating from A to A- due to the meddling of the government in its affairs.  2019 02 18. Sources: CBC, Toronto Star, S&P Global
Backed investment industry over investors by turning down changes to commissions over mutual fund sales – September 14, 2018. It would stop sales charges on mutual funds sold within 7 years of purchase. Source: Globe and Mail
Cancelled a planned surtax on highest earning Ontarians that would have generated$275 million in revenue – November 15, 2018 Source: CBC
Sold Hearn Generating Station property to the company of Tory donor for $16 million. November 16, 2018. Toronto not consulted on the sale to Studios of America, partially owned by Mario Cortellucci, long-time donor to the Tories who donated $1 200 to the Ford campaign during last May's election.
Backtracked on corporate tax cut of 1 percent saying that government has already allowed corporations to write off more capital costs – costing $689 million. February 13, 2019. Source: QP Briefing
Finance minister, Vic Fedeli, says the province will move ahead with an expansion of beer and wine sales into corner stores, big box stores, and more grocery stores.  March 28, 2019.  Source: CTV News
Cuts funding that supports startup and later stage businesses prompting cutbacks at some of Canada's top innovation institutions. May 9, 2019, Source: Globe and Mail
Government cuts funding for small- business programs.  Small Business Enterprise Centres were informed that funding will be cut for specific programs that provide training, mentoring, and grants for small business owners. May 18, 2019, Source: Globe and Mail
Tabled legislation ending 10 year contract with the Beer Store. Questions remain about how much it will cost to cancel the contract, perhaps in the hundreds of millions, money that could be spent on priority areas. May 27, 2019, Source:CP 24
Ontario government's cannabis Crown corporation lost $42M in latest fiscal year. September 13, 2019 , Source:Global News
Province eyeing changes that could see developers hire their own building inspectors. Will Johnston, Toronto's chief building official, stated in a report to the planning and housing committee that there are a number of concerns with this model, including potential conflicts of interest. January 21, 2020,  Source: cbc.ca, 
Ontario government named a former chief lobbyist for Toronto's real estate development industry, Bryan Tuckey, to the province's land-use tribunal, while stripping it of four adjudicators with environmental backgrounds. February 8, 2020, Source:Globe and Mail,
Doug Ford's government fast-tracked a glass factory in Stratford, bypassing the public process, after the Minister of Municipal Affairs and Housing, Steve Clark, issued a minister's zoning order (MZO), a tool that gives the minister the authority to designate land use without the possibility of appeals.The Stratford community, however, applied relentless pressure on the government with concerns over gas emissions and environmental issues. The city announced in January that the project is being put on hold. February 11, 2021, Source: the star.com,
Doug Ford's planned superhighway is a slam dunk with developers . The Ontario Liberals, Green Party, and NDP want the money to go into mass transit instead as the projected Highway 413 could negatively impact the environment and the sectors of agriculture, food, tourism, and recreation, as well as encourage more sprawl. February 13, 2021, Source: the star.com,
Eight of Ontario's most powerful land developers own thousands of acres of prime real estate near the proposed route of the controversial Highway 413. Four of them are connected to Doug Ford's P.C. government through party officials and former Tory politicians now acting as registered lobbyists. April 3, 2021,  Source: the star.com
Child Care
 Removed cap for amount of public money that could go to for-profit child care- September 16, 2018. Had been put in place to ensure that the public funding of for-profit daycares wouldn't increase. Source: Ontario Coalition for Better Child Care
Cut subsidies from $48 million to $25.3 million for municipalities to help low income families get their children into day care – September 16, 2018. Source: Ontario Coalition for Better Child Care
More than 3 000 new Toronto child care spaces at risk due to provincial cuts. July 15, 2019. Source: Toronto Star
Provincial cuts would eliminate 760 child care subsidies in Toronto, as detailed in a new City of Toronto report.  October 8, 2019 Source: Global News
Parents, advocates, and city staff in Toronto unite in opposition to Ontario's proposed changes to child care, which include allowing operators to group infants and toddlers together, reducing staff-to-child ratios for some age groups, and lowering qualification requirements for some staff. November 12, 2020,  Source: the star.com, 
Employment and Labour
Capped minimum wage increase to $14 per hour – October 23, 2018. This will hold until 2020 and then be pegged at the rate of inflation; minimum age was to be $15 per hour Jan 1 2019. Source: Canadian Press. Instead, Ford Introduced a tax credit for low-income workers earning around $30 000 per year. November 15, 2018
 Passed back-to-work legislation forcing York University breaking York University workers' strike. July 25, 2018.  Source: Toronto Star
 Declared that Workers Safety Insurance Board unfunded liability of $14 billion no longer exists. October 11, 2018. This allows government to reduce the premiums by 30% that businesses have to pay. Source: Huffington Post
Killed Bill 148 which gave part time workers the same pay as full time and guaranteed 10 sick leave days (2 paid) – November 8, 2018. Source: Globe and Mail
Replaced it with Bill 47 an omnibus bill affecting 9 different pieces of legislation. November 8, 2018
Cuts paid emergency leave from 10 days a year to 3
No notice needed for employers to demand workers to be on the job at any time
Requires doctor's note for any sick leave
Allows employers to pay art time, temporary or agency-hire employees less than regular employees
Employers don't have to show that workers are not contractors whom they can pay less
Cuts penalties for labour standards violations from $100 000 to $25 000
Source: Globe and Mail
 Closed the College of Trades– November 2, 2018. This leaves its training, public safety and licensing role uncertain while increasing the ratio of trainees to skilled workers on a job site. Source: CBC
About 2 400 Ontario public servants use Ford's voluntary buyout program.  Employees have until the end of the year to leave their positions. June 13, 2019, Source: Global News
Community and labour leaders occupy Premier Ford's constituency office following the death of a temporary agency worker, to demand action on preventing workplace fatalities. Protesters are asking for Ford's signature on regulations drafted in 2018 that aim to prevent workplace deaths in the province.  October 16, 2019 Source:CTV News Toronto,
Ontario stopped enforcing credentials in skilled trades, right after Doug Ford took power. Provincial inspectors aren't checking if mechanics, electricians, plumbers, and other skilled tradespeople are certified. July 21, 2021 Source: CBC
Ontario's 10 cent increase in minimum wage called an insult to workers. October 1,  2021, Source: CBC
Flanked by union leaders!!??, Doug Ford raises Ontario's minimum wage to $15.00 an hour, three years after he scrapped a scheduled increase. This moves comes with a provincial election set for June 2.
NDP leader Andrea Horwath said Ford's 2018 decision robbed workers of $5 300 in lost pay. November 2, 2021, Source: Toronto Star
Environment
Cancelled a wind energy project in Bay of Quinte area – July 10, 2018. Has been under development for 10 years with 100 workers on site
Ended electric & hydrogen vehicle incentive program –July 11, 2018. Money had come from the cancelled cap and trade program.Tesla Motors sued Ontario Government for excluding it from the list of cars that could receive incentives for those purchased before September 10. Tesla won its case. Source:CBC
Ended the Drive Clean program – emissions testing for older passenger vehicles and light trucks. September 28, 2018.Source: CTV
Cancelled 758 renewable energy deals – July 13, 2018. Small scale projects like solar panel installations on houses and public buildings. Source: Financial Post
Killed Cap & Trade – Oct 31, 2018. Ford told reporters this would help to reduce gas process by 10 cents/litre. Soon after he said that he would spend $30 million to sue the Federal government if it imposed a carbon tax. Would forego $3 billion dollars in revenues over 4 years according to province's financial accountability officer. 2019 02 13– Introduced a carbon pricing plan to offer incentives to polluters to pollute less.  Sources: Global News, CBC, Globe and Mail, Toronto Star
Ontario Court of Appeal is to hear the provincial challenge of the federal carbon tax starting today.  Environmental law specialist at Osgoode Hall Law School, David Estrin, said Ford is doing this for purely non-sensical, illogical reasons that don't make economic sense.  April 15, 2019. Source: The Globe and Mail,
Introduced Bill 66 (Restoring Ontario's Competitiveness Act) to grant municipalities the power to create allow business to avoid sections of over a dozen policies and acts – December 7, 2018. Would enable development in protected areas like the Greenbelt. Allow municipalities to ignore environmental, planning, safe drinking water concerns in an effort on the part of the Tories to cut red tape. Source – KW Record
Froze licence fees and removed $2 service fees for hunters – January 10, 2019. Source: CBC
Was planning an update to Endangered Species Act "to ensure a balanced approach between a heathy environment and healthy economy" according to Environment Minister Rod Phillips. January 18, 2019. Source: Toronto Star
 Eliminated key energy conservation programmes and overhauling the Ontario Energy Board –  new chief executive officer and board of directors.  March 22, 2019.  Source: Globe and Mail
Ordered gas stations to display anti-carbon tax stickers which will cost the government a minimum of $5K. Fines up to $10 000 could be levied if gas station operators don't comply. April 18, 2019. Source: CBC News.
The Ontario government wants anti-carbon tax gas pumps stickers on display by the end of the summer.  The Ontario Chamber of Commerce view the requirement as a violation of their rights and freedoms. June 11, 2019. Source: Global News
The stickers peeled off because the glue didn't hold
Ontario conservation authority funding for flood management cut by half. April 20, 2019. Source: CP 24
Said he'd reconsider his carbon tax challenge if federal conservatives lose the election.  The Ontario Green Party leader, Mike Schreiner, stated that "this lawsuit was political theatre from the get-go, with the vast majority of law experts predicting it to fail." August 23, 2019, Source Toronto Star.
Ontario to persist with carbon tax legal challenge even though Doug Ford had said he would "respect democracy" following the federal election.  October 25, 2019 Source:  The Globe and Mail,
Ford government's cancellation of renewable energy projects set to cost at least $231M. November 19, 2019, Source: Toronto Star
Energy minister, Greg Rickford, was under fire for citing a website that denies climate change is largely caused by humans. November 28, 2019, Source: Globe and Mail
Ontario auditor general slammed Doug Ford's climate policies as insufficient to meet 2030 emission reduction targets, and as being riddled with errors and omissions.  December 4, 2019, Source: National Observer
Ontario issues special orders to approve developments on farmland and wetlands. The zoning orders allow Municipal Affairs and Housing Minister Steve Clark to make a final ruling on how a piece of land is used in the province with no appeals. May 27, 2020, Source: Globe and Mail 
Court rules Ontario gas-pump sticker campaign against carbon tax violates charter rights. Ontario Superior Court Justice Ed Morgan stated that the stickers' content is not very truthful and is designed to make a partisan statement. Source: September 5, 2020, Globe and Mail 
Ford government approved a massive project in Pickering that will destroy a 22-hectare significant wetland. Using a Minister's Zoning Order (MZO) a planning tool that gives the Minister of Public Affairs and Housing the power to override local planning and environmental processes and to forgo local consultations without the possibility of appeals. MZOs were used a handful of times by the previous government but nearly thirty times since Doug Ford came to power in 2018, including last week for three properties in Toronto's West Don Lands. An MZO issued in April in Vaughn came at the expense of three provincially significant wetlands. November 1, 2020, Source: the star.com, 
Ontario's carbon emissions went up, for the first time in about a decade, during Doug Ford's first year as premier. December 3, 2020 Source: cbc.ca,
David Crombie, a former federal Conservative minister and former mayor of Toronto, has resigned from his job as head of Ontario's Greenbelt Council to protest the Ford government's rules that would gut environmental protections in the province. Dec.6, 2020, Source: global news.ca, .
Six members of Ontario's Greenbelt Council join David Crombie and resign, citing proposed new rules. Dec. 6, 2020, Source: cbc.ca,
The Ford government is set to expand the Greenbelt protected area while proceeding with the controversial Highway 413 project. "We are not going to entertain any conversations about any land swap," Steve Clark, the Municipal Affairs Minister said. "Our government will not consider proposals to remove or develop any part of it," the minister stated, stressing that existing legislative protections for the Greenbelt would remain. February 17, 2021
Source: the star.com,
To pave way for wetland development, Ford government is retroactively changing the law.The amendments to Ontario's Planning Act would nullify a key clause that limits the scope of ministerial zoning orders (MZOs), a powerful tool that helps to fast-track developments by overriding local zoning rules. March 5, 2021. Source: CBC.ca,
Lake Simcoe is supposed to be protected by Doug Ford's government but residents fear the province's policies now threaten its health, citing aggressive growth targets, nearly 20 MZOs (Minister's Zoning Orders), the endorsement of large infrastructure projects, and a sewage treatment plant that could dump millions of litres of affluent into the lake daily. April 12, 2021, Source: the star.com 
Doug Ford's government wants to dump more sewage into Lake Ontario. The province told the regions of Durham and York that it was considering sending millions of litres more of York's waste to the shores of Ajax and Pickering. Ajax mayor, Shawn Collier, stated that the province should be looking to solving their sewer capacity problems before they approve development. April 30, 2021, Source: thestar.com
Province's special Minister's Zoning orders (MZOs)  that fast-track development swamp Toronto-area conservation authorities who state that the province is approving developments without a complete picture of their environmental impacts. July 5, 2021, Source: thestar.com
Prime farmland in the GTA is disappearing fast. Doug Ford's plan may be making that worse as the government is not taking steps to ensure the protection of farmland in the GTA. Most farmers outside the greenbelt sit on white-belt land, which can be redesignated to be developed when a city determines it is short of land within its boundaries. August 28, 2021, Source: Toronto Star
Ontario court finds provincial government broke the law, citing lack of public consultations, failing to adhere to the Environmental Bill of Rights. The Superior Court said the government failed to post proposed amendments over the controversial use of Ministerial Zoning Orders on the Environment Registry prior to implementation. September 8, 2021,  Source: CTV News
Government
Froze salaries of public service managers and said he would review executive salaries – July 3, 2018. Source – Canadian Press
Fired chief advisors– July 5, 2018
Chief Science Officer, Molly Shoichet – hired November 2017
Chief Investment Officer – Allen O'Dette
Business Advisor Ed Clark – formerly head of TD Bank
Source: Canadian Press
Changed rules to weaken opposition's ability to slow down legislation – September 15, 2018. Enables to speed up the process for limiting debate. Source: CBC
Disbanded four subcommittees of the Anti-Racism Directorate, group supposed to provide advice to government to eliminate systemic racism – September 18, 2018. Source: CBC
Increased the threshold to maintain official party status in the legislature from 8 to 12 – November 13, 2018. Source: CTV
Cut positions of the environmental commissioner, child and youth advocate and French language service commissioner – November 15, 2018. Environmental commissioner, Diane Saxe – vocal critic of Tory actions on climate change. Child and youth advocate, Irwin Elman – put out reports with considerable impact on child welfare policies. Source: CBC
Raised individual donation limits from $1 200 to $1 600 for political parties while proposing to phase out taxpayer subsidies to them  November 16, 2018. Source: Globe and Mail
Ontario Chief Comptroller (accountant) resigned because she couldn't sign off on the claimed $15b deficit – December 5, 2018.  Cindy Veinot said that the government overstated the provincial deficit.  Source: Toronto Star
Fired Howard Sapers, hired to look into conditions in Ontario prisons – December 17, 2018. Source: Globe and Mail
Appointed top aide Jenni Byrne to Ontario Energy Board $197 000 per year – January 11, 2019. Source: CP
Financial Accountability Office of Ontario says that the province spends less per capita than other provinces. February 14, 2019. Opposition says that government shouldn't cut more from spending, while trying to balance the books and lower taxes. Source: QP Report
Service providers for autistic children claimed they were instructed to stop providing therapy for children on the waiting list to receive treatment. Lisa Macleod denied it. 2019 02 25
Hosted a cash for access dinner for $1 250 a plate –February 27, 2019. Lobbyists were pushed to sell tickets to what was billed as the biggest fundraiser in the party's history. Source: Toronto Star
Promise of no job cuts in the Public Service is now being reworded by the Ford and Finance Minister, Vic Fideli, as "no front-line jobs will be cut".  March 9th, 2019  In fact, some nursing jobs and educational workers' jobs have already been cut.   Source: CBC Radio 1
Booted Tory MPP, Randy Hillier from caucus for saying "yadayada" during discussion students on Austism Spectrum – something Hillier said was directed at the NDP. March 15, 2019. Source: CBC
Hillier is blaming his ouster from the PC caucus on Dean French and Chris Froggatt who chaired Ford's transition team following the June election.  Mr Hillier alleges the expulsion is the result of his raised concerns about possible illegal lobbying by the premier's friends and advisors. March 19, 2019Source: The Globe and Mail
Ontario PCs double up on fundraising as Doug Ford is still raising money through his leadership campaign despite having no outstanding campaign debt.  Contributions to a debt-free leadership bid must be turned over to the party.  While permitted, observers say that the practice of raising money through a debt-free leadership campaign is at odds with the spirit of the law. April 15, 2019 Source:The Globe and Mail
The Ontario PCs pushed to make it almost impossible to sue the provincial government.  A new law would increase the legal threshold necessary to proceed with civil litigation against the government and limit instances in which the government could be liable for financial compensation to plaintiffs. April 15, 2019. Source: CBC News 
Faced scrutiny for patronage appointments as it names five failed PC candidates to seats on the Niagara Parks Commission, the Niagara Falls Bridge Commission, and the Trillium Foundation. April 29, 2019. Source: Globe and Mail
Planned to allow solo motorcycle riders to use High Occupancy Lanes. April 29, 2019. Source: CP 24,
Energy minister, Greg Rickford, attended political fundraiser at home of CEO with lobbyist ties. May 17, 2019, Source: Globe and Mail
Ford staffer used private email for government work related to off-the-book van retrofit for Ford.   Government systems archive all official email communications while personal emails can remain undisclosed.  May 21, 2019, Source: Globe and Mail
Planned to cap public sector wage increases at 1%,a move that could derail ongoing contract negotiations, spark protests, and give rise to a court challenge. June 5, 2019, CTV News
Ford government gave millions to rural Tory ridings amid cutbacks.  The one-time funding came two weeks before the spring budget which contained cuts to municipal budgets for public health units and other programs.  June 14, 2019, Source : Globe and Mail
Major cabinet shuffle – and demotions abound from the "all-star cabinet" – Vic Fedeli demoted to Economic Development from Finance Minister, Rod Phillips takes over; Caroline Mulroney loses Attorney General position and goes to Transportation with Doug Downey thing her portfolio; Lisa Macleod demoted  to Tourism, Culture and Sports from Children Community and Social Services; Lisa Thompson replaced at Education by Tory insider, Stephen Lecce. June 20, 2019, Source Global News 
Nepotism broke out – into the open: Dean French, close friend and chief of staff to Ford resigned after it was found out that he awarded 6-figure jobs to his son's friend and wife's cousin. His friend's son, Taylor Albrecht would have earned $164, 910 per year as agent general to New York while his wife's cousin, Taylor Shields was set to make $185 000 per years as trade representative to London, England. The appointments were rescinded.  June 21, 2019, Source: CBC
Andrew Suboch, the head of a committee that helps appoint justices of the peace has resigned after reports that he has ties to Dean French, the premier's former chief of staff linked to the patronage scandal in the Ford government.  July 11, 2019. Source Global News
More Ford cronyism Miroslaw Surma, father of newly appointed Kinga Surma was hired by Ford as a policy adviser. The move was defended by Stephen Lecce, new Education Minister,  Ford's parliamentary assistant, as a way of dealing with "too many ivory tower people advising the former Liberal government." June 27, 2019, Source: Toronto Star
Ontario government passed bill to cap public sector wage increases at 1 per cent. More than a million public sector workers would be affected by the bill, which is retroactive to June 5, 2019. Ontario teachers' 4 unions are preparing to challenge the government in court saying the bill tramples on collective bargaining rights.  November 8, 2019, Source: CBC News
Ford government sought new powers to pass bills more quickly. The proposal would allow the government to push legislation through multiple stages in one day and to call night sittings of the Legislature whenever it wishes. November 10, 2019 Source: CBC News
Business leaders pay thousands to dine with Ontario Premier. The funds go to charity but raise ethical concerns as they are akin to trading cash for access, observers say.  November 13, 2019, Source: Globe and Mail
Ontario's new law that gives the provincial government immunity from many lawsuits is being challenged as unconstitutional in the courts. November 28, 2019, Source: Globe and Mail
Ford seeks 'Immediate Solution' to Ontario license-plate visibility issues.This comes one day after Government Services Minister Lisa Thompson expressed confidence in the new plates. Source: Globe and Mail, February 20, 2020
went on to blame 3-M the company that sold the government the film for the plates
Province dropped blue license plates over visibility issues. May 7, 2020, Source: Globe and Mail
Mike Harris's former environment minister, Norm Sterling, appointed by province to head the Greenbelt Council. Sterling voted against the creation of the Greenbelt in 2005, and slashed the Environment Ministry's budget by 40%. Later, the Walkerton tainted water inquiry concluded that the Harris-era cuts helped set the stage for the year 2000 disaster that killed 7 people and sickened thousands of others. April 29, 2021, Source: thestar.com
Doug Ford's handling of Rob Ford's estate faces scrutiny from provincial lawyer. May 10, 2021, Source: thestar.com
Canada's leading civil liberties group (Canadian Civil Liberties Association) joins constitutional challenge of Ford government's election spending reforms for which he invoked the Charter of Rights'  "notwithstanding clause" for the first time in Ontario's history.  Source: thestar.com, June 22, 2021
Report also highlights the following:
The Ontario Securities Commission has yet to collect $378 million of the $525 million in financial penalties it imposed on companies
Ontario Provincial Police detachments are increasingly understaffed
The Ontario Cannabis Retail Corporation does not have sufficient age verifications in place
Homelessness is a serious issue in Ontario but the government has no strategy to prevent or reduce it
The province has little oversight of 500 private colleges
Ontario's 24 public colleges receive the least amount of government funding compared to those in other provinces
Wait times for outpatient procedures have increased
Less than 60 per cent of those who suffer a heart attack receive timely treatment. 

December 1, 2021,

Source:Toronto Star
Health
Ended free medication for children and young adults whose parents have private insurance coverage –June 30, 2018. OHIP+ had offered free prescription medication to Ontarians under 25 and covered 4 400 medications. Source: Global News
Delayed Immunization reporting rules for doctors to inform public health units of the children they immunized – July 7, 2018. Source: CBC
Allowed cannabis shops to operate 150 metres from school (not 450m as originally planned) November 15, 2018. Source: Hamilton Spectator
Cut all funding for the College of Midwives –December 15, 2018. Loss of the *$799 000 grant was made retroactive to April 2018 – so the College would not receive promised funds. Source: Ottawa Citizen
Planned to replace 14 Local Health Integration Networks (LHINs) with no more than 5 regional oversight bodies – January 17, 2018. Source: CBC
Documents leaked to the NDP indicate that Ford government is planning to create a super agency to oversee health and introduce a delivery model called Mycare enabling it to privatize aspects of healthcare. – Feb 4, 2019. Source: CBC
Health Minister Christine Elliot announced the dubiously named "People's Health Care Act" which will create a new oversight body called Ontario Health – February 26, 2019. Source: Toronto Star.  The plan is to eliminate most of the Local Health Integration Networks (LHINS) and absorb agencies: Cancer Care Ontario, Health Quality Ontario, eHealth Ontario, Trillium Gift of Life Network, Health Shared Services Ontario, Health Force Ontario Marketing and Recruitment Agency.
More than 1 400 people ask to speak at public hearing on legislation aimed at overhauling the Ontario health system – proposed changes include eliminating 14 Local Health Integration Networks and 6 other administrative bodies and replacing them with a single agency, Ontario Health. March 30, 2019 Source: CBC News
Considered lifting a ban that prevents major pharmacy chains from selling in-house brands of prescription medications.  Independent pharmacists and drug distributors who oppose the change believe that it would give an unfair advantage to the owners of the two largest pharmacy groups, Rexall and Shoppers Drug Mart.  – March 22, 2019.  Source:The Globe and Mail
Cut funding to three supervised drug-use sites and indicated it may soon stop supporting the busiest site in the province. A coordinator with the Toronto Overdose Prevention Society, Gillian Kola, said the changes will have a devastating impact on the community. March 30, 2019. Source: Globe and Mail
Slashed Toronto Public Health funds by $1B over a decade, part of a plan to consolidate local public health units. Toronto Board of Health Chair Joe Cressy said the cuts will affect programs including infectious disease initiatives, communicable disease surveillance, immunization programs, food safety and water quality initiatives, as well as sexual health promotion.  Toronto Mayor, John Tory, stated that this change is an attack on the health of the entire city.  April 18, 2019. Source: CBC News 
Plans to merge ambulance services across Ontario, going from 59 local ambulance services to just 10. April 16, 2019. Source: CBC News,
Ontario Telemedicine Network lays off 44 staff as a result of PC government funding cuts. May 8, 2019, Source: CBC News
PC cuts threatened stem cell research as funding for the Ontario Institute for Regenerative Medicine won't be renewed in 2020. May 16. 2-19, Source: CBC News
Stop smoking program shuttered after Ford government pulls funding."Leave the Pack Behind" initiative targeted young adults for 19 years. It will stop operations as of June 2019. May 30, 2019, Source: CBC
Reduced access to some health care services in cost cutting effort.  The province and the Ontario Medical Association unveiled a list of 11 changes that include cuts to services such as house calls, MRI or CT scans for hip and knee pain, and urine pregnancy tests in doctors' offices.  August 23, 2019. Source:  Globe and Mail
Protest held at Nathan Phillips Square over Ontario healthcare cuts. The groups said they are protesting "real-dollar cuts" to public hospital funding as well as plans to eliminate public health units and local ambulance services.  November 9, 2019, Source: CP 24
The Ontario government was planning to change the rules around how health data can be shared. Privacy experts worry some reforms could compromise the security of patient information. November 14, 2019, Source: Globe and Mail
Ford looked to weaken pesticide rules.  November 14, 2019, Source: Globe and Mail
Greg Harrington, a former policy adviser to Doug Ford, has registered as a lobbyist for a pharmaceutical company that is trying to persuade the provincial government to keep funding the country's most lucrative drug, Remicade. February 18, 2020, Source: Globe and Mail, 
Ontario won't renew extra funding for sexual assault centres, advocates say. March 4, 2020, Source: Globe and Mail
Nurses outraged at one per cent raise under wage-cap law (Bill 124) while Doug Ford calls them 'heroes' in COVID-19 fight. June 12, 2020, Source: the star.com
COVID-19
Military details horrific state of Ontario care homes. May 27, 2020, Source: Globe and Mail
Ontario farms struggle to contain COVID-19 raising concerns over safety and testing adequacy. June 3, 2020, Source: Globe and Mail
Toronto pushing the province to start collecting and sharing COVID-19 data around race and jobs. June 2, 2020, Source: cbc.ca 
Doug Ford says he relies on COVID-19 experts to guide reopening, but his government won't identify them, raising questions about where the science is coming from. June 9, 2020, Source: cbc.ca
Health care unions consider political action over Ontario's COVID-19 Emergency Act. July 11, 2020, Source: Globe and Mail
Ford defends emergency order law after MPP removed from caucus over dissent. Bill 195 allows the government to extend emergency orders for one month at a time for as long as two years, which Belinda Karahalios called an unnecessary overreach. July 23, 2020, Source: Globe and Mail
Ontario's back-to-school plan puts no limits on class size for elementary students. Teachers' unions say plan is unsafe for students and educators.  July 31, 2020, Source: Globe and Mail
Class-size plan puts students at risk: Toronto Public Health.  August 7, 2020, Source:Globe and Mail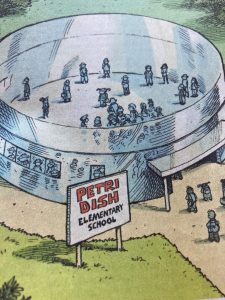 Ontario is being urged to expand testing of school staff and students – especially in COVID-19 hot spots -after the first site in Toronto uncovered 19 cases at one elementary school on the first sample group that was tested. November 30, 2020, Source: the star.com,
Critics slam Ontario government over holiday vaccination slowdown. December 28, 2020, Source: ctvnews.ca,
Big, for-profit long-term-care companies paid out more than $170 million to investors through Ontario's deadly first wave of the Pandemic while taking millions in government funds. December 26, 2020, Source: thestar.com
Ontario's new stay-at-home rules are clear as mud. The latest lockdown rules are such a mess that even Toronto mayor John Tory says he can't understand what they mean for the city. January 13, 2021 , Source: the star.com,
Paid Sick leave. Toronto councillor and chair of the Toronto Board of Health, Joe Cressy, stated that essential and front-line workers during the COVID-19 pandemic need paid sick leave in order to be able to stay home and self-isolate when they are ill. January 11, 2021, Source: ctvnews.ca,
No paid sick leave says Doug. Doug Ford draws criticism saying that there's no reason for Ontario to offer paid sick leave to protect front-line workers during the COVID-19 pandemic as they can access a federal program.  Some advocates have said that the federal program is insufficient because payments can take weeks to process and the benefit does not provide job security. January 18, 2021,  Source: ctvnews.ca,
Internal government documents show how Ontario 'watered down' its strategies to keep COVID-19 out of classrooms. The documents included proposals for safety measures that did not come to fruition upon Fall school openings related to testing, symptom screening and class sizes. Dr Janine McCready, an infectious diseases physician, urges the province to implement the more stringent safety measures that were discussed in the documents months ago.  January 21, 2021, Source: the star.com,
Ontario continues to ease restrictions despite new modelling data that suggests it could face a third wave of COVID-19. February 12, 2021, Source: CBC News,
300 000 to 50 000 doses of COVID-19 vaccines shipped to Canada will expire on April 2. Green leader Mike Shreiner said the looming deadline shows why the Ontario government should have had the appointment booking system up and running by now.  March 3, 2021, Source: the star.com,
Health-care system neglecting priority populations, especially low-income and people of colour, resulting in vaccine appointments being left vacant for those over 70. The Ontario COVID-19 Science Advisory Table released data Thursday that indicates that vaccines are not reaching the highest-risk populations across age groups. April 3, 2021, Source: the star.com
150 ICU doctors write letter to Ford government over CIVID-19 variants, warning that more measures are needed.  April 1, 2021, Source: global news.ca
Ontario declares stay at home order – limit to shopping for food, pharmacy, health services exercise. April 7, 2021 Source: News Ontario
Ontario is giving priority access to COVID-19 vaccines to some neighbourhoods that have been far less affected by the pandemic than other areas not designated as hot spots, data analysis by CBC News reveals. 4 out of 5 of the postal codes benefitting from the unwarranted designation are represented by Conservative MPPs. 7 postal codes with a greater COVID-19 impact that are not classified as hot spots are located in ridings held by the opposition parties. April 12, 2021, Source: CBC.ca
Ford announces new restrictions: police to be able to do random stops of people away from homes, playgrounds, non-essential construction shut down. – no plan for paid sick leave. April 16, 2021, Source  CBC News
Majority of Ontario police services refuse to randomly stop residents despite Ford COVID-19 new lockdown restrictions' announcement. April 17, 2021, Source: thestar.com
Province should be taking a more targeted approach to curb COVID-19 by legislating paid sick leave and ensuring essential workers are vaccinated says Dr Martha Fulford, infectious disease specialist and associate professor at MacMaster University. She stated that the last thing the province should be closing is playgrounds. April 17, 2021, Source: thestar.com
Ontario drops COVID-19 playground restrictions. April 17, 2021, Source: the star.com
Ontario walks back new pandemic police powers following widespread backlash. Instead, police will only be allowed to stop people they have reason to believe are participating in an "organized public event or social gathering." The closing of outdoor space, meanwhile, puzzled many public health experts. Dr Isaac Bogoch, who sits on the province's COVID-19 Vaccine Distribution Task Force, said in a tweet that "outdoor activities are vital for mental and physical health, especially with stay-at-home orders." He added that "Science is clear: Outdoor COVID transmission is extremely rare." April 17, 2021, Source: Toronto.ctvnews.ca
Toronto Public Health issues Section 22 Class Order to close workplaces to manage COVID-19 outbreaks. April 20, 2021, Source: toronto.ca, 
Peel Region's top doctor, Dr Loh, will issue an order Tuesday that will force businesses with five or more cases of COVID-19 cases in the last two weeks to close for 10 days.  Lot also recommends that businesses forced to close because of COVID-19 cases provide paid leave for employees forced to isolate. Lot is among the many regional medical officers of health and other health professionals who have repeatedly called on Premier Ford and his cabinet to implement a provincially run paid sick leave program. April 20, 2021, Source: cbc
Child care workers demand COVID-19 vaccine as Ontario daycares remain open. April 22, 2021, Source: citytv
No 10 paid sick days. Ontario's Provincial Conservatives used their majority to defeat Liberal MPP Michael Coteau's private member's bill, which would have given 10 paid sick days for essential workers in Ontario. According to the Liberals, it was the 21st time that the Tories have voted against provincial paid leave since 2016. April 26, 2021, Source: cbc
Ontario's plan for three paid sick days is not enough, Deena Ladd, executive director of the Worker's Action Centre, a labour rights advocacy group, had been advocating for 10 paid sick days, to be paid by employers. Dr Isaac Bogoch, an infections disease specialist at University Health Network, stated that 14 days are needed. April 28, 2021, Source: thestar.com
Federal government insists it's up to Ontario to make businesses pay for sick leave and is rejecting Ontario's offer to top up the federal sick leave program for provincial residents instead of creating its own. April 27, 2021, Source: cbc.ca
Ontario did little to prepare long-term care homes for COVID-19, internal documents reveal. April 28, 2021, Source cbc.ca,
The Ontario long-term care commission says the system needs sweeping reforms. The commission was critical of the slow decision-making process of the Ford government during the early days of the pandemic. The commission said Dr David Williams, the chief medical officer of health, in particular, was too slow to act.  April 30,2021, Source: globalnews.ca
Ontario Long-term Care Minister Merrilee Fullerton declined to apologize or resign Monday despite a report that found her government's slow response to COVID-19 contributed to a devastating loss of life in nursing homes. May 3, 2021, Source: torontosun.com
Doug Ford opposes mandatory shots and proof-of-vaccination. The Registered Nurses' Association of Ontario is recommending that all health-care workers be forced to get vaccinated and is calling on Queen's Park to mandate COVID-19 vaccination for all health-care workers. July 15,2021,  Source: Toronto Star
Rejects demand to meet with MPPs to discuss vaccine passports and mandatory vaccination for healthcare and education workers, as COVID-19 cases doubled in the last two weeks. The meeting was backed by a number of business and medical organizations hoping to mitigate a fourth wave and help avoid shutting down schools and businesses. August 11, 2021,  Source: Toronto Star
Epidemiologist, Dr David Fisman, quits the science group advising the Ontario government on COVID-19 saying it does not have enough distance from the Ford government. August 23, 2021 , Source: CBC
Ontario's labour ministry has rejected all teachers' COVID-19 work refusals– and almost everyone else's- a concern for teachers who will be working with a largely unvaccinated population and with the highly infectious Delta variant.  August 24, 2021, Source: Toronto Star
Ontario government prorogues legislature until after the federal election. NDP leader Andrea Horwath called the decision an abdication of responsibility, in light of COVID 19. September 3, 2021,  Source: Toronto Sun
Doug Ford won't impose COVID-19 mandate for health-care workers, citing possible staff shortages.  However, the Science Table stated that the risk of COVID-19 outbreaks causing staff shortages is far greater than the planned shortages caused by removing the remaining unvaccinated health-care workers. November 3, 2021, Source: CBC
Housing
Exempted new rental units from rent control claiming it would encourage developers to build more affordable housing. November 15, 2018. Source: CBC
Raised MPP housing allowances by 20 percent – retroactive to July 20, 2018 – January 17, 2019. To $2 300 /month. Source: CP
Passed Bill 108 More Homes More Choice Actwhich changes 13 existing acts reducing local fees for developers cities use to build infrastructure to support development as well as shortening approval times for developers. June 6, 2019, Source: Toronto Star
Resistance mounted to Ford government housing bill.  Environmentalists and municipal politicians want Bill 108 delayed or scrapped as they warn the plan would speed the conversion of farmland into sprawl. June 1, 2019, Source:Globe and Mail
Canceled a plan to build affordable housing on a piece of unused land in premier Ford's riding saying the original deal wasn't good enough.  July 12, 2019. Source:  Globe and Mail
Ontario to use bio-similars for patients on public drug plans to save tens of millions of dollars a year. February 27, 2020, Source: Globe and Mail
Ontario pledges action to fight renovictions but advocates say new bill would also weaken notice provisions on rent hikes. March 13, 2020.            Source: Globe and Mail
Toronto taking province to court over tenant Bill 184. Councillor Mike Layton said the city's housing crisis existed before the pandemic and the new law just makes a bad situation worse. July 30, 2020, Source: torontosun.com
Audit finds that Ontario failed to track $4.4B in COVID-19 pandemic relief spending. The report was tabled by the Auditor General, Bonnie Lysyk on Wednesday. May 12, 2021, Source: toronto.ctvnews.ca 
Small business minister, Pravmeet Sarkaria,  under fire after wading into the debate over vaccination efficacy, potentially shaking public confidence.  Source: May 7, 2021, thestar.com
Indigenous Peoples
Scrapped Ministry for Indigenous issues – June 29, 2018. Source: Huffington Post
Cut $2 million from the Indigenous Culture Fund, a fund set up in response to a call for action by the Truth and Reconciliation Commission which sponsors local Friendship Centres – December 14, 2018. Source Global News
Cancelled Truth and Reconciliation Commission curriculum writing team – July 9, 2018. One of the agreements that came from the Truth and Reconciliation Commission, this was aimed at introducing more about Indigenous history and culture to schools. Source: CBC
Eliminated a fund supporting Indigenous cultureas the government cuts tens of millions of dollars in arts funding – a decision that is being slammed as short-sighted.  May 26, 2019, Source: National Post
Ontario won't commit to mandatory inquests for children who die in care as requested by  Indigenous leaders, the provincial NDP, and Ontario's former childrens' advocate. January 25, 2020 Source: Globe and Mail, 
Surge in mining claims.Ontario promised to get to the bottom of alleged mercury dumps upstream from Grassy Narrows. Instead, the province allowed a surge in mining claims on the Indigenous territory.  April 12, 2021, Source: the star.com
Ontario will not make National Day for Truth and Reconciliation a provincial holiday.  September 9, 2021, Source: CBC News
Indigenous group launches legal action over Ford government's use of MZO to fast-track a controversial development near Lake Simcoe. Legal experts say the outcome could have implications for ministers zoning orders, or MZOs, approved by the province on treaty lands, which includes all of southern Ontario. MZOs cannot override the Crown's constitutional duty to consult and include First Nations in any decision-making processes, said Laura Brown, staff lawyer for Ecojustice, an environmental law charity. November 19, 2021,  Source: Toronto Star
Justice
Government  is moving ahead with controversial changes to the way judges and justices of the peace are appointed, a move critics fear will open the process to political interference. February 27, 2020, Source: cp24.com
Ottawa, Ontario challenged on solitary confinement. Human rights commission says current practices are unacceptable. August 26, 2020, Source: Globe and Mail 
Criminal defence lawyers raising alarm bells after the Ford government appoints 41 justices of the peace.  More than a third of the new appointments have former policing, military, or correctional backgrounds. Criminal defence lawyer Michael Spratt said that the problem with appointing police officers, law enforcement, and correctional individuals is that they are partisan, arresting and advocating for detention one day and deciding upon bail issues another day.  July 12, 2021, Source: CBC.ca 
Municipalities
Cut Toronto City Council from 47 to 25 members – July 27, 2018. Toronto was in the midst of an election campaign the Ford government. Ford halted elections for Chair of Peel, York, Niagara and Muskoka. His legislation – The Better Local Government Act was challenged in Superior Court and Justice Belobaba struck it down saying that it contravened people' "freedom of expression." Ford immediately announced that he would reintroduce the same legislation using "notwithstanding clause" of the Charter of Rights and Freedoms to get around it. On September 19 – Ontario Court of Appeal granted a stay of Belobaba's original ruling – final result of the appeal is pending. Source: Global News
 Halted new overdose prevention sites – August 15, 2018. Halted the opening of 3 sites across Ontario – Thunder Bay, St, Catharines and Toronto. Then Ford gave the OK for maximum 21 sites across the province in October. Source: Global News
Dissolved the board running Ontario Place and placed its assets under provincial control. November 16, 2018. In mid-December appointed ally and fundraiser, Jim Ginou to chair of the Ontario Place Board. Ginou said that Ontario Place could be "rebuilt any way that Ford wants it rebuilt." Source: Toronto Star
Ontario Power Generation sold the site of the unused Hearn Generating Station in the Portland area of Toronto to Studios of America for $16 million – November 22, 2018. One of Studios of America owners is Mario Cortellucci who with his family has donated thousands of dollars to Ford's leadership campaign. Source: Toronto Star
Cut all funding to Tourism Toronto. May 7, 2019,  Source: CP 24
Toronto is facing a projected funding gap of about $178 million this year as a result of provincial cuts.  Mayor Tory said that these cuts are a harsh offensive against services needed in Toronto and that, as Toronto is the economic engine of Ontario, these cuts run the risk of stalling the engine. May 14, 2019, Source : Globe and Mail
Cities urge Ontario to rethink 'windfall' for developers as the provincial government plans to cap the payments from real estate developers for parks and other public improvements. May 2nd, 2020, Source:Globe and Mail, 
Ranked ballots beaten back. Ford faces pushback after move to scrap ranked ballots for municipal elections. The proposed amendment was tacked onto a bill that would also limit the legal liability of businesses and organizations, including long-term care homes operators, in regards to COVID-19. October 21, 2020, Source: Globe and Mail
The Foundry buildings in the West Don Lands in Toronto are set to be demolished as they are under minister's zoning orders (MZOs), allowing Minister of Municipal Affairs and Housing Steve Clark to overrule the City's Heritage and planning designations. Community groups have not been consulted and City Councillor Kristyn Wong-Tam has asked the City's transportation staff to revoke the construction hoarding and right-of-way permits issued for the site. January 14, 2021, Source: the star.com
Ford government approved a closed-door deal last September to sell provincially owned land in Toronto that's at the centre of a dispute over heritage value. (see above)The government is refusing to disclose the identity of the prospective buyer of the Dominion foundry on Eastern Avenue in the West Donlands. February 22, 2021, Source: cbc.ca,
Policing
Postponed Bill 175 updating the police service act – July 4 2018.  Passed in spring of 2018 would have provided more oversight of police in the wake of civilian deaths at hands of the police. Source: CBC/Toronto Star
New bill removes requirement for police to notify Special Investigation Unit (SIU)of certain kinds of death (eg: heart attack, suicide) while police are at the scene, where before all such deaths were reported and raises standard of evidence for misconduct findings. February 19, 2019.  
Appointed friend, Ron Taverner head of OPP – November 29, 2018. Government lowered the qualification requirements enabling him to apply. Ontario's Integrity Commissioner is investigating allegation that Ford violated the Member's Integrity Act by participating in a Cabinet decision to appoint a family friend. Source: CP 24
Ron Taverner declined the appointment asOPP commissioner owing to extensive controversy.  March 7th, 2019. Source:The Globe and Mail,
Brad Blair, veteran OPP commander who had also vied for the position, was fired this week after initiating a lawsuit into the hiring process that led to Mr. Taverner's appointment.  March 7th, 2019.   Source:The Globe and Mail,
Passed legislation that narrows the scope of mandatory investigation by the Special Investigations Unit (SIU).  March 26, 2019 Source: CP 24, March 26, 2019
Appoints all-male panel for police-force review, raising questions about whether issues of discrimination and harassment facing female employees will be addressed adequately.  The panel does not include police officers or people in mental health and/or organizational culture fields.  April 30, 2019, Source: Globe and Mail
OPP budget cut by nearly 4% as staff and officers win pay hikes through arbitration. May 11, 2019, Source: CBC. News
Social Services
Cut to funds to repair social housing – July 3, 2018. One of the results from the cancellation of the Greenhouse Gas Reduction fund. Source: CP 24
Took away support for resettling asylum seekers – July 5, 2018. Backing away from former commitment, Ford said that he wouldn't help to shoulder costs of resettling asylum seekers. Left cities like Toronto without adequate funding to house refugees (3 000 in Toronto). Source: Globe and Mail
Cut $355 million from mental health funding – reducing it to $190 million this year July 26, 2018.  Source: Windsor Star
Ended Basic Income Pilot Project – July 31, 2018. 4 000 people enrolled in the project set to last until 2020 which would have provided $17 000 for single people less half of any income they earned; people with disabilities received an extra $ 6 000. Class action lawsuit launched against the government over alleged breach of contract. Source: CBC
Cut promised 3% increase for Ontario Works & Ontario Disabilities Support Program. July 31, 2018. Three percent increases over time reduced to 1.5% increase. Source: Ottawa Citizen
Cut advanced age allowance for elderly and allowances for people needing guide dogs. August 11, 2018. Source: Rabble
Ended Roundtable on Violence, a group of volunteers who gave advice to government like advocating for paid leave to people experiencing domestic violence or the threat of it and to put this in Fair Workplaces Better Jobs Act – October 13, 2018. Ford said that he planned to scrap this act. Source: Globe and Mail
Expanded hours of alcohol sales from 9 am to 11 pm seven day per week – November 16, 2018. Source: Globe and Mail
Planning to change the rules to allow more and younger children to be cared for by one caregiver. December 6, 2018. Source: Toronto Star
Circulated a memo to non-unionized government employees offering money to get them to quit their jobs as it seeks to reduce its workforce December 13, 2018 Source: CP
Changed funding for families with autistic children– February 6, 2018. (Update: 2019 02 18)Funding to go directly to families to a maximum of $140 000 per child between ages 2 and 18. Intensive Behavior therapy for autism can cost between $60 000 and $80 000 per year. Association for Behavior Analysis claims that Minister Lisa Macleod threatened it with repercussions if it didn't provide positive comment about the plan.
Service providers for autistic children claimed they were instructed to stop providing therapy for children on the waiting list to receive treatment. Lisa Macleod denied it. 2019 02 25. Source: Canadian Press/QP Briefing
Rape crisis centres received no word as to whether or not they will receive funding promised from last year.  February 12, 2019. Source: QP Briefing
Lisa Macleod, Minister of Children, Community and Social Services, announced a roll back of the reforms of the province's autism program
The new plan will provide a six month extension for children currently receiving therapy under the old system,
$20 000 annually for diagnosed children age 6 and under, and $5 000 for older children, with the same cap of $140 000 for each child remaining in place for now.
Proposed income test is being scrapped.  March 22, 2019. Source: Globe and Mail
Ford government reversed course on autism program after months of protests from parents and an internal review.  Changes won't be fully rolled out until April 2020. July 30, 2019, Source: Globe and Mail
Less money to help addicted gamblers. Research agency, Gambling Research Exchange Ontario, has its funding eliminated by the PC government as Ontario looks to expand online gambling and to serve free alcohol in casinos.  May 4, 2019, Source: CBC.ca
Mass resignation of the board at a Brantford's Children Aid Society as a response to underfunding; workers citing that it is no longer possible to fulfil the mandate of protecting children.  July 10, 2019. Source: Toronto Star
More than 3 000 new Toronto child care spaces at risk due to provincial cuts. July 15, 2019. Source: Toronto Star
Immigration board says cuts to legal-aid funding will cause hearing delays.  July 17, 2019.Source: Globe and Mail
Ottawa to fund legal aid for refugees and immigrants in Ontario as one-time financing as a result of the Ford government cuts. August 13, 2019. Source: CTV News
Changes to social assistance in Ontario could harm people living in poverty as the shift opens up the opportunity for private service. Similar reforms in Australia and the UK have been riddled with problems.  February 2020, Source: Maytree Newsletter
Province under fire for decision to abruptly close youth jails and relocate children further away from home. March 3, 2021, Source: the star.com,
Doug Ford's new long-term-care legislation, Bill 37, tolls for all of us. As previously written, the Long-Term-Care Homes Act stated the government must be "committed to promotion of the delivery of long-term-care home services by not-for-profit organizations. Bill 37 changes this inconvenient phrase to allow Ford to promote for-profit ownership.
In November, Ford confirmed plans to allocate thousands of new beds to 30 year-licenses to for-profit companies, including to operators of homes in which the military exposed hideous examples of neglect. These expansions are paid for by public taxes and residents' fees. Private profits and socialized harms: the agenda of the Ford government. January 4, 2022, Source: Toronto Star
Transit and Transportation
Planned to take over Toronto Transit Commission subways and possibly other of its assets. November 21, 2018. Ford plans to push the subway into York, Peel and Durham. Source: Toronto Star
Feb 12, 2019 Province and Toronto agree to terms of reference to discuss upload: meeting every 2 weeks, 4 representatives for each side; acknowledgement of public consultation and sustainable funding. Source: QP Briefing
Committed $11.2B of $28 billion needed to build four major Toronto area transit projects, including a 15 kilometre "Ontario Line" running from Ontario Place to the Science Centre, which will replace the downtown relief line.  Many critics have raised concerns about changing course on several projects already underway.  Toronto Mayor John Tory said the city has a long list of questions and raised concerns about the province's proposals delaying projects like the Scarborough subway extension. April 11, 2019 Source: CBC
Toronto and Queen's Park deal for subway expansion – this allows for Doug Ford's Ontario Line to be built while Tories will no longer take over Toronto subway. Source: The Globe and Mail, October 17, 2019
Ontario cancelled major Hamilton transit project. Hamilton mayor Fred Eisenberger said this is a betrayal by the province to the City of Hamilton. December 17, 2019,  Source: Globe and Mail
Province introduces  bill aimed at speeding up GTA transit projects. It would give transportation minister the power to issue an order to modify or take over any municipal right-of-way or service if negotiations with a municipality over a transit project fail. February 19, 2020, Source: Globe and Mail,
Ontario will go ahead with construction of both the Bradford bypass and Highway 413, according to the fall economic statement. Opposition critics questioned the value of those projects, including whether the routes were planned to benefit allies of Ford, how much time they will save commuters and the impacts to the environment. November 4, 2021, Source: CBC