Growing hope: the Olori project
It's the middle of January, bitterly cold and dark as midnight at 5 p.m. outside the Don Montgomery Centre in Scarborough. The centre is right beside the Kennedy Subway station and is big and easy to spot even though it's snowing. The problem is trying to find the road in.
Inside down in a corner, local kids are hanging out and/or playing basketball in the gym. Gradually youth workers manage to entice some of them away from the game. There's a meeting about to start and a dozen of them need to be at it. They're all from Jean Vanier Catholic SS and they make their way into the meeting room, some still wearing parts of their school uniforms. Hoodies cover regulation shirts. It takes a while to settle down and get focused. The chair of the meeting chosen for the day is late, so someone else takes over. There are a couple of reminders from adults present to turn off cell phones. There's a reminder about tasks that people had agreed to do from the last meeting. Kids laugh, get off track and call each other out from time to time. Learning to be an activist doesn't happen in a straight line.
The Olori project
These kids are part of the Olori project, based on the West African Yoruba word for leader. The project  grew from of one of the recommendations from the 2017 Toronto Action Plan to Confront Anti-Black Racism. 
That there is anti-Black Racism in the city is the reality Olori addresses – from carding, arrests or detention of young Black men, racial profiling, fatal shootings by police to a Ford government minister who decides to wear a flak vest when he visits the Jane-Finch area. One of the Olori project sponsors is Julet Allen of Delta Family Resource Centre. She says, for Black kids across the city, "some people see your race before anything else". That is the state of the world these young people inhabit and it's not going to get better anytime soon, as services are cut back, schools fade and money gets tight.
Ms. Allen makes it clear that Black youth need to be mindful of the preconceived ideas people have about them. There's a lot of work that needs to be done to help them come to grips with what it means to be Black in the city. Unlike so many other young people who grow up assuming they will be treated fairly and reasonably by adults around them, young Black kids need practice to see and work with these preconceptions. They need to be better prepared, to have done their research and learn the skills they need to handle authority in a strategic way.
In the case of Olori, the question was how to engage Black youth in political life. Initially students from across the city got together over broader issues like participating in the municipal election, taking part in a town hall over race issues, learning how to get involved with local politics.
One person who oversees the different Olori groups going on around the city is Yafet Tewelde. He spent time as a kid living in the Jane and Woolner neighbourhood in the west end of the city, knows what it's like to be stigmatized as a Black man, stopped randomly by police and searched. He speaks powerfully about how hard it's been to resist the limits of racism. He has spent much of his life organizing in communities where so many people are caught in the vicious cycle of poverty, dropping out of school, unemployment, crime, violence and incarceration. Yafet Tewelde also happens to be the New Democratic Party candidate in the coming federal election for York South Weston. He represents political hope.
He grasps the day to day questions so many of these young people need help answering: how to respond to what they see as unfair treatment from teachers, school administrators and police. They're up against their own "impetuousness" like any other kids, he says, but there more serious consequences for them if they don't learn the slow steps of how to apply political pressure. It's too easy to learn from experience that they can't do anything that will make any difference.
So, there is a process to learn. Political pressure involves research – not only about a problem but, just as important, about who to talk to, how to get people to support your group or your proposal. It involves organization and planning- figuring out what steps need to be taken to get that support or talk to those people, who is going to contact them and what questions they're going to ask. Everyone has a job to do and everyone needs to be accountable for what they've agreed to take on. And as these kids get a little older they will become role models for younger ones coming after them. That is where developing future leaders comes in.
This is the basic stuff of education: not some bit of disconnected history, geography or science that has nothing to do with the lives of these kids, but useful learning. And useful learning alone is powerful. It is absolutely useful to learn how to speak to authority that has little understanding or sympathy for you, that follows its own track, its curriculum, rules and processes. Imagine how much more meaningful and relevant those bits of history and so on might become if kids learned how to connect them to something important to themselves and their communities.
Scarborough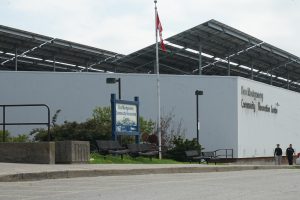 The kids at the Don Montgomery Centre chose to take action over their school dress code at Jean Vanier Catholic SS. And it's pretty clear: if you don't wear the regulation uniform, you'll be sent home to change. The students spent the first meeting going over basics with the two group leaders Roderick Brereton and Farley Flex – who is going to take notes, who is going to lead the meeting, the importance of being accountable for what you say you're going to do and so on. They agree to turn their phones off, show respect for others and be on time for the meeting.
Then it gets down to outlining the problem. The sweaters students  must wear with their uniforms are expensive, but they need something even warmer because the school is so cold in the winter, it's hard to pay attention in class. Farley Flex asks if they've considered taking the temperature of the classrooms or getting an opinion about the lack of heat from school staff. It's about gathering information and starting to form alliances with teachers because, when it comes to apply pressure on administrators, they're going to need some support from staff. The group leaders suggest that students make a proposal allowing them to wear whatever sweaters they want until the heating is improved. They suggest using precedence as an argument – that kids could research what other schools have relaxed dress codes for different situations.
The Jean Vanier students also want to add something optional to their uniforms; they want to be able to wear their own head gear. They think they can use Black History month to highlight the culture behind head scarves, maybe put together a petition to get their peers' support over this and present it to school administration as part of the argument to ease back on the regulations.
There are jobs to do: find out what other schools have eased regulations, start to draft a petition and then hone it to make it specific, come up with a presentation on headgear for Black History month. Take the little steps and learn more about what you can change and how to do it.
Rexdale
The situation is a little different in Rexdale, Doug Ford's riding. Initially, the Olori group involved some young people in their early twenties who were working on changing police policy over racial profiling. According to group leader Nimco Mohamed, some of them were arrested and the plan didn't go any further.  Ms. Mohamed says that kids in this neighbourhood largely of Somali backgound, don't generally believe they can change policies.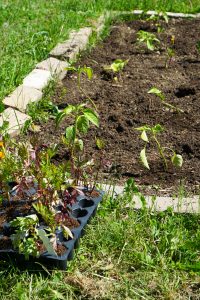 What about a garden? For young people who face problems with police, their schools, the justice system, lack of resources and violence in the community, a garden might make it a little less scary. Roughly 20 kids met early in the spring to map things out: what they would plant, how often they'd meet, how they would learn about gardening basics. Where would this garden go?
Fortunately, that problem was solved early. Eric  Godaj, the property manager of the apartment building near Dixon Road and Islington Avenue said the students could work some unused space on the property. He even offered them some plants. The students needed to make a plan to approach people for more supplies, pick up garbage, clear the site and get it ready for planting.
Ms. Mohamed thinks learning how to change one thing is learning how to organize the community. It's something that seems to come naturally to her. She has lived in the area all her life, volunteered for years and sees a future for Olori bringing young people together, particularly boys. All they "ever saw was gangs and drugs," she says.
Politics
Back in Scarborough months later, the students of Jean Vanier Catholic SS learned that trying to bring about change can be frustrating. Group leader, Roderick Brereton explained the school said "no" to headgear; students would be suspended if they wore it despite their arguments that something like a "do-rag" is a cultural piece of clothing, not a gang affiliation. According to Angela and Alexis, two of the girls in the group, their petition about head gear didn't make it past the student council and the faculty advisor because it presented "too strong a statement." They felt "sad but not shocked," even though they were making requests not demands.
Looking on the brighter side, they have learned more about debating and organizing. They've met other young people at a City Hall conference about how young Black people fit into the fabric of the city; "learned that their situations are the same" – that yes there are other kids across Toronto who would like to be able to wear clothes that reflect their backgrounds and interests. The frustration of confronting that wall everyone faces who tries to deal with power doesn't seem to have knocked them back very far. As Alexis says: "I feel proud I was able to do what I did and get as far as I did."
Mr. Brereton sees the competition between what groups like Olori can do in 1 ½ hours a week and the real social education Black kids get in school and elsewhere: the suspensions, poverty, a bleak employment future. "There has to be alternative ways to dis-impact the social education of institutions that hold kids in custody," he explains.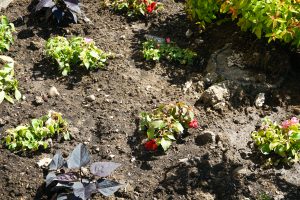 In Rexdale, things have worked out pretty well considering the challenges; starting a garden behind an apartment tower is not simple. But it's a testament to what people can do when someone starts to organize a project. Nimco Mohamed shows the space the building manager set aside for the garden. Much of it is still an overgrown parkette that doesn't look like it's been used in many years. There's a bench with weeds growing up through it and some long-forgotten sand pits. In the middle of this, Ms. Mohammed points out half a dozen plots that have been dug up and planted with lettuce, strawberries, eggplant, peppers and one plant she's not sure about, but eager to see come up.
Once the kids began clearing and digging up the plots, other things began to happen. Foodshare, a not-for-profit agency that promotes affordable healthy food, got involved, offering seedlings and a workshop on gardening. One of the building residents donated some topsoil. Others, with experience from home have helped out with gardening tips. A couple of residents have even started their own plots. The project has even expanded a bit to include filling the large concrete planters out in front of the building with flowers.
The garden needs watering; maintenance will always be an issue. But something concrete resulted from work and organization; something that other people in the community might help to keep alive, now they can see the possibilities of a garden growing out of a forgotten piece land.
It all comes back to what we all do to promote truly useful learning. Useful learning begins with what young people need and want to know and gives them a purpose for learning more. It is anchored in their experiences and grows from them. With two Olori projects, those experiences involved speaking to authority and creating a bit hope. What could be more relevant?