Mystery politics – Vaughan Working Families
Vaughan Working Families –  come on down! Who are you? Nobody seems to know except a select few.
This is quite a feat, considering that a group that mysteriously appeared last weekend, had the $50 000-$150 000 required to place full-page ads in the Toronto Star, The Globe and Mail, The Toronto Sun and The National Post. The message was "Teachers' Union (sic) leaders are risking student success. Children are not pawns."
Whoever wrote that copy really should have cited Doug Ford. At a groundhog day visit to Wiarton Willie, Mr. Ford told the Owen Sound Sun Times that teachers' union leaders are holding parents and students "hostage." He told CP24 on Sunday that teachers are getting frustrated because the "heads of their unions are forcing their teachers to walk out." This is despite the fact that union voted between 95 and 98 percent in favour of strike action.
Back on January 15 he was blaming poor leadership of public, secondary, elementary and Catholic union heads for the series of rotating strikes and work-to-rule campaigns that started in December. Way back last April when 100 000 students walked out of class to protest his government's cuts to education, Doug Ford dismissed them by saying the unions were "using students as a bunch of pawns …" Looks like whoever wrote this copy thought it was a good enough idea to try again.
Where are they?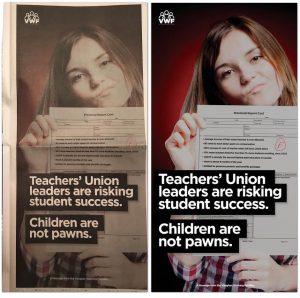 A School check on Saturday, when the ads first appeared, revealed nothing. There was no contact information on the pages, no website, no Facebook account and no Twitter account. Whoever did the artwork used a Shutterstock photo of a woman taken by Polish photographer, Leszek Glasner who told School "I am the author and she is my wife. We don't participate in teachers strike." The logo for Vaughan Working Families also came from Shutterstock.
In the fastest response ever to School by the Ministry's press officer Alexandra Adamo, she said:" We were not aware of these advertisements" referring to questions about possible involvement with the group by the Ford government, Stephen Lecce or his riding association.  His constituency office hasn't replied to School's questions and neither has his riding association.
On the other hand there are plenty of people up in York Region with an opinion about the ads. John Cartwright, head of the Toronto and York Region Labour Council has never heard of the group and is offering "a special $20 Tim Horton's gift card to the first person to prove who is behind these ads." He speculated about the mystery group, noting that there is a lot of Tory money in York region that could be used to influence the community and support the Ford agenda.
Jennifer Huang of York Communities for Public Education also never heard of the group, but would probably like a little of the money Vaughan Working Families can spend on ads. On a positive note, her group actually works to support public education and teachers, urging friends to join picket lines. York Communities for Public Education is running a Solidarity Camp for parents who need care for their children during the elementary strike on Thursday and Friday, this week. Here is the sign-up page for anyone who would like to know more about it.
These folks need a teacher
Accuracy was certainly not top of mind with Vaughan Working Families, whoever they are. They claim that secondary teachers' average salaries are over $90 000, neglecting to mention that Minister Stephen Lecce's office provided a chart of average salaries for teachers in general, pegged at $86 689 (2017 figures) For elementary teachers at the Toronto District School Board (TDSB) to make over $90 000 per year they have to have 9 years on the job and minimum qualifications of a four-year university degree plus a specialist certificate in a particular area of education. They claim that 80 cents on the dollar goes towards "compensation." Actually, according to the province's Financial Accountability  Office (FAO) teacher compensation amounts 48 percent of spending. The rest of that 80 percent is spent on everyone else who works in schools. It claims too, that teachers' salaries went up 80 percent since 2003-04. Since Toronto teachers were making an average wage of $58 506 in 2001-02 according to a Brock University study, that much increase would put average wages well over $100 000. They're not. Contrary to what the ad says, teachers work ten months of the year – not eight. The one point of agreement is that teachers are "entitled to generous pension and benefits packages." Good point – they are.
Backsplash
So – how are teachers' union leaders risking student success? Well, their membership and the 57 percent of Ontarians in a recent EKOS poll who support them, are demanding that special education supports be returned to schools, that Full Day Kindergarten remain in its current form, that class size averages be restored, that e-learning not be mandatory and that the mass of cuts made to school boards across the province last year be rescinded. Yes, they want a cost of living increase beyond the one percent the Ford government legislated. The Tories and their acolytes are betting that by throwing enough mud at teachers, some of it might stick and the overwhelming support they currently have will dwindle.
But that mud just might splash back. Toronto Catholic District School Board Trustee Norm DiPasquale made a complaint to the Advertising Review Board about inaccuracies in the ads. The NDP has called on Elections Ontario to investigate them. Since there are by-elections underway in Ottawa-Vanier and Orleans, the group might constitute a third-party advertiser and need to register as such. They would be limited to spending $4 000 on political advertisements. MPP Taras Natyshak (Essex), the NDP's Ethics and Accountability Critic argues: "Vaughan Working Families looks like a shell group, and Ontarians deserve to know where the piles of money to attack teachers is coming from."
Beyond the question of dumb ads
It is important to slam this kind of advertising. Teachers and their supporters are putting out strong messages with which many people might disagree – but at least they know who's making the statements and can call them to account. For Vaughan Working Families – there's nothing, but plenty of money behind the screen.
There are other questions to ask. What happened to the advertising departments of the Star, Globe and Mail, the Sun and the National Post? Why would they accept ads that don't appear to be from a real organization? They weren't even copy-edited. How will they reassure readers that what they print is reliable? These weren't advertisements for socks; they were put out with a far-reaching political intent.
As for Stephen Lecce, denying that he or his Tories had anything to do with the ads, isn't enough. He needs to condemn them; they only degrade his government and make it look more cynical than it already is.
And for Vaughan Working Families – show yourselves. Shine a light so we can see who you are.