Notwithstanding – education workers' right to bargain
It's just got to be hard work to be a Tory in Ontario. The mental exercise alone of justifying some of the legislation Doug Ford has put out over the past 4 plus years has to be exhausting. There must have been smoke coming out of Education Minister Stephen Lecce's ears yesterday as he tried to explain, why his government needs to pass back-to-work legislation rather than continue to negotiate with 55 000 CUPE education workers who among many other tasks, clean our schools, help our neediest kids, work in our libraries and run our offices.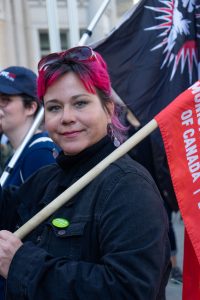 These are people whose average wage is about $39 000 per year. According to a recent CUPE report 84.2 percent of them reported that they made less than $50 000 per year. Half of these education workers reported that they needed to take on a second job to make ends meet. While the cost of living has risen steadily since 2012 with a sharp rise to just over 8 percent this year, these people's wages have stagnated at an average of .85 percent per year. Four of those years saw no increases. Along with other public sector workers, the Ford government's Bill 124 froze their wage increases to 1 percent annually for the past 2 1/2 years. Just like the rest of us, they're watching costs of maintaining a family rise steeply. They are the lowest paid workers in education.
Like the rest of public service workers, they stood up for their communities during COVID. Like people working in health care, teaching, transit, social services and so many other essential jobs in our communities, they accepted the risks of getting sick and did their part on their annual 1 percent increase in pay. It shouldn't have been a surprise when they asked for more – annual wage increases of 11.7 percent – about $4563 on average each year. Education Minister, Stephen Lecce wouldn't hear of it, self-righteously likening it to schoolyard bullying.
And yet, just back at the end of June, Doug Ford gave 73 of 83 Conservative MPPs a pay bump of $16 600 annually on a base MPP salary of $116 500. He didn't do this through collective bargaining of course and there was a pay freeze still in effect from the previous Liberal government. So, he just gave them all parliamentary assistant jobs and the extra money that came with them.
After months of negotiation, the Ford government put out its final offer of 1.5 percent increase for people making over $40 000 annually and 2.5 percent for the lowest of the lowest paid educators. On top of that, it wanted  CUPE education workers to accept a cut in sick leave pay- basically flipping the bird to these folks who, like all of us, still face the risks of COVID. No surprise that they overwhelmingly voted for strike action to take effect this coming Friday November 4, though they were still willing to negotiate with the province. Education Minister Stephen Lecce responded with The Keeping Students in Schools Act which prohibits strikes and levies a fine of up to $4000 per individual per day convicted of contravening the order.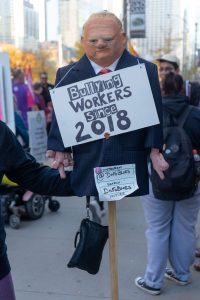 Just to make sure they didn't run into trouble with a bothersome court overturning the bill, the Tories once again imposed the notwithstanding clause, section 33 of the Charter of Rights and Freedoms , implanted in the bill's text – heading off any court challenge before it could happen. This allows them to avoid basic Charter provisions: freedom of association, right to life, liberty and security as well as equality under the law. The Act applies despite the Human Rights Code. Certainly, the Tories learned something from the Liberals when their Bill 115 freezing wages and ending sick leave banking, was overturned in the courts and they had to pay about $200 million to educators.
This response is authoritarianism – government by fiat. It sends the message that, as Professor Bryan Evans from Toronto  Metropolitan University said: "the era of free collective bargaining in the Ontario public sector is over" – until there is a change of government. Doug Ford is using a tool, meant for only the most extreme situations, for the second time in a year and a half. By the way, this is the same Doug Ford who is trying to wiggle out of appearing before the Emergencies Act inquiry by arguing that he and his solicitor general Sylvia Jones can't be forced to do so because it would do "irreparable harm" to the independence of legislatures. You just can't buy that kind of blatant hypocrisy.
The Ford government  has no interest in consultation with anyone but its compatriots. It will continue to impose wage settlements in line with Bill 124 under the threat of overriding collective bargaining rights and the right to strike. At the same time Mr. Ford has painted himself into a corner – on one hand needing public workers to fill the gaps in hospitals and elsewhere – while offering nothing but grief to entice them to join or stay.
CUPE education workers say they will not be at their workplaces this Friday in protest to the draconian legislation imposed upon their union. They need the support of union members across the province, particularly those in schools who should join them on their picket lines.