Parkdale parents want answers about racist letter
" I can't breathe."
These words of George Floyd, the Black man who died under the knee of a Minneapolis police officer should be etched into the consciousness of all of us who claim to support civil society.  They are painted on walls, banners, cars, shirts and even the faces of the people all around the world who've rallied to support Black Lives Matter, fairness, courage – simple decency in the face of stark racism and contempt for people living their lives while not being white. The past weeks have been tumultuous with continued protests, deaths and beatings of Black and Indigenous people including Regis Korchinski-Paquet here in Toronto.
In this climate, you might think that the TDSB which claims pride in its multicultural perspective and touts its efforts to make education equitable, would respond better to a rally last Thursday just outside of Queen Victoria PS in Parkdale. The school, built in 1887 has a culturally diverse population of 700 students. Parents and community members were demanding answers to questions about a racist letter sent to their former vice-principal.
Community rallies over racist letter
About 300 people gathered at the rally initiated by Queen Victoria Black Students Success Committee (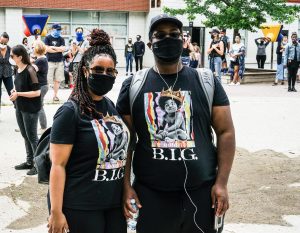 QVBSS). After nearly 6 months, organizers say little has been done to address the concerns of parents over a racist letter sent to former Vice-Principal Jamea Zuberi. According to a fine Toronto Star article by Shree Paradkar. Ms. Zuberi helped  QVBSS when it started  last  October and was clearly popular. Parents dug into their own pockets to organize the Queen Victoria's first Kwanzaa evening to wish her well just before she transferred to another school.
After Christmas Ms. Zuberi received a letter which named Black staff members and contained this venomous piece of racism:
"I'm glad you bought my "sorrowful" goodbye to you in December. Really, I was thinking ding-dong, the witch is gone! I'm so happy to see you leave. You and your little crew that made everything about black this and that. So what, white people don't count? The pushing your way through classrooms the way you did in November… I mean I never even got a thank you when I bought lunch for ALL of you. Ungrateful!…Well, got rid of (redacted). Now I got rid of you just have a few more on the list to go."
Although the letter writer neglected to sign it, he or she appears to have influence at the school – a well-known volunteer perhaps, maybe even a staff member – someone who had "bought lunch" and seemed to think she or he had the power to get "rid" of a vice-principal. There was a threat implied: "just a few more on the list to go." Equally significant to members of the Black community at Queen Victoria, was the separation of them from everyone else: "you and your little crew."
The TDSB response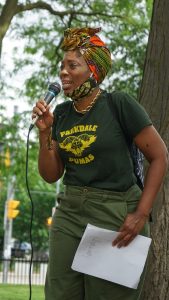 The TDSB knew about the letter back in January, but, despite the fact that it singled out members of the Black community, it didn't tell them. Organizer, Tania Daley told people at the rally, that parents didn't know about this letter until it was leaked to them in April. But the strange thing was that 5 Black teachers were suddenly absent from school as early as January. She added that there was a preliminary investigation conducted by the TDSB into letter, but there was no report, online meeting or anything else forthcoming with details. This is contrary to the TDSB claim that its senior staff have met with a "number of Queen Victoria staff and parents." According to Ms. Daley, parents have been prevented from meeting with senior administrators of the board and haven't been contacted by police who are investigating.
In a letter to the Queen Victoria parents on April 27, Executive Superintendent Sandy Spyrpoulos told them that the Board knew about the letter, but not who wrote it and admits that senior staff handled the whole issue poorly, apologizing to the "Queen Victoria community for not informing them of this incident sooner." It goes on at length to cite a number of concurrent investigations, how they will take time but that the board will "vigorously pursue them  to their conclusions." Basically, this is bureaucratese for kicking the can down the road. Rather cryptically, she adds that Queen Victoria Principal Alana Hardy has been put on leave while investigations continue.
Senior TDSB staff knew it was time to start moving deck chairs to control damage. A couple of weeks later, the problem had been shoved a little higher up the ladder and on May 15 another letter appeared from Dr. Kathy Witherow, one of the Board's Associate Directors. In it, she informs parents that Queen Victoria's Superintendent,  Sandra Tondat and Executive Superintendent  Sandy Spyropoulos have been replaced by Superintendent Nadira Persaud,  Executive Officer Leola Pon as well as Associate Director Colleen Russell-Rawlins. Ms. Russell-Rawlins sent another letter to parents on May 26 to say that the TDSB had retained the services of lawyer Esi Codjoe, formerly a member of the Ontario Human Rights Tribunal, to conduct an external investigation.
Why all the staff changes? Individual senior staff at the Board aren't answering School's questions, but the TDSB media department provided a response that's worth repeating in full:
"With regard to the Principal, under the Board's procedures regarding Workplace Harassment Prevention and Human Rights, it is recognized that, in some situations, it may be necessary to distance the parties involved in an investigation, as an interim measure, to maintain the integrity of the investigation and reduce further potential future impact on individuals and members of the broader community. With regard to the Superintendent and Executive Superintendent who normally oversee the school, they will not have oversight of Queen Victoria at this time as we heard from impacted staff and community of broken trust. We felt that in order for us to move forward with rebuilding trust we needed new supervision of the school. In the meantime, they will continue to have oversight of the schools in their respective Learning Network and Learning Centres."
The reference to the "Workplace Harassment Prevention and Human Rights" raises an important question. Why does the principal, Alana Hardy, need to be distanced from the investigation? Remember, this problem started out as a letter from an apparently unknown person. What does it have to do with her? This question is all the more important since Queen Victoria Black Students' Success committee released a statement on Monday that alleges Ms. Hardy was involved in instances of a "anti-Black Racism" at Queen Victoria. (Please see the next article)
Broken trust
"Broken trust" is a good way to put what's happened at Queen Victoria and it's nice that the TDSB acknowledges this. But the Board is going to need to do better. How did it break that trust? What did highly experienced senior staff do or not do to allow this situation to come apart so badly that they needed to be switched out? And let's face it – how can nobody know who wrote this letter when it rants on: "I bought lunch for ALL of you?" The TDSB isn't saying.
What are the parameters of this third-party investigation by Esi Codjoe? These are left to "looking at any complaints around Anti-Black discrimination or racism at the school and providing her findings." That's more of a sketch than "parameters." Who will be questioned? Will Ms. Codjoe examine why  Principal Alana Hardy is on leave of absence? Why were staff members kept in the dark about all of this? Why were 5 Black teachers suddenly put on leave from the school? For that matter, why did a popular vice-principal who appears to have been doing great work at the school, suddenly transfer to another one after the first term? Questions have been raised about fair treatment of Black staff members. Will these be answered?
Standing behind the community
People connected to  Queen Victoria want to stand behind their community; 6 300 (9 500 as of today) of them signed a petition in the days before the rally demanding the TDSB come up with some answers.  One of them told me: "We're here to support Black Lives Matter and we're here to support the families. There's an atrocity that occurred at this school and it's just heartbreaking and we can't stay silent about it."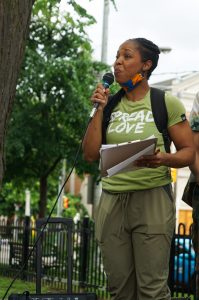 They also question what's happened with their school board. QVBSS organizer Debbie King told the audience that community members need to know what the scope of this external investigation will be; parents have yet to hear from outside investigator Esi Cudjoe. They want this investigation to be wrapped before Director John Malloy leaves the TDSB to take a similar job at a school board in California.  They want any people responsible for this letter to be removed from their positions and they want senior staff to be held accountable for avoiding the problem.
Organizer Tanya Daley added "…our challenge; our ask is for accountability, transparency, a fixed timeline and that the next executive director has an anti-Black racism lens. Our black students are being failed in this system. They make up less than 10 percent of the system, but they are doing the worst in the system."
Where is the support from the school board?
Surely, someone from the TDSB could have shown up at this rally. It might not have been comfortable, given all that's transpired, but it would have given some credence to the statements of concern about "broken trust". It would have shown willingness to listen and make amends.
It is shocking, that the school's trustee Robin Pilkey, didn't appear or even send a message of support. According to the organizers of the rally, she hasn't been supportive of their efforts to bring to light circumstances surrounding the racist letter. I wrote her just after the rally to ask why she was absent, but the only reply was a message from the Board's media department acknowledging among other things that "we did not handle the investigation properly" and "respect the community's desire for action and transparency."
This is especially, troubling considering the role trustees have in pushing for their communities. Why would Ms. Pilkey's response come from the media department of the board she is supposed to be overseeing?
What makes this story all the more dismaying, is the poor light it shed on staff at Queen Victoria. Yet, they have been described as "activists" by fellow union member Nigel Barriffe, a strong advocate for schools working with their communities. Staff members who asked not to be identified, worry about damage to the school's reputation despite the hard work they've put into working with parents and helping some of the TDSB's neediest kids.
Teachers weren't the issue at this rally. Tania Daley described her nephew's experience at Queen Victoria: "He was a new immigrant from Jamaica. He had never seen snow, he did not speak French. He had a lot of energy. And he had a teacher, a white man … who saw something in him and he said 'you know what… he's got a lot of energy. He's really smart. I think he would be better in a French immersion school. And I told his mother 'you have no idea what this man has done. He's changed the trajectory of this boy's life. He has seen the potential in him."
It's the systemic response to racism that is the issue. Anthony King, parent and partner to organizer Debbie King, has lived in Parkdale for ten years. He moved there because he wanted to be part of a diverse community. He wants teachers and others to speak up. "We need to be vigilant," he says, "if this letter hadn't surfaced, we would be sending our kids to school not knowing that there are racists there."