Parkdale rallies against anti-Black racism
Parkdale parents, students and friends want to know what the Toronto District School Board is going to do about anti- Black racism in their community and throughout the system.
They made their point clear on Saturday at a rally of about 200 people organized by Parkdale Against Racism outside Parkdale CI, the site of three racist incidents in less than three weeks. The most publicized among them was that of a white teacher identified as Gorian Surlan, who showed up to work wearing blackface for his Halloween costume.
Racist Incidents
A grade 9 student told School, that he was in Gorian Surlan's class at the time. Students confronted him about his choice of costume but the teacher replied that he just liked it and carried on with the class. When students photographed him and reported the incident to the office, according to the student, they were told that it wasn't blackface. The student said: "I don't think he (Surlan) should come back to this school. I don't think he should be a teacher."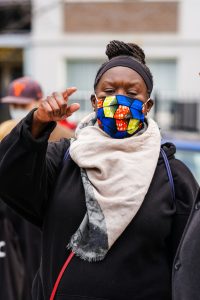 There are other reports that Mr. Surlan continued to wear blackface even during a mentorship programme in the school's auditorium and was allowed to remain in school even after he washed his face. After school, he was placed on home assignment pending the outcome of an investigation.
Another grade 9 student told the people gathered out in front of the school that an administrator asked the students who complained about the incident to investigate it but that nothing was going on. She added that the day before the blackface incident, a gym teacher had used the "n-word" in reference to some music students were playing. That teacher, too was placed on home assignment pending an investigation. Since then, a swastika was found on one of the school's exterior doors.
The TDSB hasn't yet provided details about what happened those days or how the investigation into the incidents will proceed.
A letter from Director of Education, Colleen Russell-Rawlins however, expresses anger over what occurred:
"I am writing to you directly about inclusion and anti-oppression with a sense of frustration and outrage as we address another egregious incident of racism — anti-Black racism… This incident should never have happened and such a misrepresentation of what is foundational to our system and school cultures should be inconceivable in our schools."
Anti-Black racism elsewhere in Parkdale
There's more reason for outrage in Parkdale. At nearby Queen Victoria PS, yet another racist communication was posted to a Black administrator, this time new principal, Darlene Jones. This follows the lengthy investigation into a hateful, racist email sent to popular vice principal Jamea Zuberi  just about two years ago. It took enormous effort on the part of Queen Victoria parents to get past the barriers thrown in their way to even get acknowledgement that the TDSB needed to do a better job of investigating the incident. Again, there's not much forthcoming from the Board about this latest instance of anti-Black racism other than promises of support and reminding parents of progress in the past couple of years.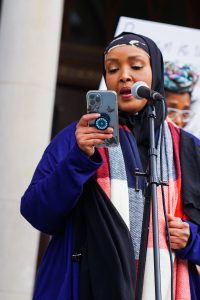 Some of the key speakers yesterday are long-time activists with Black Students for Success Committees (BSSC) at Parkdale, Queen Victoria and Swansea Public Schools. Ayan Kailie, first Black co-chair of the Swansea Parent Council told the audience, the teacher "needs to be fired. He should not be at home, getting paid… I'm appalled and disheartened. I'm terrified for my children everyday." Last year Ms. Kailie organized a Stop Racism in Swansea event. "I've experienced so much racism and I've seen so much racism happen," she said. "It's heartbreaking because you see it happen again and again and nothing is done about it."
The feeling was the same for Queen Victoria BSSC parent and activist, EM Uzoamaka: "Our children are walking into schools that are battlefields," adding that "racism is a war that is picking off our children like snipers' bullets." Such powerful imagery underscores the fear for Black kids who attend Toronto schools: What is ultimately behind the threats, the expressions of hate and indifference to racism, particularly against Black students and community members?
Teacher D Tyler Robinson, who co-authored a course at the TDSB on deconstructing anti-Black racism expressed this fear – the "harm" caused for both children and parents – the systemic racism that is the "sum total of actions and inactions by the leaders and decision makers within our system of education" You can read all of his comments by clicking here.
Demands and responses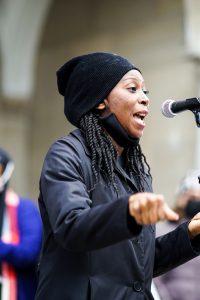 Over and over speakers and activists over the past weeks have made it clear that the incidents above are egregious symptoms of an entrenched problem. In a petition that has so far gathered 3 500 signatures, Parkdale parents, students and community members made demands including a zero-tolerance policy for hate and discrimination and public reporting on complaints of discrimination and racism. Protocols it adds, are not enough.
The Black Student Success Committees demanded more at Saturday's rally. They called for teacher Gorian Surlan's dismissal from Parkdale CI and all other TDSB schools. They want a mandatory anti-Black racism training program for school staff in Ward 7 which encompasses Parkdale. They called for an Afrocentric alternative school in downtown Toronto to create a safe space for Black students, families and staff. Finally, the BSSC demanded that confidentiality rules be set aside that protect the privacy of people who have committed acts of anti-Black racism.
For its part the TDSB last year set up a mandatory reporting procedure for incidents like these. In a recent letter, school superintendent Debbie Donsky, told Parkdale parents that the Board is providing social work support, staff discussions about the incident, an invitation for parents and students to air their thoughts and professional development for staff on issues like "racism as trauma."
At the Board's November 10 meeting, it passed an emergency motion introduced by Ward 7 trustee Robin Pilkey, calling for the Director to work with staff, students and families experiencing racism to develop strategy to make schools "as safe as possible" for Black students and staff experiencing anti-Black racism. Among other points it calls for a report on "staff accountability mechanisms" for dealing with hate and racism. There is no timeline attached to the report.
You can read the full text of the motion below.
The Board's response is certainly more active than the previous effort to deal with anti-Black racism at Queen Victoria PS. But the usual questions persist:
Will the TDSB keep the community informed about the latest investigations at both Queen Victoria and Parkdale?
What is the scope of investigations? Will they delve into the responses of staff to the incidents?
Will the results of investigations be made public? Will community members have a chance to ask questions and discuss them?
What discipline may be applied to the teacher in blackface  as well as the yet unnamed teacher who allegedly used the "N-word" about music that students played? This is the critical question because if the Board waffles on discipline, nothing else it does really matters.
What hope here comes from the young students in grade 9 who learned that despite diversionary tactics adults in authority might use, calling them on it is part of learning how to organize. As former Parkdale CI student, Abigail Whitney said on Saturday: "Gorian didn't destabilize us – he made us stronger."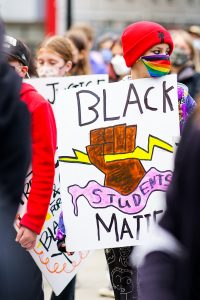 ---
TDSB Emergency Motion passed November 10,2021
Whereas, the hateful and dehumanizing acts of anti-Black racism documented at Queen Victoria Public School, Parkdale Collegiate Institute and their community are a severe and immediate threat to the safety and well-being of Black students, staff and families at the schools; and
Whereas, ongoing overt acts of racism have taken place within TDSB schools and communities; and
Whereas, the Board is committed to creating a culture of student and staff well-being; and
Whereas, community stakeholders are also committed to and important partners in addressing different forms of racism and hate; 
Therefore, be it resolved that the Director:
a.  work in partnership with staff, students and families experiencing racism and hate to develop a strategy to ensure that schools are as safe as possible for Black students and staff experiencing anti-Black racism;
b. engage additional partners in the work at Part (a), including community agencies already engaged in successfully delivering culturally responsive services in the community, the City of Toronto and the Province of Ontario;
c. present a report on:
the strategy at Part (a) and how it could also form the basis of a framework for addressing similar issues in other schools;

staff accountability mechanisms for intervening in hate and

racism
d. present a report on staff accountability mechanisms for intervening in hate and racism.