Pro-Trump rioters storm U.S. Capitol: resources for educators
Here is the full list of resources sent out this week by Javier Davila, Student Equity Program Advisor, Gender Based Violence Prevention for the Toronto District School Board
The Gender-Based Violence Prevention Mailing List
An opt-in mailout that includes resources, event announcements and other news and articles related to gender-based violence prevention, sexual violence prevention and healthy relationships using a critical anti-racist, intersectional and decolonial framework. Resources that support critical thinking and action on transforming conditions that enable harm and creating ones that promote healing, care, dignity and liberation.  Supporting 2SLGBTQ+ youth with multiple identities and belonging to BLACK, INDIGENOUS, RACIALIZED and DISABLED communities. In support of Indigenous sovereignty and LAND BACK.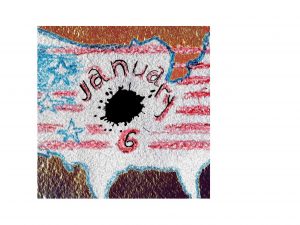 Resources for Talking about Race, Racism and Racialized Violence with Kids (compiled by BorderCrossers)
This document was compiled by Border Crossers.  It is not meant to be exhaustive and will be continually updated as we are made aware of more resources.
Interviews/Advice from Experts:
Talking to Kids about Racial Stereotypes – Tip Sheet, Media Smarts
Resource Lists:
Articles:
2. The 2016 election
Examples:
Affinity Spaces:
3. Pro-Trump Rioters Storm Capitol Building: Explained- How to get the facts, practice self-care, and protect our democracy.
TABLE OF CONTENTS
4. Don't Shy Away From Talking to Your Kids About The D.C. Violence (article)
Excerpt:
Tackle Race & Violence in an Age-Appropriate Way
But then we have an opportunity to take this conversation further. Considering the fact that our children saw, and often participated in, protests against racial injustice in 2020, we've got to talk to them about the difference between those protests and the unlawful violence that took place this week. We can, in fact, discuss the symbols of white supremacy carried by the rioters, as well as the anti-democratic actions they were taking.
If we want to delve further into a civics lesson with older children, this PBS News Hour teachers guide is a good place to start. It shows the stark difference between law enforcement's actions on Wednesday, versus the Black Lives Matter protests last summer.
You can also discuss other moments in history when uprisings turned violent — including the Revolutionary War and the Civil War — and then look at how people eventually recovered from those times.
For children of any age, this can become another opportunity to talk about race and racism, as well as the difference between protest and violence.
5. Helping Kids Understand the Riots at the Capitol(article)
Excerpt:
Talking with younger kids
Younger kids are unlikely to understand what's happening on TV, but they may still notice that something is up.
Check in with little kids. "Seeing images on the news or hearing words like 'taking over the Capitol' without context might be very scary for little kids," says Dr. Domingues. And though the fact that younger children probably don't understand much of what's going on may seem like a good thing, it can actually make them feel more scared. "Kids might fill in the gaps of knowledge on their own with potentially scarier misinformation. So it's important that parents take the opportunity to talk about what is happening and not shy away from the topic."
Remember, kids are listening even when you're not talking to them directly. If you need to vent your frustrations or other feelings, do it when the kids are in bed.
Use developmentally appropriate language to answer little kids' questions: "Sometimes adults, like kids, get very emotional and do things they shouldn't. A lot of people got very angry because of the election results. They wanted to show that they were angry, which is okay, but the things they did were not okay."
Reassure kids who may have seen disturbing images of violence on TV that they're safe.
Emphasize the positive, too: "Our representatives knew it was very important to continue doing their work, so they went back into the building to finish, even if it took all night! This shows how important our elections are."
6. How we talk to children about the attack on Capitol Hill matters (article)
Excerpt:
Name what happened 
Particularly with older students, explicitly name how what happened differs from peaceful protest and the exercise of free speech. These events were violent and unlawful, and in comparison to how other protests have been handled historically, they were clearly rooted in a system of racism and white supremacy. While some in our community may agree with the ideology of those who incited, supported, and enacted violence, this is not a time for a discussion of "both sides." There is only right and wrong. Acknowledge this was a traumatic event, and challenge those who think otherwise to reflect on why they feel that way.
Follow your students' lead
Especially with younger children, begin with questions like, "Did anyone hear about the news?" or "What do you know about what happened in Washington, D.C.?" before clarifying misinformation. If students seem anxious to process, give them space to do so if you feel ready. If they seem anxious to focus on other topics, name that ("It doesn't seem like many of you want to discuss this…") and then move on. Since emotions are likely still raw at this point, ensure students who differ from their peers have an alternative option, like allowing someone who wants to discuss the topic further to meet with a counselor, or allowing a child who doesn't want to engage in a class discussion the chance to opt out ("For those of you who for any reason don't feel ready to have this conversation right now, here are your options…").
7. Resources for teachers on the days after the attack on the U.S. Capitol.
Excerpt

:
Please note:
These suggestions are not saying you MUST "teach" about what happened on 1/6/2021 (or any "day after" event or injustice). Days After Pedagogy doesn't mean turning trauma into a standard or a benchmarked lesson. But if you're going to TALK about it, do so with intention, care, and an explicit commitment to justice and equity.
Do not do this if you are going to cause more harm or trauma. Do not center images of Black suffering and pain as a way to make this a "teachable" moment. White teachers, this means you/us.
And please, remember that this is not about a one-off lesson. Days After Pedagogy only works if you've been teaching for justice on Days Before and Days During.
Note to Black teachers: I hope that you have time and space to care for yourselves, as you support your students. I hope that you have white colleagues who are talking about this, too, so you do not have to be the only one. I hope that you can find co-conspirators in your schools (or here).
Note to White teachers of white students: You HAVE to talk about what is happening. This is on us, every time and all the time. We cannot pretend to be surprised anymore. We have to do what we said we were going to do all summer when we were reading those anti-racist books and completing those anti-racism checklists. Our white students are not 'too young' to learn about this.
Note to White teachers of students of color, especially Black students: Please make sure you know what you are doing before you do it. Please make sure you know how to support your Black students and other students of color if you try to have these conversations. Make sure you to do not do more harm by entering into these conversations without careful thought and planning. Ideas/resources/links in comments on Facebook will be updated throughout the evening on our educator's group: Teaching on Days After: Dialogue & Resources for Educating Toward Justice..
8. Resource Guide by NYC Department of Education
The Social Studies and Civics Department has compiled a resource list to support teachers in holding conversations with their students following the insurrection at the United States Capitol on January 6, 2021.
9. Classroom resource: Three ways to teach the insurrection at the U.S. Capitol (article)
Excerpt:
Summary: The nation on Wednesday witnessed a grave breach of its democratic traditions. For the first time in American history, supporters of the losing presidential candidate forcibly disrupted the official counting of electoral votes.
A violent pro-Trump mob stormed the U.S. Capitol as Congress formally counted electoral votes. Earlier in the day, Trump spoke at a rally where he urged supporters to march to the Capitol to demand that the results be overthrown.
Some Republicans in both chambers declared that they would object to the counting of some states where Trump lost his closest races to Biden. But before individuals forcefully entered the building, Senate Majority Leader Mitch McConnell delivered a  rebuke to the idea that Congress could or should attempt to overthrow the election.
After rioters forcefully entered the building, Trump tweeted a recorded message telling people to "go home now," while writing to them "we love you; you're very special" and repeating false claims about the election.
One woman who was shot inside the Capitol died. Four others died as well, including a Capitol Police officer who was injured after the Capitol was breached and died of his injuries on January 7. His death is being investigated as a homicide.
Lawmakers were evacuated to secure locations around the Capitol. Later Wednesday night, they resumed the constitutionally mandated count, and Biden's victory was confirmed in the early morning hours of January 7.
10. Responding to the insurrection at the  U.S. Capitol (Resources)
Excerpt:
Create Space for Student Reflection
The classroom is a place where students should learn with intellectual rigor, emotional engagement, and ethical reflection, and come to understand that their own views and choices matter. We represent those core educational values in Facing History's "pedagogical triangle."
This integration of head, heart, and ethics is always important to learning, and it's particularly crucial when students are considering contentious and troubling news. Tell students that you want them to use their head, heart, and conscience in today's discussion. Invite them to open their journals, or a notebook, to reflect on questions related to the three points of the triangle. Tell students that these reflections will be private unless they choose to share them.
Questions you might use to prompt reflection include:
Head: What information do we currently know about the insurrection that happened on January 6, 2021? What additional facts or information would you like to have?
Heart: How do you feel about the insurrection and what is happening in the aftermath? Are there particular moments or images that stand out to you?
Conscience: What do you believe was at stake in the events on January 6, 2021? What questions about right and wrong, fairness or injustice, did insurrection raise for you? How should individuals or politicians act in order to protect our democratic institutions?
 11. Leading Conversations After Crisis (Teaching Tolerance)
Excerpt:
Letting Students Lead
"In my district, it is taboo for teachers to initiate controversial discussions that are not yet approved. I plan to just say 'Yesterday was a DAY!…' and follow my kids' lead.  Inevitably someone will chime in. I always respond to students' comments with 'yes, some folks believe/ feel that way…can you tell me more?' I stay calm and keep my voice low, especially when students start to raise theirs.
"Students who don't want to speak but are visibly shaken can draw, take notes or doodle, and are invited to share if comfortable. No one is put on the spot."
Essential questions:
What do you think about the events that took place at the U.S. Capitol yesterday?
What would you like to know more about or understand more about the events that happened yesterday at the Capitol?
How do different people or groups of people represent and express their power?
What does a just use of power look like?
What basic freedoms are required by a just society?
When might one person's freedom violate another's?
How do you think we can all stay safe during this time? What should we do?"