Solar schools: students and the climate crisis
It is now widely acknowledged that a rapid transition to renewable energy technologies must be a major component of worldwide mobilization to counter the impending fossil-fueled climate catastrophe (Carrington 2022). Students can be a big part of this effort if they attend solar schools – i.e. schools with photovoltaic (PV) systems. They get a chance to develop and use their skills to take part in assessing how their solar schools are saving energy.
In early September, 2022, Next Generation Energy Alternatives (NGEA), a Toronto-based charity mandated to promote renewable energy technologies, sent a list of questions about solar schools to ministries of education in all of Canada's provinces and territories (see Appendix 1). This article is partially based on responses to this list of questions. It should be noted that the views expressed here are solely those of the authors.
Solar energy and the TDSB
The Toronto District School Board (TDSB) administers the largest school district in Canada. "The TDSB has 351 buildings with solar panel installations, with a total of 38,357 kW of carbon neutral power generation! Over 1 year that works out to about 59,851,304 kWh of electricity – enough to power about 26,300 homes! (Toronto Hydro estimates the average home uses 9,500 kWh per year)." 1
A list of TDSB solar schools is available online (see endnote 1). An excerpt from this list is pictured below. The list includes the name, location, and monthly use in kW of each school.

How are kids involved? They can practice skills in reading and mathematics to help calculate the amount of clean energy generated at a solar school. They can learn the definitions of terms used in these calculations – e.g., 'Kilowatt hour', 'carbon offset', 'Derate Factor', and, 'Marginal Emissions Factor' (MEF). The TDSB also provides online instructions for calculating CO2 reduction at particular solar schools. This allows students and teachers to fill in 'bubbles' for amounts of clean energy generation and for CO2 reduction of emissions at particular solar schools.

For example, at Dr. Norman Bethune Collegiate in Scarborough, over 350,000 kWh were generated in 2021, and about a half tonne of CO2 was offset. The TDSB suggests that solar schools promote climate optimism, conserves fuel for heating/cooling, adapts buildings to reduce carbon emissions, and generates energy that is greenhouse gas emission-free.
The Board's establishment of solar schools was facilitated by the Feed-In-Tariff (FIT) programme, part of the ON Liberal government's Green Energy and Economy Act of 2009.2 The FIT programme offered fixed-price, long-term contracts to organizations and enterprises which generated clean energy with renewable energy technologies (RETs). For example, the province of Ontario paid 80 cents per kWh for electricity from small rooftop solar systems of less than 10 kW capacity for a period of 20 years (Gipe 2009; 2010). As prices for RET systems declined, prices for clean energy guaranteed by FIT contracts declined proportionately.
It should be noted that TDSB solar schools have photovoltaic (PV) systems with capacities of more than 10 kW. FIT contracts allowed the TDSB to conclude agreements with PV system installers to repair or upgrade dilapidated roofs of some TDSB schools before PV panels were mounted.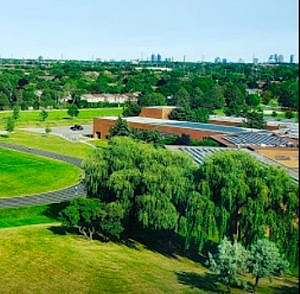 There were other benefits. The TDSB retained 14.5% of FIT revenues from PV systems on solar schools to be allocated for an Environmental Legacy Fund. Under the aegis of Richard Christie, Senior Manager of the TDSB's Sustainability Office, the Environmental Legacy Fund gave teachers $400 toward the cost of a $650 course on ecological education. As well, the TDSB created a grade 6 course on electricity focused in part on solar power (Hammer 2011; Suzuki 2016).
In 2021-22, the Environmental Legacy Fund remained in the TDSB budget.3 It is now used to support projects related to active transportation, teacher professional learning, urban forest management, school-initiated projects, information technology and energy initiatives.
John Paul II Secondary School
Solar schools were also established by some Roman Catholic school boards in Ontario. For example, in 2019, the John Paul II Secondary School in London, Ontario, became energy-self-sufficient based on 50,000 feet of drilled piping for geothermal heating and cooling (locations of underground piping are illustrated below). In geothermal systems, piped liquids transfer underground or open-air temperatures to heating/air conditioning systems in buildings.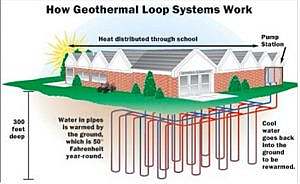 The John Paul II Secondary School also has 2,300 PV panels on carports and school roofs which provide 804 kW of power. A Tesla energy system which stores electricity in lithium-ion batteries, is part of the school's microgrid. The system cost $9.7 million, half of which was provided by Ameresco, a U.S.-based RET firm. The remainder was provided by Natural Resources Canada (Dickinson 2019).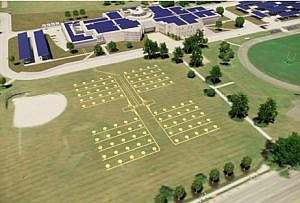 A microgrid is a self-contained system based on renewable energy technologies. The system comes with a controller that automatically monitors and balances supply and demand for electricity. Micro-grids can be connected to a larger grid, but can continue to operate when disconnected, or 'islanded', from the larger grid when it is incapacitated – e.g., by an extreme weather event.
Hydro Québec has built a microgrid at Lac-Magéntic, Qué. The components of the Hydro-Québec microgrid include solar panels, energy storage units and a system to monitor and regulate energy use which makes it possible to 'island' the microgrid from Hydro-Québec's main grid. There are microgrids operating or projected on First Nations in Alberta, Ontario, Yukon, British Columbia, Newfoundland-Labrador, and Québec (Bonsia 2021; Vitello 2021)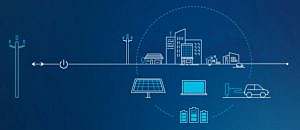 Winding down solar schools in Ontario
In 2017, the Ontario Liberal government began to close down the FIT programme.
Shortly after Doug Ford's Conservative government came to power in June 2018, it cancelled pending FIT contracts for Roman Catholic schools in Sudbury, Kitchener, Cambridge, Waterloo, Stitsville, and Orléans, Ontario. In December, 2018, the Ford government repealed the Green Energy Act. 4 Repeal of the Green Energy Act and the end of the FIT programme erased the financial predictability which facilitated the creation of Ontario solar schools. This, coupled with the Ford government's cancellation of pending FIT contracts for solar schools effectively ended creation of solar schools in Ontario.
Education in Canada is under provincial jurisdiction, so it remains to be seen whether solar schools in Ontario can be created solely with federal funding. It also remains to be seen  whether they would be eligible for net metering, agreements in which individuals or organizations generating electricity with RETs receive a fixed price for excess energy fed to the grid. For example, solar panels at the Pictou Landing First Nation solar school in Nova Scotia feed excess energy to the grid under a net metering agreement. PV systems at solar schools in some other provinces and territories also sell energy under net metering agreements (Turner 2021). According to Cory Schliert, Project Director, Strategic Policy and Research, Nova Scotia Department of Education and Early Childhood Development, data from solar schools in Nova Scotia are not "tracked".6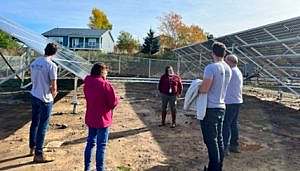 The Ministry of Education of Ontario did not send a detailed response to NGEA's request for information about current plans regarding solar schools.
Solar schools across Canada
The presence of solar schools elsewhere in Canada, varies. There are currently no solar schools in Manitoba.7
In Alberta, there are solar schools in Red Deer, Edmonton, Okotoks, Calgary, Banff, Ashmont, Fort McMurray, Cochrane, and Lacombe. PV systems in three of these schools were funded by the Municipal Climate Change Action Centre. But this funding programme was closed in April, 2022.
In BC, there are at least 14 solar schools varying in capacity from 25 to 450 kW. PV systems at these schools were funded through the School Enhancement Program and through the Carbon Neutral Capital Program. In 2022-23, eleven school districts received funding through the Carbon Neutral Capital Program for PV projects. Other BC school districts are currently seeking funding. The BC Ministry of Education does not directly track whether schools with PV installations are connected to the grid.8
Erin Mohr, Dept. of Education, Culture and Employment of the Northwest Territories says, that only one school, Weledeh Catholic School in Yellowknife, utilizes solar energy. Weledeh has a solar wall integrated into the building structure. Solar energy is absorbed by the wall and converted into heat energy. When the measured heat energy reaches a predetermined level, it is removed from the wall with fan and injected into an air handling unit. The system only works when the ambient air temperature satisfies preset air temperatures.
The design of the Mangilaluk School Renovation Project in Tuktoyaktuk (currently in construction) does allow for the provision of future solar tie-in, meaning the infrastructure is there to connect panels at a later date.
Regarding funding of solar schools in the NWT, Erin Mohr writes that while the Government of the Northwest Territories, Department of Infrastructure delivers renewable and energy reduction projects, the main focus of projects has been on greenhouse gas (GHG) reductions through biomass and electric heat as well as reducing overall electrical consumption by upgrading mechanical controls and converting lighting to LED.
A majority of the larger schools that would be suitable candidates for solar power are located in hydro-electric communities like Yellowknife, Behchokò, Hay River and Fort Smith where the upgrades would not benefit from greenhouse gas offsetting, only cost reductions. It seems that, because of an abundance of hydro-power for larger schools in NWT, solar power is largely un-necessary.9
According to Eve-Marie Castonguay, Director-General, developpement durable, Québec Ministry of Education, solar schools are largely un-necessary in Québec because of the abundance of hydro-electric power. Geothermal and "aerothermal" systems will replace fossil-fueled schools when required.10
Responses to NGEA's request for information about solar schools have not yet been received from Ministries of Education in Prince Edward Island and New Brunswick. However, information about solar schools in these provinces is available online. For example, Construction is officially underway at Sherwood Elementary, a net-zero-ready school in P.E.I. New Brunswick is building installations in six schools across the province.
Yukon, Nunavut, and Newfoundland-Labrador ministries of education have not so far replied to NGEA's request for information about solar schools.
As mentioned above, a major component of creation of TDSB solar schools was the FIT programme. Its ultimate termination by the Doug Ford government probably stemmed from the ideology of climate science denial harboured by many conservatives in Canada and elsewhere. Nevertheless, the example of FIT-supported TSDB solar schools shows how solar schools can be part of mobilization to reduce carbon emissions. As well, BC solar schools, supported by the BC Carbon Neutral Capital Program, provide an ongoing example of how solar schools can combat the climate crisis.
Alice Bartels is a member of Next Generation Energy Alternatives (NGEA), a Toronto-based charity that is mandated to promote renewable energy technologies. She is the author of two children's books: THE BEAST, and THE GRANDMOTHER DOLL
Dennis Bartels is a retired anthropologist. As a sessional lecturer at Toronto Metropolitan U, he was a member of CUPE and is also active in Next Generation Energy Alternatives. At the Ryerson Life Institute, he taught a class on wartime mobilization to combat the climate crisis.
APPENDIX 1
Next Generation Energy Alternatives (NGEA) is a
Toronto-based charity mandated to promote renewable energy
technologies. NGEA is collecting information regarding the
number of elementary and secondary schools across Canada
with photo-voltaic systems – i.e., solar schools.
It would be greatly appreciated if your ministry could
provide answers the following questions regarding solar schools
in your province/territory.
How many solar schools are there in your province/territory?
Where are the solar schools in your province/territory located?
What is the capacity (in kW) of each solar school?
How many of the solar schools in your province/territory are connected to the grid?
How was installation of PV systems on solar schools in your province/territory funded – e.g., through a feed-in-tariff programme; through expected returns from net- metering?
Are schools in your province/territory currently installing PV systems? If so, how many and where?
If schools in your province/territory are currently installing PV systems, how are they being funded?
Have schools in your province/territory ceased installing PV systems? If so, why?
Endnotes
Know Your Solar Power (TDSB) https://www.tdsb.on.ca/environment/Home/Actions/solar-schools/calculating-solar-generation
Renewable Energy Coops https://ontario.coop/sites/default/files/SS06_Renewable Energy Co-operatives – 2020.pdf
TDSB Budget 2021-22 https://www.tdsb.on.ca/Portals/0/docs/2021-22 Operating Budget Report.pdf
FIT programme dropped by Ontario government https://news.ontario.ca/en/backgrounder/49725/large-renewable-procurement-and-feed-in-tariff-contracts
Personal communication to Stephen Seaborn, Campaign for Public Education/CUPE Ontario Retirees' Network, 26 July 2022.
Personal communication, 7 September 2022.
Scott Sinclair, Office of Labour, Consumer Protection and Government Services, Manitoba personal communication, 12 September 2022.
Personal communication from Geoff Croshaw, Director, Minor Capital Projects and Financial Unit, BC Ministry of Education and Child Care, 21 September 2022.
Personal communication, 4 Oct. 2022.
Personal communication, 13 Oct., 2022
REFERENCES
Bonsia, Christopher. 2021. 'Indigenous Communities Embrace Microgrids to Lead Energy Transition.' The Energy Mix. (8 Nov).
Carrington, Damian. 2022. 'World on brink of 'disastrous' climate tipping points, study finds.' The Guardian. (8 Sept.).
Dickinson, Kirk. 2019. 'London high school to become first in Canada to go 'off the grid.' LondonNewsToday.ca. (22 May).
Gipe, Paul. 2010. 'Provincial feed-in-tariffs spurring community power.' Grist. (26 May).
—     2009. 'Ontario launches comprehensive system of feed-in-tariffs.' Grist. (26 Sept.).
Hammer, Kate. 2011. 'TDSB strikes deal to have solar panels installed on 450 schools.' The Globe and Mail. (19 May).
McArthur, Greg and Karen Howlett. 2022. 'Controversial political fixer re-emerges in Toronto election campaign.' The Globe and Mail. (14 Oct.).
Suzuki, David. 2016. 'Toronto schools to generate enough solar power for 4,000+ homes.' Streets of Toronto. (22 Nov.).
Thomson, Eden. 2022. 'The former Toronto School Board Chairman had a financial interest in a for-profit private school'. CanadaToday. (16 Oct.).
Turner Lorne. 2021. 'Ontario's most northern First Nation goes green with their first solar project.' CBC News. (5 Nov.).
Vitello, Connie. 2021. 'Québec Proceeds with historic Apuiat wind farm project.' ReNew Canada. (11 Feb)