Thousands of planned child care spaces may never be built because of Ford government funding cut
Ontario is at risk of losing thousands of planned child care spaces, including 3,049 spaces in Toronto because of the Ford government's cuts to child care. A list obtained by the OCBCC from the City of Toronto shows that 51 planned projects previously approved by the province for development in schools, may never be built because the Ford government has reneged on a government promise to provide full operating funding to support the projects.
Instead, the government has told municipalities and school boards that, in order to access the province's child care capital fund, the municipalities must now re-apply for the projects and find operating dollars for the new spaces from within their current budgets. Municipalities and school boards may  be hard pressed to secure the money because their budgets were set when the province was still committed to providing the operating funds. And with funding reductions and other cost share changes from the province set to hit next year, the plans for thousands of child care spaces could be scuppered.
The Ford government has just changed the rules in the middle of the game, again.
In an April 26th memo, the Ontario Ministry of Education informed municipalities and school boards that they must re-apply for school-based child care projects "previously approved since November 2016" but that had not yet received a final "Approval to Proceed" from the Ministry. In their new applications to the province, municipalities must show that operating funding for the new child care capital spaces will be provided from within their existing operating budget or "the project will not be supported and therefore will not proceed". Previous child care expansion projects were provided with dedicated multi-year operating funding from the province.
At a City of Toronto Economic and Community Development Committee meeting on June 26th, City staff reported that the province's change in funding impacts 51 planned child care projects in Toronto. The 51 centres under development in schools, many of them in Scarborough and Etobicoke, would have provided child care for 490 infants, 975 toddlers and 1,584 preschoolers.
The provincial funding change will also impact planned projects Ontario-wide, including in small town Ontario. A planned project for 49 child care spaces in Palgrave is now in limbo, as reported in the Caledon Enterprise. And the OCBCC has heard of planned sites in Peterborough and Sudbury that face similar situations. The City of Sudbury Finance Committee heard this week that they will need to find an additional "$1.3 million to fund the 204 spaces that are no longer funded 100 per cent by the province". The full extent of the province-wide impact is not known at this point as the province has not released a list of impacted projects.
The province has set an August 30th deadline to re-apply for the projects, which Toronto city staff told Committee means "Children's Services is not able to commit to future operating funding for these 51 new projects" as "any commitment for additional and future operating funding is subject to Council approval through the annual budget process." They are asking the province for an extension until October 31st, but staff also highlight concerns about moving ahead with the projects "given the current fiscal environment, including expected funding reductions and policy changes in 2020".
The 51 projects are in areas of Toronto with a high need for child care, including 225 spaces in Doug Ford's riding of Etobicoke North.
"Families are counting on these spaces being built. These are projects that are already underway." said Ferns. "It's a tremendous waste of money and time to scrap these projects at this stage. Families in Toronto, and across Ontario, need child care spaces. The Ford government should continue providing operating funding so projects like these can go ahead."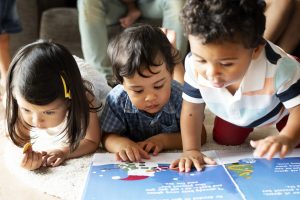 Carolyn Ferns is the Policy Coordinator for Ontario Coalition for Better Child Care
You can reach her at:  carolyn@childcareontario.org / 416-538-0628 x