West end parents sustain public education
George Syme Community School sits just a bit west of Jane Street  near St. Clair Avenue in the west end of Toronto. It's always been in the middle of different cultures – years ago with kids from working class families who worked in the local factories and meat processing plants near Keele Street and kids of immigrant families from all over who have started out in places like the Jane-Woolner apartment buildings the school has served over the generations.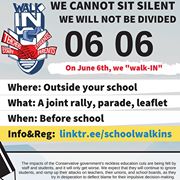 Liana Salvador-Watts was School Council chair at George Syme, learning what all that entailed last spring, when a fellow council member came up to her and told her about plans for a school walk-in. This was something different; a group from the area, West End Parents for Public Education (WEPPE) was planning to get as many students, parents and community members as possible to walk their kids into school at the end of last year. It was a sign to the Ford government that all of these people weren't going to sit quietly by and watch the Tories systematically destroy public education in the province. The June 6th action took off; hundreds of schools took part across the GTA. Thousands of people walked into school that day. It closed a year in which a hundred thousand students walked out of class, tens of thousands of people gathered at Queen's Park to demand more of the Ford government and local groups like West End Parents for Public Education popped up all over the province to fight the government's policies.
For Ms. Salvador-Watts, it was the walk-in movement, comprising  around 300 schools, that showed hope. She and many others wanted to show solidarity with the folks who work in public education, to let them know that parents and other community members believe that there has to be a "solid investment in the public education system." WEPPE thinks that unions have the power to reverse the Ford government cuts to education along with increasing class sizes; but they need the support of the community. Education workers' working conditions and students' learning conditions go hand in hand.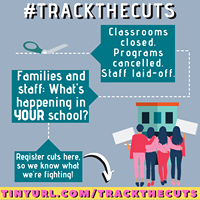 WEPPE started up around Dovercourt Public School last winter. A solid core of parents there were appalled by Doug Ford shuttering the sexual education curriculum, cutting local budgets and repair funds and promising more of the same with the coming provincial budget. Teachers had begun the onerous task of organizing opposition, sorting out what position they were going to take in upcoming contract talks. The same was true for other education workers with the Canadian Union of Public Employees (CUPE). Groups like the Etobicoke Parent Network and Mothers for Better Education and Ontario Families for Public Education were just getting started.
For Rachel Huot, a WEPPE activist, how to reach out is a key issue. Solidarity with teachers and other education workers is "central to what we do" she says. That might not always be the case for local school councils. For years, topics at council meetings included dates for curriculum nights, discussions around crosswalk safety, after-hours access to schools – all of them, important topics – but not so much about open political conversations: Why has our school budget been cut? What is e-learning going to do to good teaching? Why are there billions of dollars in needed school repairs that haven't been done?
So, WEPPE has provided tools for local parents: organizing support, talking points for them to pressure local trustees and other officials. A letter expressing solidarity with education workers was used by 90 school councils. There's database up and running; community members can connect to it via www.tinyurl.com/trackthecuts and let others know how budget cuts and larger classes are changing life in their schools.
WEPPE has a very strong and creative presence on Facebook  and provides daily, if not hourly, updates about actions that are going on around the GTA and province as a whole. It's one of the ways Facebook may be put to good use – providing short readable information with links to more of the same.  Just yesterday there was a call for everyone who could make it, to show up at the Sheraton Hotel in downtown Toronto and support CUPE. The union was in its final hours before going out on full strike, negotiating with a government that was trying to cut benefits for education workers across the province. Rachel Huot says the union needed support from the community for a fair deal from the government.
As it turns out CUPE won't be on full strike this morning, having reached a last-minute agreement with the government. It's a step forward, but there are plenty of struggles to come with a government that is finally beginning to worry about its future: teacher contract negotiations, cuts to school programs, crumbling buildings and a curriculum based on politics rather than pedagogy.
The big push now is for a huge turnout at another mass school Walk-In on October 10 . WEPPE, along with many other organizations across the province representing school boards as far apart as Lakehead and Ottawa-Carleton, urge parents to walk their kids into school this Thursday October 10.