Where to now? Education unions and community alliances
With recent contract agreements ratified, did education unions bail on the communities that supported them? Not exactly, but there's work to do to maintain the relationship and find the best way to defeat the Doug Ford government.
Union / Community Alliances
For the best part of two years educators' unions ETFO, OSSTF and OECTA have done a lot to forge alliances with parents and community members to fend off Doug Ford's shock  attacks on education and the public good in general. No sooner had the Tories found their offices at Queen's Park than they began to work on how to cut 4 percent from the provincial budget and move schools further down the neoliberal path of business-based education: increasing class sizes, while cutting staff and school board budgets and introducing senseless but mandatory e-learning, something sure to make it harder for poorer and racialized students to succeed in school.
It helped people opposing him that Mr. Ford began his premiership leading a spectacularly inept cabinet.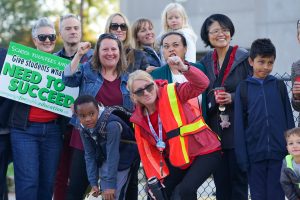 So, it wasn't tough to mobilize support from parents and the community and when it came time to push hard against the contract offers put out by current Education Minister Stephen Lecce, the pressure held. Parent groups like West End Parent Network, Ontario Parent Action Network (OPAN) Etobicoke Parent Network and others jumped on social media during the winter of 2019 to organize school walk-ins, speak to the press and generally stand behind teachers and education workers. The parents and teachers together wanted to reverse the cuts made to education, see class sizes put back the way they were and drop any idea of mandatory online learning. There were plenty of other issues on the table, but budget cuts were at the top of the list.
Contracts ratified
Contracts for all the educators' union have now been ratified by the members. So, what happened for the young people, whose parents and neighbours came out to defend?
OECTA backed down first, it's 45 000 members ratifying a collective agreement with the province on April 8. ETFO followed on April 20 and OSSTF held out until May 16.
The highlights of the agreements for the 3 unions include:
For elementary schools: 
Maintaining full-day kindergarten with regular kindergarten class size the same as it was before the strikes.

Grade 1-3 classes remaining at 20, though about 10 percent of them can go as high as 23.

Grades 4-8 "are maintained at the 2019-20 board-wide average of 24.5." Bear in mind that the average was 23.8 before September 2019.
 For secondary schools:

Classes with a board average class size of 23. It was 22 before September 2019. Also, e-learning classes will be an average of 30:1

The mandatory e-learning required for graduation went from 4 classes to 2, with a chance to opt out, if parents or school staff make a special request.

 

For both elementary and secondary schools and staff:

One percent wage increases each year for the next 3 years with top-ups, for inflation, to benefit packages.

More money for student support. In the case of Ontario Catholic schools this amounts to $67.3 million between 2020 and 2022, to hire staff for special education and mental health programs. For public elementary and secondary students, this fund amounts to about $89.1 million over the same period.

Where will that money come from? Education Minister Stephen Lecce has already touted the $3.1 billion he says his government is spending on special education. Will this be new money or will it come from other cuts? Since the Ford government has postponed tabling a budget for the foreseeable future, we'll have to wait and see.
What happened? None of the unions would release the details of their ratification votes, such as a breakdown by board. ETFO announced that teachers voted 97% and other education workers voted 94% in favour of their agreement. School was able to learn that the OSSTF vote was not so overwhelmingly supportive, at about 77% in favour.
In the case of  OSSTF members, there was opposition to the agreements. After all, the government's offer was pretty much the same one scoffed at by union leaders back in February, when Education Minister Stephen Lecce decided to negotiate directly with education workers and the general public. There was a move here in Toronto to vote against the tentative deal reached between the province, school boards and OSSTF. Union activists like Rick Beer wrote in School last month, that the strike was about much more than wages and working conditions: "the reality is that the education system (and the public service in general) is in the midst of a 3-decade attack on funding. What started as cuts under the Harris' Progressive Conservatives (PC), evolved into a search for efficiencies under the McGuinty and Wynne Liberals, continues today as "modernization" under the Ford PCs."
What the Tories got
That's the crux of the matter and what got parents and community members out in droves all over the province.  But there's no doubt that, despite walking the Tories back on their original plans to cut education, something significant was lost. The Ford government managed to drive the thin edge of the wedge into the door that opens onto larger class sizes and mandatory e-learning.
It was doubtful, when Stephen Lecce took over the Ministry of Education, that the Tories were going to hold fast on the degree of class size increases and mandatory e-learning. In November he tried to undercut the secondary teachers' bargaining position by making a public offer to increase class size only to 25 rather than 28 and mandating only 2 e-learning courses. An opening bargaining stance of much larger classes, loss of jobs and production-line e-learning allowed the Tories to concede a bit while they painted educators as money-grubbers. But in the end, they made the start down the path they wanted to go.
OSSTF president Harvey Bischoff conceded as much when the union announced ratification: "OSSTF/FEESO members recognize these deals are imperfect but provide needed stability in these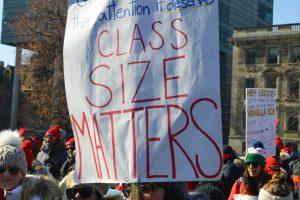 trying times." COVID-19 drained the energy from the strikes. One day late in February, the province was full of striking teachers; a couple of weeks later everyone was at home hunkering down, worried about jobs, money and basic health. He told School recently that "continuing on (with strike action) would not only not lead to improvements, but loss of some of the things we successfully bargained for."
Once OECTA and ETFO ratified their agreements, any possibility of holding out for lower class sizes and an end to mandatory e-learning was snuffed out. The main issue, was, and continues to be COVID-19 and everyone's safety. Nothing else has as much traction and educators would only have looked out of touch and self-interested. Also, as secondary teacher and activist, Sarah Vance told School that there was a lot of pressure to ratify and questions as to whether the central OSSTF executive fully supported teachers' focus on improving education over fighting for wages and benefits.
The issues are still there she said, "We needed strong schools before this crisis (COVID-19)" adding that poor and marginalized students have been hurt the worst and shouldn't have to jump through the hoops of opting out of course they don't need to take. Ms. Vance notes that "we were in an historically unique position" with such strong support from parent and community groups.
Where to now?
There is division amongst union members about the next steps to take. The ETFO local, Elementary Teachers of Toronto, just went through a bitterly fought election, placing non-progressives on the top tier of its executive.  What will happen to the relationships forged between educators and the parent/community groups who've supported them?
Rachel Huot of OPAN thinks the inequities communities groups fought over past two years only heightened with the pandemic. A statement put out by OPAN recently, noted that the fight continues:
"Families overwhelmingly supported education workers through months of inconvenient job action because we recognized that our fight was the same. We wanted cuts reversed and more money for a stronger education system. We wanted things like small class sizes, no mandatory e-learning, and a full restoration of the local priorities funds that provided essential programming and supports to our schools. We also supported our education workers receiving fair compensation for their work year after year-all workers in Ontario deserved this then and now."
The COVID-19 pandemic has so drastically altered all of our daily lives. As parents, we have so many new concerns and struggles to face every day. But we continue to demand that the Ford government reverse all cuts to education. We also need the Ford government to listen to families and education workers on remote learning plans and provide school boards with additional funds for pandemic related costs. The pandemic has only continued to deepen real inequity in our province. It is clear that expansion of public services, and supports that guarantee access to housing, food and health and safety at work for all, are essential now and in this new world going forward."
Activists like Sarah Vance agree that the relationship, strong at the beginning, needs to carry on. For instance, there's still time before mandatory e-learning becomes a reality, to launch campaigns across the province to help students and their families opt out.
There are also grass-roots organizations like Jane-Finch Education Action that have sparred with board officials, fighting longstanding inequities and systemic problems like racialized suspensions and expulsions and inconsistent administrators at local schools. This fight has gone on for over a decade over issues like carding, housing and community safety.
Union activist, Rick Beer,  fears that ratification has "made it likely that the Conservatives are going to get re-elected in the next election or hold the balance of power." That also depends on the continuing disorganization of the opposition NDP and Liberals. Community groups and  educators have a tough but essential fight to remove the Tories from office, reverse the damage they have done and start making education serve the needs of students rather than the ideology of business.
They need to get together. There are plenty of local and/or issue-oriented people across the province. But they can't win the larger fight against neoliberal polices if they don't know what each other is doing. Right now, it's not clear that education unions have the desire or are capable of leading this fight. Public education needs an umbrella organization with connections across the province and the ability to make new ones, to take on this job.