York Memorial CI in Toronto: students turn on a light
"I am no longer accepting the things I cannot change. I am changing the things I cannot accept." – Angela Davis – cited by York Memorial CI student
The Toronto District School Board is excellent at coming up with detailed plans, timelines , protocols and the rest of it. But this massive board has great difficulty hearing the people its decisions affect. As we've seen over the past couple of months, this has led to a disaster at York Memorial CI on Keele St south of Eglinton Ave, a scene of conflict, staff refusals to work with an absent school and senior Board administration. It's been chaotic to say the least.
The one bright spot in all of this, was a walkout on December 2, where York Memo students bravely articulated their anger and worry about a situation they watched develop over years. They were crystal clear – explaining all of it in the context of Black students facing white authority. One young person even quoted Angela Davis, for heaven's sake.
The merger
In May 2019, York Memorial CI near Eglinton Ave and Keele St caught fire and burned. York Memo students were housed for the time being at George Harvey CI, a short walk south on Keele. This arrangement didn't last long. There was confusion for York-Memo students, nowhere for Muslim kids to pray, lack of space and conflicts between students from the two schools. It was a mess. So, York Memo students moved to Scarlett Heights Entrepreneurial Academy, an empty school where they remained, through the COVID pandemic, until this past September.
In a 62-page Accommodation Review, tabled towards the end of the 2020-21 school year, TDSB planners recommended that the Board rebuild York Memo at its original site (ready for occupation in 2026). Meanwhile, the approximately 1300 students from both York Memo and George Harvey would be merged as a new school renamed York Memorial CI, housed in the George Harvey building. With the new school completed in 2026, all the students would move into it and the Board would ponder the fate of the old George Harvey site.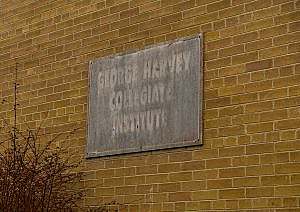 Already, there were glaring problems. Seventy percent of people responding to a survey conducted by the Board, didn't want the two schools to merge. Some worried that each school would lose its identity. They remembered the fights from the previous attempt and worried about bullying, overcrowding, moving to a new school and then moving again. There had been enough stress over moves already and parents feared for their kids' mental health and academic performance. York Memo parents petitioned the Board to let their kids stay where they were until the new school is finished. George Harvey parents thought the smaller size of their school created a better learning environment.
School staff thought the merger of the two schools should be put off for as long as possible. This planning was all going on in the middle of the COVID pandemic. Why put all those kids together in a smaller building? Would the George Harvey building be able to accommodate all the programmes?
And let's not forget the people for whom all of this planning was undertaken. Ninety-three percent of York Memo kids gave thumbs down to the move; 53 % of George Harvey students didn't want to see it happen.
The TDSB ignored this advice. It went ahead and followed its timeline. It appointed a principal for the 2021-22 school year, to oversee a transition plan and it set aside money to prepare the George Harvey building for more kids. York Memo point two would be ready to open in September.
It wasn't. Many classrooms didn't have doors or locks, washrooms weren't stocked, science rooms couldn't be used and the auditorium was out of service. Teachers new to the building didn't know their way around and didn't know staff who already worked there. Students from each school didn't know one another. There was a new administration team that didn't know the students or the building. New, vulnerable grade 9 kids were coming into the school. Many of them, since grade 7, had missed the learning and social life that goes along with actually being at school. So, there was little chance if any, to start building a school culture – anything that might give kids the impression they belonged here. Circumstances had all the makings a perfect storm.
The result
There's disagreement about all that happened in the school starting this past October. School staff reported threats and assaults or being placed on "jump lists" for reprisals. Reports of sex in washrooms and fight clubs came up in local media – something that students deny and about which the TDSB says  there is no evidence.  It's certainly clear that there were fights- serious ones. Vanessa Henry, an educator at For Youth Initiative (FYI) next door to York Memo, works with students routinely on resolving conflicts. She is in the school several times a week and spoke to me about helping a girl, trying to avoid  a fight, de-escalate her reaction. This was happening while a lone teacher tried to hold off about 40 kids trying to join in. The teacher called for help; Ms. Henry called the hall monitor who told her it wasn't this person's hall. Meanwhile admin staff stayed in the school office. This says a lot about the climate of fear, surrender and even betrayal at the school.
There was a major incident on October 28, when many fights reportedly broke out in hallways, though no lockdown was called by administration staff. Teachers did their best- considering the lack of locks – to shut themselves and their students in their classrooms. Fourteen teachers refused work since then, reporting to investigators from Ministry of Labour about poor lighting, not enough hall monitors and lack of consequences for disruptive behaviour. One educator who asked not to be identified, urged the local superintendent, Kwame Lennon, to either do something to make the school safe or close it, go online for a short time and bring students back in gradually with adequate supports and safety measures in place. Mr. Lennon apparently refused to do this. I'd like to interview him to get his perspective, but he's turned down repeated requests to discuss the situation at his school.
The student walkout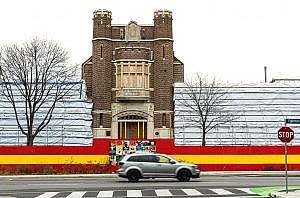 It was painful to hear much of what York Memo students said at the rally following their walkout on December 2. One young woman thanked her English and law teachers, thanked the school social worker, recognizing that good people are working in the school. But as a Black student, she had to observe: "when teachers learn that I'm a smart student who gets good marks, they act surprised." A grade 12 student said "I have seen police in my school every single day, sitting outside, coming into our schools with guns." Just as teachers tell reporters they feel unsafe at York Memo – kids do too, wondering if or when they'll be caught up in the mess and added to the list of students considered criminals.
Najma is a grade 11 student at the school, who hopes to become a journalist. She was one of the speakers that day and talked with me later about what's been happening in her school. She reiterated what's been written above: students not wanting to merge but also how they knew that there would be a lot problems around disconnection between kids. Today, she understands the disorganization and the fights that resulted.
What's causing them? "Imagine yourself coming to school and not having a teacher for first period class and you're left stranded…imagine not having a teacher for so long and then… there's going to be exams. Obviously, that's going to leave a student so angry… Then you go to the washroom and see that there's no toilet paper…All these students are very much – like- annoyed. Most of us are annoyed at the disorganization and not having the resources and the teachers there. It kind of leaves students stranded and not behaving. It's just really unfortunate it's happening." But what really sparks the chaos, she thinks, is that students aren't listened to.
Though she says the media portrays the problems at her school as rivalry and hard feelings between George Harvey and York Memo students, it's just not there: "At the end of the day we're all students; we're all people. We come to this school."
As to being painted as criminals through all the media reports of violence and fear, she points out the police walking through the halls, parking out front of the building and how this promotes "the narrative that this school is literally a prison…so much police presence, obviously, they're (students are) dangerous."
Najma, like other kids, worries that some teachers have racist mindsets, something which may be exacerbated by the feeling amongst students, that they don't listen or care. She would not go into specifics about racist remarks or actions, instead speaking about the accumulation of "multiple micro-aggressions that people just dismiss and don't really see as racist." It's hearing the same comment, that doesn't seem like much at the time, but when repeated "you're like – wait- this has a deeper meaning."
The problems at York Memo, she points out, aren't going to disappear with a snap of the fingers and more toilet paper in the washrooms. Teachers have been away and replacements are very hard to come by. The stress on kids getting ready for exams, preparing university applications and getting through the day is wearing thin on their mental health. The administrations of the school and Board need to talk with students – and yes it comes up again and again: "If we approach something or give you advice, don't sweep it under the rug; don't leave it as a second thought. Actually, listen to us."
No matter what else the TDSB does about the situation at York-Memo, there must be mediation between students and staff at the school and Board level, so they have some basis for restarting education at the school.
Student demands
Students at the walkout outlined a list of demands they want to see addressed. It's copied in full below, but let's take a closer look at the main points:
Conduct a formal inquest into systemic abuse at York Memorial CI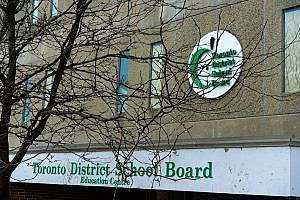 This is all refreshingly specific and goes to the heart of the problem. Students want to go on the record about incidents of racism and discrimination at the school. Teachers who have been identified as taking part in such incidents should be removed from the school. Students want to know how much training teachers received prior to the merger of the two schools. They want data on police calls, on suspensions at the school and the reasons for them. They want information about what alternatives to suspension are available. They want it all to be made public.
The Board should go further. The school community needs answers and accountability from senior staff about how this mess was allowed to start, why it went so wrong and why nothing apparently, could be done to turn it around. We need to hear from local superintendents Kwame Lennon and Executive Superintendent Uton Robinson from whom there has been radio silence since these events began.
Allocate more resources to our school
Students are looking for public information about resources available to the two schools before they merged, but particularly, if and by how much they increased after the merger. They want specifics, – not just promises – on the plan for rollout of new resources. What's the budget for York Memo and who decides how it's spent? They want adults in the school– a parent counsellor, teachers, child and youth workers and social workers who reflect the community or at least know how to work within it.
NO police presence in our school
This is a significant demand in light of the recent calls for a return of the School Resource Officer programme that was voted away by TDSB trustees in 2017. Fortunately, last Wednesday, trustees ruled out returning to the programme- though there are still questions to answer about the open-ended quality of the role of Toronto police in the Collaborative Approach to School and Community Safety report presented last week to the Board. It states that the TDSB will work with the Toronto Police Service (TPS)  "in ways which promote school and community safety including police presence at/in schools when deemed necessary based on school and community feedback." This needs clarification.
Students are looking to school staff to be able to de-escalate tough situations, find alternatives to suspension and not call police except under the most severe circumstances. Here's an interesting point, given the fear of police and bad experiences immigrant and racialized families have had with them: if police do have to enter their schools, students want them to leave their guns behind, like most police officers in Britain.
TDSB: implement a public school – student union
Remarkable! What a compelling idea! A union for students with support and guidance from people like lawyers, community members. Staff the union with independent liaison officers who will support and advocate for the best interest of students. Have union stewards at each school to report problems without fear of repercussions. The potential for learning about advocacy, organizing and the sense of competence and importance that come with that is powerful.
Successive governments over the years have done their worst to take apart public education and turn it into a commodity offered at the lowest possible cost. Now, you have students saying they want to organize and restore it to meet their needs.
Listen to students and act on our needs
This is what they said from the get-go. Students want guidance from counsellors as well as from youth groups like the For Youth Initiative (FYI) next door to the school which helps students understand the issues they face and de-escalate the anger that leads to fights. They want relationships with people they can trust.
They also want to see a plan – soon – about when all of these resources and supports they need will be forthcoming. So far, there is no information, coming from the Board's official sources, about any such plan. The Board has announced a new administration team will begin in January.
Director Colleen Russell-Rawlins told a special Board meeting last Wednesday: "We let the community of York Memorial CI down. For that I am deeply sorry. The impact on students has been far-reaching and each and every day we are working to address the issues that have come forward and to make York Memorial the place It should be for their learning and their growth."
She told students the day they walked out, that her staff would "form a group; create a structure" for addressing the students' concerns and follow up to see whether strategies used to improve the situation are working. One student called her out to ask: "Why hasn't the structure already been built?"
A good question.
The larger picture
Last week, TDSB trustees in addition to everything they are underpaid to do, sat through an 8-hour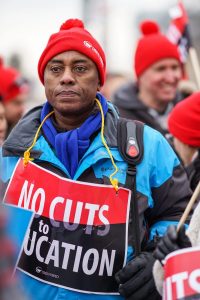 meeting over two days to listen to parents and community members explain their worries about the amount of violence in their school communities. This came in light of three deaths and two serious injuries of our kids in or outside their schools. Some wanted to see police back in schools- even as a stopgap measure. Trustees resisted the pressure to bring back School Resource Officers, but the question remains: what are you going to do about this dire problem? Smaller class sizes? More child and youth and social workers in our schools? Hall monitors? Mentors? More programmes to engage young people and make them feel part of a community? Better communication with families? More guidance counsellors? More staff to maintain schools to make the safer and worthy of the families who send their kids to them? Schools that act as the hub of their communities?
There is tremendous potential in many of the ideas that came up throughout the meeting. We could have schools that offered music programmes and more opportunities for outdoor education. There could be special education programmes aimed at the very kids we know will run into trouble over the sheer frustration and sense of hopelessness. But these and other progressive efforts fell prey to budget cuts after the Ford government was elected in 2018. Just last Friday, TDSB chair, Rachel Chernos Lin wrote to Education Minister Stephen Lecce asking that he restore the Priority School Initiative funding, to enable the Board to offer free permits to enable high needs neighbourhoods to use their local schools. Since it already cut many of those people and programmes listed above, the Board is staring down a $52.2 million deficit for next year. It continues to dip into reserve funds to pay what it can to reduce the worst effects on schools.
There was plenty of talk during last week's meeting about sharing the load of safe schools and communities with Toronto-  collaborating over projects like SafeTO. But Toronto currently has a $703 million deficit for this year – despite a handout from the province – and is looking at a shortfall of $1.5 billion for 2023. Add to that, the Ford government's decision to cut fees developers pay to the city to build infrastructure for new developments and the city is down another $200 million. Doug Ford's strong mayor system has been made even less democratic by Bill 39, enabling the mayor to push through items of provincial priority, with only 1/3 of city council support. Now, budget-making and related decisions are centralized in the Mayor's office. So, nothing is certain about a city-school board collaboration for safer school communities.
This is not a bright picture for schools and communities in Toronto. It didn't need to be that way, but we've been stuck with a succession of governments whose idea of governing has been to listen to and follow the example of corporations and business interests that support them. That thinking was certainly reflected in decisions made about York Memorial CI.
Fortunately, a little flashlight clicked on in this darkness – the demand by students themselves, for better schools that reflect them and their needs. This is a light we need to keep burning.
York Memorial Student Demands
Monday, December 5th, 2022
TDSB Director of Education
5050 Yonge Street
Toronto, Ontario M2N 5N8
Dear Colleen Russell-Rawlins,
We are writing to you as students within the Toronto District School Board to name the systems abuse and neglect of the TDSB that is contributing to the unsafe learning environment at York Memorial Collegiate Institute.
On Friday, December 2nd, 2022 you publicly said you will listen to students, and work with us to meet our demands and ensure our school – and all schools in the TDSB are safe for students (specifically, Black, Indigenous, and racialized students).
Our demands are as follows:
Conduct a formal inquest into systemic abuse at York Memorial CI
Interview students about their experiences of racism from teachers. Identify teachers who use racial slurs and/ or discriminate against racialized students, and remove them from teaching at our school.
Publicly release statistics documenting how many times police have been called to our school since the beginning of this school year, what they have been called for, and what calling them has resulted in.
Publicly release statistics for how many times students have been suspended or expelled since the beginning of this school year. We would like to know the reasons for suspensions and if students were given any alternative to suspension. Are there any alternatives to suspensions in this school?
Provide us and our parents information on all the mandatory training that teachers had to do prior to the merger, and any training they've received this year.
Provide us and our parents information on the plan that the TDSB has in place, to increase students' motivation, and opportunities for us to engage in developing a safer school community?
Allocate More Resources to our School
Publicly release information regarding what resources both schools had prior to the merger, and if and by how much those supports have been increased since the YMCI student population tripled.
Publicly release the distribution plan and timeline for allocating new resources to our school.
What is the allocation process for resources? Who decides what resources each school needs?
Hire a parent counselor who reflects the student population at our school so our parents can advocate for us.
Provide us with teachers who have experience working in our communities, and understand the lived realities that we face outside of school. We want teachers who care. We ask that you hire more teachers who represent our student population.
Publicly release the budget for our school. How much money was allocated to York Memorial CI this year?  How are funds being allocated, and who is deciding where funding should go? We demand that student voices are part of this conversation!
Implement more leadership development programs, and more emotional regulation workshops for students?
Hire more representative CYWs and Social Workers.
NO Police Presence in Our School
Provide teachers, and administrative staff who know how to speak to us and engage with us respectfully as students. Teachers need to know how to de-escalate and support students without calling the police.
We want more training for teachers!
racial literacy, harm reduction, de-escalation practices, self-defense and non-abusive intervention in physical confrontations
Provide prevention and intervention programs for students; find ways for students to account for missteps and use suspensions as the very LAST resort.
Do not call the police except; in the most exceptional and severe circumstances. We want to create a school community that takes care of one another. The police are not members of our community.
If police are ever called to our school, we want them to come WITHOUT guns. We do not want them entering our school unless there is no other option available.
TDSB Implement a Public School – Student Union
Staff the union with independent liaison officers who will support and advocate for the best interest of students
Staff the union with educational lawyers, student & family advocates, non-partisan educators, community members, residence groups, confronting anti-black racism unit (city).
Students and community members appoint who is on the board.
Voting system done by community
Have a steward in every TDSB school where students can report abuse without fear of retaliation or repercussions.
Listen to Students & Act on our Needs
Implement bi-weekly/monthly student consultations at each grade level. Our needs are different and all students should be heard.
This should be done by guidance counselors.
Bring back external guidance counselors facilitated by youth-led organizations.
Bring in community members that youth already have relationships with and trust.
Publicly release a budget and timeline identifying what resources and supports will be implemented in our school and when.
We demand that the TDSB publicly responds with a detailed document that provides solutions and a plan to address the aforementioned issues. We are requesting the TDSB complete this document by Monday, December 19th.
Sincerely,
Frustrated York Memorial CI Students