Fact checking the Tories – digging into what they say
"In war, truth is the first casualty."― Aeschylus
"You don't have to lie to not tell the truth"  – People who follow politics
It's a matter of perspective whether or not the Tories have declared war on educators across the province. They certainly wouldn't be the first government to go after teachers. But like all high stakes conflicts, the people in the position to command the most attention – those in government – seem to have this knack for outright lies, partial lies or just taking facts out of context and presenting them as something completely different.
It's no different this time around. School has been following what's been said lately and has some background information for you to ponder.
What they said
NB: We've made some changes below, thanks to further information received this week.They're noted in green.
March 3, 2020
Education Minister Stephen Lecce: Press conference at Queen's Park
We don't have a quotation yet, but Mr. Lecce announced that e-learning would no longer be mandatory and that secondary class size averages would be 23
Wait and see. This news is about an hour old. Maybe it just got to be too much for Mr. Lecce: hiding data about what parents really want to happen with their kids and standing up in the legislature to say that he wants class sizes to come down. The Minister has tried to drive a wedge between the elementary teachers who are striking to maintain classes, from grades 4- 8, at their present size rather than increase them by one student and secondary teachers who've managed to get a concession. He'll no doubt be looking for something in return over  Regulation 274 "fair and transparent" hiring practices. Then there's wages and benefits – the club that the Tories have been using  since educator job actions began.
March 2, 2020
Conservative MPP and Government House Leader Paul Calandra: in the legislature
"We've reduced class sizes from 28 to 25 at the secondary level."
Ouch! That one's gotta hurt. Average secondary class size, as Mr. Calandra knows, was 22.5 until his government kicked it up 28 and then, to get educators to moderate their bargaining demands, offered to lower it to 25; an offer not carved in stone. Again, Mr. Lecce has dropped that limit 23 but we need to see his final statement.
Minister of Education Stephen Lecce: in the Legislature
"When I go to the local Math tutor it is full of parents and they pay a lot of money to get extra tutoring. That should be the responsibility of government."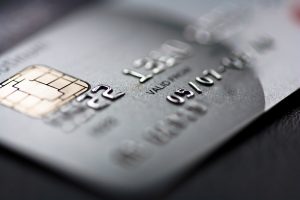 What are you going to the Math tutor for? Mr. Lecce's talking about the lower Math scores for grade 6 and how his government is spending $55 million across the province for summer learning, tutoring, teacher testing and hiring Math consultants for teachers. Except for teacher testing, boards have used those resources for years. Problem is that when the Tories cut school board budgets, teachers like Math consultants in the TDSB had to go back into the classrooms. And where is the $55 million coming from? There's No New money for schools in Ontario fiscal update.
Premier Doug Ford: Metro Toronto Convention Centre
Teachers unions "have held the province hostage for 50 years…
"…we aren't going to roll over like we've seen over the last 15 years of billions and billions of dollars, and extra bonuses, signing bonuses and pizza lunches and everything else the previous government gave the teachers."
Get out the fire extinguisher. Mr. Ford says nothing to substantiate the latter claim and he can't have it both ways that the teachers are on strike all the time while receiving billions of dollars in signing bonuses. Stephen Lecce is a bit more moderate, accusing teachers of causing trouble for only 30 years. But let's take a closer look.
50 years ago teachers didn't have the right to strike. That only happened in 1975 with Bill 100- The School Boards and Teacher Collective Negotiations Act. And Bill 100 only came about after teachers  resigned en masse in 1973 to protest additional restrictions to bargaining rights.
Here's a rundown of all those strikes:
Spring 2015 – Durham, Peel and Sudbury public school:  Striking over issues including class size – nothing's changed. Force back to work by Ontario Labour Relations Board and back-to work legislation from the Wynne government
Halloween 2013 – One day walkout across Ontario of public elementary teachers over a collective agreement imposed by the McGuinty government. Note: According to Lisa Mastrobuono, Collective Bargaining Co-odinator at ETFO, no strike of public elementary teachers occurred in October 2013. She commented that The Toronto Star, our source for this information, was incorrect. Elementary teachers were not in a position to strike since this right had been taken away by the Liberal government's Bill 115.
December 2012 – Toronto, Peel and Durham public elementary teachers joined by those from five other boards protesting Bill 115 (later repealed) that imposed contracts on teachers and limited their ability to strike. According to ETFO: "All ETFO members engaged in rotating strike action in December 2012 – not just the locals identified in that article. Full withdrawal of services on a rotating, board-by-board basis, took place between December 3 and December 20, 2012."
May 2003 – Toronto Catholic DSB: It locked out its elementary teachers who had been without a contract since August that year. The lockout lasted 12 days until government passed back-to-work legislation.
November 2002 – Simcoe-Muskoka secondary teachers: A dispute over wages and working conditions ended after 3 weeks with back-to-work legislation.
November 2002 -Simcoe-Muskoka Catholic teachers: Union agreed to voluntary arbitration after a 2-week strike
November 1998 – York Region elementary teachers: After a work to rule the board locked teachers out for 5 days. Teacher responded with 1-day rotating strike.
September 1998 – GTA and other boards across the province: After a series of strikes and school board lockouts student returned to school late that year after back-to-work legislation was passed.
October 1997 –  Province wide 2-week strike to protest Bill 160 The Education Quality and Improvement Act   which put decision-making power in the hands of the Minister of Education, set standards previously negotiated in collective agreements and imposed longer work hours on teachers. This was the big one. Tory Premier Mike Harris attempted to have the courts declare it an illegal strike calling teachers unions "special interests" – sound familiar? The courts disagreed and allowed it to continue until the teacvher voted to return to work.
October 1987 – Metro Toronto elementary teachers: Remember Metro Toronto? This strike lasted 26 days and was over teachers having time to prepare for their classes.
To sum things up, there's been a fair amount of strife between educators, boards and a province that has been determined, for the past generation, to cut its costs on the back of education. We're not talking "pizza lunches" here.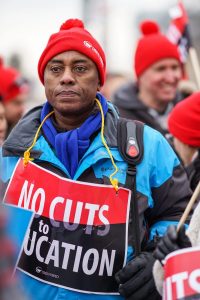 February 28, 2020
Parliamentary Assistant to Stephen Lecce, Sam Oosterhoff: on Stephen Lecce's Twitter feed
"One of the major issues is not just compensation and salary growth, but also benefit growth  We see that at OSSTF when they came back to the table – wanted a 6 percent increase in their benefits package – that's a $600 million ask to taxpayers."
Also mentioned by Stephen Lecce interview with Global News' Travis Dhanraj Feb 21
"… on benefits, in the Globe and Mail there was a report on ETFO the elementary teachers federation – a 7 percent increase…with OSSTF…6 per cent on benefits"
Nope. There's nothing in ETFO's bargaining goals about a 7 percent increase to benefits.  OSSTF President Harvey Bischoff told School. "That's not true; we've tabled an industry-averaged amount for inflation." He added that OSSTF is not looking for enhancements to benefits. Mr. Bischoff said the federation has actually saved the government some money on benefits by taking over the risks and costs administering the plan.
February 21, 2020
Minister of Education Stephen Lecce: interview with Travis Dhanraj of Global News
Minister Lecce seemed to be going for the gusto with this interview managing to cover just about every topic on the Tories' list:
 "After the largest school closure policy under the Liberals…we're putting $13 billion over the next decade to build schools." 
A stretcher. That claim comes to about $1.3 billion per year, but says nothing about dealing with the province's $15.9 billion dollar repair backlog as of 2017. The Liberals planned to devote $1.4 billion per year after letting school repair and replacement slide over years.
"We've increased special education funding to $3.1 billion"
Sleight of hand. The 2018 -19 budget had $3.01 billion earmarked for special education, but changes to allocations were based on changes to needs in school boards, not Tory largesse. If you take a closer look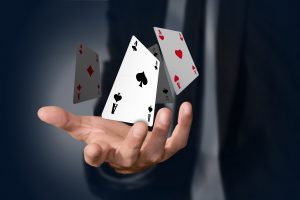 at the budget from 2019-20 and 2018-19, differences are relatively small, though they do add up. In 2018-19, the government put out $106.6 million for special education equipment; for 2019-20 it will come to $123.4 million. There's about $15 million being spent on support for students on autism spectrum after the Tory plans for these people blew up last year. On the other hand, the amount the Ford government spends on extremely high needs kids is $126.1 million this year as opposed to $133.3 million in 2018-19. Spending varies according to what ministry bureaucrats identify as needs across the province.
"… we spend 80 cents on the dollar for compensation."
Get the fire extinguisher. This is the kind of misrepresentation that Mr. Lecce is good at – merging one fact with another to come up with a third one.  Given that the interview is about the teachers' strike, you could be forgiven for thinking that "80 cents on the dollar" refers to teachers' salaries. It doesn't. According to the Financial Accountability Office (FAO) 2019-20 Review, spending for all employees of all school boards accounted for $21 billion or 78 percent of all school board spending. Teacher salaries made up 48 percent of spending – a far cry from "80 cents on the dollar"
February 19, 2020
Premier Doug Ford: in Question Period
"We've increased education by $1.2 billion…more than any other government in the history of Ontario." – often repeated by Education Minister Lecce.
It doesn't add up. At first glance, the 2019-20 budget at $29.97 billion was $1.2 billion higher than the 2018-19 budget. But that money isn't going to schools and classrooms. Half of it is going to increase spending on child-care including the $390 million set aside for a child-care tax credit. If you want to see what classrooms and schools actually get, you need to look at Grants for Student Needs. In 2018-19 they came to $25.02 billion; in 2019-20 they amount to $25.163 billion a long way from a $1.2 billion difference.
It's really about the money
It's better to look at the Financial Accountability Office (FAO) report on education spending if you want a clearer picture of where the Ford government is headed. It lists 2 core drivers of spending: the kids in the province who are of school age (4 – 18) and price inflation. Over the past 5 years, these so-called drivers grew by 2.2 percent while Ministry of Education increased by 3.3 percent per year.
But – over the next 5 years Ministry spending is expected to slow down  – to 1 percent of average annual growth. At the same time those cost drivers are projected to increase to 2.7 per cent annual growth. The population of school-age children should more than double to 0.8 percent per year up to 2023.
The report goes on: "Given that the education core cost drivers are expected to significantly outpace the Province' planned growth in education spending over the next five years the Province has announced two important measures that are necessary to achieve the ministry's spending plan in the 2019 budget: increasing class size and proposing legislation to limit public sector compensation growth."
It goes on to say that e-learning courses will reduce the government's costs because they will have an average class size of – not 22; not 25 – but 35 students.
This report makes interesting reading because it just states reality rather than trying to spin it as improvements to education and schools where none exist. Bottom line, as we've known since the Ford government took office, it plans to cut the overall budget by as much as 4 percent. Ministers like Stephen Lecce may backtrack on class size or e-learning, but keep a sharp eye out for the axe falling somewhere else.