Firing Parkdale CI teacher should just be the beginning
Gorian Surlan, no longer works at the Toronto District School Board. He was the teacher who came to work at Parkdale CI in blackface a couple of days before Halloween when his students should have been having a bit of fun, enjoying day. Instead, some of them had to confront their teacher, who dismissed their challenge and just carried on. He was subsequently told to wash his face and then sent home at the end of the day on paid leave pending an investigation into his behavior. (see story here)
Though the letter from the local Superintendent, Debbie Donsky confirmed "the staff member is no longer employed at the Toronto District School Board" it has since become clear that he was dismissed without any negotiation or deal. It is standard practice for the Board to notify the Ontario College of Teachers (OCT) about disciplinary actions, so we'll see whether or not Mr. Surlan gets his license to teach taken away.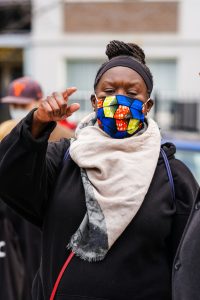 It puts the Ontario Secondary School Teachers Federation (OSSTF) Toronto in an uncomfortable spot because the federation is required to support teachers in trouble – even one ridiculing Black people – and will likely file a grievance on his behalf. The Toronto local was not offering any comments about the situation. There won't be any statement forthcoming, though it would have been good to see even a general message of solidarity with the Parkdale staff and community given three racist incidents they've endured in about three weeks.
Firing Gorian Surlan was absolutely the right thing to do. This person has no business teaching young people, who it turns out, were the ones who acted responsibly, calling him out on his behaviour, taking pictures of him and persisting with school administration until finally, it took  action. The TDSB could do nothing less than get rid of this teacher and pursue him to the OCT, if it hoped to retain any creditability as an educational organization.
These students need to be recognized for their work and courage in making sure anti-Black racism was brought to light at Parkdale CI.
What's next?
There shouldn't be any illusions amongst TDSB management that firing a bad actor is the end of the matter. It's just the beginning. There is still the question of the teacher who used the "n-word" in front of students in reference to music they were playing. Then there are the issues of form vs substance with which the Board needs to contend. Form involves temporary fixes to problems like racist acts, messages and so on. Substance involves genuinely seeking out the thoughts of those affected in the community to improve conditions.
Sarah Latha from Parkdale Against Racism who helped organize last Saturday's rally, told me that parents and community members are relieved at the outcome for Mr. Surlan and the message sent that Black students and families matter. But her group is by no means finished and plans to keep up pressure to focus on systems change. Anything else is just reaction to events – playing whack-a-mole.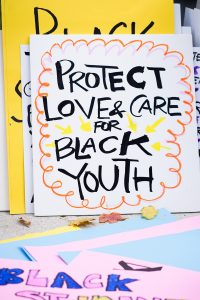 One of the speakers at that rally, D Tyler Robinson argued for that systemic change from a different angle. Firing this teacher was what he called a "Eurocentric response. Eurocentric solutions to Eurocentric problems is not the ask that was being made….The ask, is to address systemic racism via systemic solutions." A systemic response needs to centre Black youth, the victims of what went on, and include " a multicentric view (of teaching) that incorporates Afrocentrism, Indigeneity, and knowledge systems/wisdom from other places and cultures from around the world." Teaching kids to be proud of themselves and their backgrounds acts as a bulwark against the broad racism that extends throughout our communities.
Sarah Latha thinks, that from a system point of view, the Parkdale administration as well as superintendents need to work on Equity Leadership Competencies laid out by the Board. For example, she explained, they were told that there was an Instagram page out there connecting the school's name with revolting ideas and pictures depicting white supremacy and anti-Black racism. The school had nothing to do with it, but when Ms. Latha pointed it out, the response from the Board was essentially: 'we tried to get the page taken down, but we couldn't do it.'
Of course not. But, using those Equity Leadership Competencies – particularly those in the "Improving the Instructional Program" lessons and discussions could have been developed to help students understand the cognitive vacuum that leads to posts like these. The school could have rallied against them and set itself up as a place where facts must overcome prejudice and virulent stupidity. As Ms. Latha says, the Instagram page presented an opportunity to build "anti-racist resilience." She worries about a deep culture of racism at Parkdale, so her group is "more interested in accountability for allowing an environment where this exists."
How to build that resilience? When there is a problem she thinks, equity program workers should be at the school early on to advise teachers and other staff how to respond to the situation. There should be mandatory anti-Black racism training for education workers and teachers, something that should be offered to parents in the community. Administrators must have the experience needed to deal with a diverse school. She'll be asking the Parkdale Parent Council to update its School Statement of Needs that outlines priority criteria for choosing a new principal should one be needed.
Students, staff and parents at Parkdale need know to what investigation the TDSB plans to undertake. Will they have a say in its scope? Will it go into issues of how the staff and administrators at all levels handled the past weeks' incidents of racism? Will it look it deeper into other problems of racism at the school? Will Parkdale community members be kept abreast of the investigation and encouraged to speak up and ask questions?
Where are the trustees?
Finally, where are TDSB trustees in all of this? One of the few powers that remain to them is the ability to speak out. Sure, Parkdale's trustee, Robin Pilkey pushed a motion on November 10 calling for a more concerted effort by the TDSB to deal with anti-Black racism. Beyond that, she and other trustees seem to be maintaining a policy of radio silence over serious issues. Ms. Pilkey didn't send a message of support for the rally last week in front of Parkdale CI or connect with the organizers. There was no support for the Queen Victoria parents who have struggled to get recognition. There was no mention  of the rally on her Twitter feed.
The one thing all trustees can and must do when incidents like those at Parkdale happen, is to call them out and use their political influence publicly to pressure the Board to make system changes rather than swooping in, appearing to fix things and hoping for the best. There is racism throughout the TDSB; the Board admits as much. Trustees need to decide which side they are on – Board management with its carefully parsed reactions to it or the people who elected them.