"Hybrid learning" is not learning
"Hybrid learning is not learning. It is a cheap cover-up for the fact that this government abandoned students in their time of need."
– Deborah Buchanan-Walford, Teacher
Let's clear up a misnomer: hybrid learning. It's an empty term people might dream up to name cereal: Cocoa Puffs or Fruit Loops. It's deceptive too. What "hybrid" means is anybody's guess, but "learning?" That means taking in knowledge, new skills, different ideas, maybe a change in behaviour. It suggests other words like grasping, appreciating, engaging – the list is long and philosophical.
So, when people at the Ministry of Education, school boards and even some educators put out the term "hybrid learning" they're misdirecting us. They suggest that learning is taking place when some kids sit at home and watch other kids being taught kilometres away from them. No one has the slightest idea if that is happening.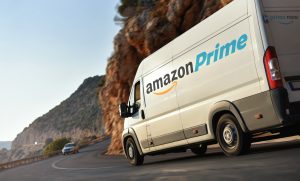 It would be more honest to call it "hybrid instruction- hopefully" or "delivery of curriculum" – kind of like Amazon dropping a package at your door, that you pick up or forget. But, what honest educators of all stripes should do is to acknowledge what is really happening and call this "delivery of curriculum at the cheapest cost."
Money
Money is tight. The Ford government is cutting Grants for Student Needs (GSNs) to a low of $12 686 per kid this year in 2021 dollars. While it touts the $1.6 billion it's planning to spend on back-to-school measures, like personal protective equipment (PPE), staffing supports, and extra nurses, $508 million of that will come from school boards digging into their reserve funds again. There's no mention of any money to hire teachers for  online classes,  even though the government has told school boards to keep them going this year.
The Ministry says only $144.6 million of that $1.6 billion are "resources which are being allocated in their entirety." It adds that boards should make plans based on receiving half of the of the resources they are partly handing over.
In the coming years up to 2029-30, – if the Ford government stays in power – it will continue to whittle away at spending on education. The difference between what Ontario's Financial Accountability Office (FAO) projects for education spending and the Tories' spending plan adds up to $12.3 billion.
You can get a sense of the government's direction when, as Press Progress reports, you read that it awarded management firm McKinsey and Company a $3.2 million contract to manage the reopening of schools in 2020. You can see the fingerprints of school defunding in a recent article the company published:
"School systems need to start planning for different epidemiological and economic scenarios, and be ready to adapt if their budgets are cut. Hard decisions are going to have to be made at every level. There are no easy answers."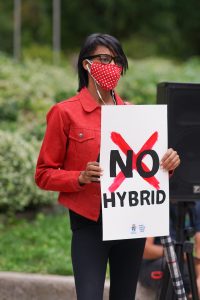 Of course, the Tories have been adamant that they won't fund lower in-person class sizes. So you can see the dilemma school boards face. They don't have money to offer both online and in-person learning separately, so wrap themselves in knots trying to teach kids both in-school and online simultaneously. As Beyhan Farhadi wrote in a recent issue of The Monitor, this hybrid Frankenstein was "quietly adopted" last year by the Upper Canada DSB, Dufferin-Peel and York Catholic boards along with those in  Simcoe, Peel and Toronto. In the case of the Upper Canada board, there just wasn't the money to offer online and in-school separately.
This is a fundamental tenet of Tory political thinking: Provide less resources, make impossible demands and leave it with school boards- or whatever public service is at the sharp end of their stick – to do their bidding. In this case it's expanding online curriculum delivery at the cheapest cost. COVID has been a great opportunity for the Ford government to push mandatory "e-learning" – another misnomer.
Two classes
What we have here are two classes of kids – both literally and figuratively: those who go to school, interact with their teachers, mess about with materials, get feedback, talk with others – and those who watch in hope of getting some attention from a teacher trying to teach two classes at once.
Those students don't even get the minimal instruction afforded by a dedicated online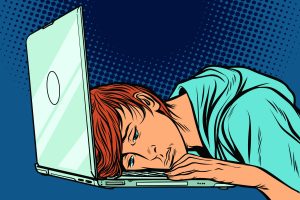 teacher. There is no chance for a teacher to properly assess if anything tantamount to learning resulted from this TV show. There's no connection with kids sitting on the other side of the glass. There's no way to check in and see how a child, cut off for months, from peers and the normal stuff of day-to-day life – might be managing.
In the end, teachers just can't divide their time between their online and in-person students. It's inevitable that they let them both down. Hybrid instruction manages to combine the worst of both worlds – classrooms with teachers who just can't provide full-time experiential teaching because they are trying, ineffectively, to teach kids who are somewhere else.
This is dreadful for children with special needs, who already face an educational mountain to climb with learning disabilities, behavior, language, neurological issues and so much more. They need a small classroom with lots of individual attention – not a teacher whose attention is divided. At a rally on Tuesday organized by No Hybrid TDSB, teacher and Elementary Teachers of Toronto (ETT) executive, Helen Victoros recounted the story of a slow-moving train wreck taking place in special education programmes: teachers told at the last minute they were going to be handling two classes at once, having to let their in-person kids do busy-work so they could talk with their online students, poor internet connections. One teacher had no idea what one's responsibilities were regarding privacy – where to "aim the camera" when those at school can see into their classmates' homes and vice versa. Then there's safety and liability:
" I have a student who is a runner; who frequently runs out of the classroom… It's always been difficult, but now leaving one staff in a class whose attention is so divided, it's extremely difficult to figure out how to maintain the safety of all my students…"
Two schools
 All of this is exacerbated by demographics. At the Toronto District School Board (TDSB) this time last year, 33 percent of the entire student population of 240 770 attended school online with the rest of the students going to school in person. TDSB research found that kids from lower income families tended to enrol in online school while those from higher income families chose in-person school. The same was true for students whose language at home was other than English as well as for those from South and East Asian backgrounds.
So, if students from a lower income, different language or ethnic background, must attend school online they face an even greater disadvantage with the poor quality teaching of  hybrid delivery. Teacher Sarah Vanz works in the Jane and Finch community – one of the areas hardest hit by the pandemic. She told people attending the No Hybrid TDSB rally that the board has implemented a hybrid model when low income, racialized neighbourhoods will more likely go to school online:
" Those students in those neighbourhoods that are most impacted by racism- by poverty- those are the students who are getting the worst out of this deal. Those are the students most suffering from a substandard model that we know is substandard."
Reaction
The COVID pandemic has been tough on kids who need contact with their friends and support from a school that can offer extra-curriculars, trained specialists to provide guidance and educators who can help them get back on track with their learning and wellbeing. One student told the audience yesterday that online school, on its own, was overwhelming last year. After a couple of months, she was "mentally exhausted sitting at a screen" and there was still eight months left in the year.
Another secondary student described hybrid delivery as "highly difficult and anxiety inducing." There's too much material to cover in the 2 ½ hour periods and it's easy to fall behind. Even for the kids at school in-person, trying to juggle the two kinds of classes is too much for teachers  who also have to cope with technical problems. Instruction suffers and teachers know it.
The group No Hybrid TDSB  is pushing the country's largest school board to honour the commitment to have a dedicated teacher for instruction in person or instruction online – not both. To date, it has signatures from 3 200 people wanting to see the back of hybrid instruction. You can find the petition at Stop Hybrid Classes.
For the Ford government, delivery of curriculum at the cheapest cost is not a stop-gap measure; it's an opportunity. It's central to its plan to dial back public education.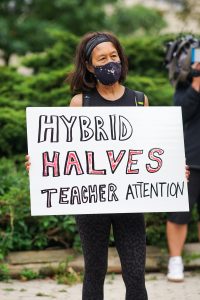 Thanks to Beyhan Farhadi writing in The Monitor and Bonnie Stewart in  The Conversation whose recent articles informed the one above. You can read them by clicking on the author's name.