Richview CI – don't drop the ball on returning students
Richview Collegiate certainly has its share of successful graduates. However you might feel about him, Canada's 22nd Prime Minister, Stephen Harper attended the school along with with award-winning journalist Paul Watson and writer Janice Kulyk Keefer.
Sports have also been a big deal at the home of the Richview Saints since the school opened in 1958. NHL player, Scott Mellanby graduated from there in 1984 and was drafted by the Philadelphia Flyers. Joey Votto went on from there to play first base for MLB Cincinnati Reds, breaking the iconic Pete Rose's record for times on base in 2013.
Sports pictures adorn the wall of the school. It has historically fielded strong baseball and football teams and more recently basketball squads. The Richview Saints girls recently won an OFFSA  bronze medal for basketball. Boys teams routinely win local championships and move on to city finals.
So it's plain to see why students who want to make sports an integral part of their lives, are drawn to the red and gold colours of Richview CI.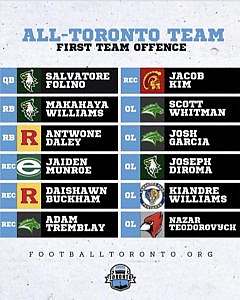 Two such students, Daishawn Buckham and Pedro Leones, have contributed powerfully to their school through their efforts on the basketball and football teams. Daishawn recently made it to the All-Toronto Team in football. They are both motivated to go to university. Pedro told me that York University is considering giving him a scholarship if his marks are alright. Daishawn said that he has been told he can go far in football, but is focused on graduating university – has had 4 offers from different schools, but needs the marks to get the scholarships to pay the high cost of getting a post-secondary education – something that is out of reach for more and more young people.
Improving marks for a better shot at university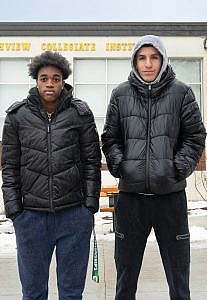 What's the problem then? Both students were about to graduate with their 30 credits, but needed to return to school for a fifth year so they could improve their marks and thus their chances of getting into university with those all-important scholarships. However, Richview principal Lucie Kletke sent a letter to the school community, towards the end of the 2021-22 school year, indicating that the school was over-enrolled and had no room to admit kids wanting to return for a fifth-year chance at upgrading courses.
This threw a huge wrench into Daishawn's and Pedro's plans, along with those of any other students in a similar position. Daishawn said the news came at the end of the year, past the time he could have applied for universities based on his current marks. Both students appealed the decision, but were turned down by the school and upper level administration. Finally, after Daishawn's mother Sherlon Buckham reached out to the Mayor's office, Parents of Black Children and kept pushing the TDSB, the principal's decision not to admit them was overturned. Pedro and Daishawn started this school year late, but were able to take a couple of courses and contribute to Saints sports for the first semester.  
Still, after the first semester, they need two courses to improve their overall average. But the school is holding fast – no second semester. Neither Pedro or Daishawn knows what to do.
Significance of this story
This is an important story for a few reasons. Let's start with the two young men. Daishawn decided early on to play basketball as a way of keeping out of trouble. He started playing football at Richview in grade 10 and proudly told me that he made the game-winning touchdown for the play-offs that sent the Saints to the city play-offs one year. Pedro played basketball and soccer at Hilltop MS before concentrating on basketball at Richview.
Both, like so many kids, were hit hard by the effects of the COVID pandemic on students everywhere. Schools were closed much of the time; classes ran online or – worse – in hybrid form, where some students came to school while others watched from home. The past two years have been far from ideal in preparing kids to get ready for post-secondary education. Pedro says he couldn't interact with his friends or family, that he dropped a bit academically and planned well before end of  grade 12, to come back for a fifth year. The same was true for Daishawn who said that COVID "took a toll on a lot of us mentally." There were no sports and when he returned to school "grade 12 was a rough year for me and I knew I was going to have to upgrade my marks."
The TDSB is well aware of COVID-related problems faced by its students. Its Covid-19 Pandemic Recovery Plan acknowledges plenty of concerns that arose since the pandemic hit in 2020:
"For some students, there have been significant barriers to learning and personal or family circumstances that have impacted their ability to attend school, such as family financial stress, job insecurity, food insecurity, diverse housing needs, domestic abuse and increased levels of mental health concerns. During school closures, the supervision of underserved students has been reduced and access to a caring and safe adult has been limited for some students." (p.2)
The plan goes into detail about how both elementary and secondary kids are affected by problems since 2017 in areas like happiness hopefulness for the future, stress, worry and loneliness (p. 6)
The Board's Equity Policy "acknowledges that Equity of opportunity and Equity of access to our programs, services, and resources are critical to the achievement of successful outcomes for our students, employees, and parent/guardian, Caregivers and community partners" and goes on to affirm "The child must be at the centre of the decision" made about them.
This is at odds with what has happened regarding these two students and maybe others across the system who have had a tough grade 12 year and need to improve their marks to carry on with their future.
Response to returning grade 12 students
Why can't Richview give returning kids a break? According to a statement from Richview in response to a recent a CBC news inquiry, the school has a capacity of 870 kids, but 1070 are in the building. Grade 12 students are 46 over the limit.  Based on this information, the school was closed to kids who wanted to return for a fifth year. Principal Lucie Kletke told me that students are still calling to come back, but the school can't develop a timetable for them. While there isn't a board policy concerning returning grade 12 students, she said that the decision to close it to fifth year kids is a "school practice." As for exceptions, she asks why one student should get back into Richview when others aren't allowed.
A 2016 report for the TDSB's Planning and Priorities Committee offers more detail. Richview has been over-enrolled for quite some time. As far back as 2012, the school was at 117 percent capacity and the report projected enrollments of 1105 by 2021-22. The issue has been understood for years. Despite this, the school has maintained a French Immersion programme, drawing kids from other areas, and has consistently taken in athletes for a fifth year going back at least as far as 2010. Only this year, was the school was closed to returning students.
There is also the question of the grade 12 cohort. If it is over-enrolled by over 40 kids surely that would offer a rationale for extra staffing. This all becomes a bit more curious as the school has made 2 long term occasional postings to cover grade 11 extended French, Grade 12 French Immersion, student success and grade 9 English and gym. These run to the end of June. Ms. Kletke has not yet responded to my email and phone call asking if these postings are to cover teachers on long-term leave or if they are additional staff to fill in timetable gaps.
Where things stand now
As it stands now, neither Pedro or Daishawn have been admitted for the final semester of the 2022-23 school year. Both have tried getting the credits they need at Burnhamthorpe CI, but that is an adult day school and neither of the two students feels comfortable attending a school for adults. What about another school? Daishawn told me that he doesn't want to leave an environment like Richview where's he's felt safe and comfortable since grade 9. Pedro has similar feelings as well as being avid about playing sports – but he's been told he won't be able to join a team at another school. Both say that they are willing to take one of the courses they need online, if only they could come back to Richview for the other one.
As he looked back over the years when other – in some cases white – athletes were allowed back for a fifth year, Daishawn said that some of them left the school as soon a football season was over. He wants to come back and improve his average, not just his football statistics. So why does he have to struggle to get a place? "I feel like this whole situation is a race thing," he says. That is certainly an issue the school needs to address.
The bottom line though is that two students who have attended and participated in Richview school life since they were in grade 9, just want to come back to their school and complete their final high school courses. This is a real test of the TDSB's willingness to address the setbacks and mental health stresses caused by the pandemic and show flexibility when it comes to helping students get ready for the next step in their academic careers.