Sam Oosterhoff doesn't belong at the Ministry of Education
That Sam Oosterhoff is going to speak at a forum called "Gen Z: Challenging Abortion in Politics" is certainly not surprising. The parliamentary assistant to Education Minister Stephen Lecce has been open about his socially conservative opinions since he was first elected in 2016 at the age of 19.
As the new member for Niagara West -Glanbrook, he got off to a running start opposing the then Liberal government's All Families are Equal Act which made it easier for LGBTQ+  parents to be recognized as such,  without having to go through an adoption process. Mr. Oosterhoof didn't like the fact that the bill used "parent" to replace gender-specific terms like "mother" and "father" calling it a "poorly written piece of legislation, and disrespectful to mothers and fathers."
He also opposed the Liberals' sexual education changes, something that brought him into conflict with his more middle-of-the-road leader of the time, Patrick Brown. But then we all know what happened to Mr. Brown and the swell of social conservative support that swept Doug Ford into power. Mr. Ford immediately dropped the offending curriculum and opened up a snitch line for parents to report on teachers who taught it, anyway. Then, when he no longer had to curry favour with his social conservative base, he turned around and put out pretty much the same curriculum.
Like Doug Ford, Sam Oosterhoff has shared a stage with Charles McVety, head of Canadian Christian College who is virulently anti-gay. Mr. McVety ran afoul of the Canadian Broadcast Council back in 2010 for suggestions on a Christian television station that gay and lesbian people prefer young and underage individuals. His Canadian Christian College hosted a rally in February 2017 to protest a House of Commons resolution condemning the "systemic racism and discrimination" after six Muslim men were killed and nineteen others injured as they said their evening prayers at the Islamic Cultural Centre in Quebec City. In December, the Ford government fast tracked legislation to grant Canadian Christian College university status, pending an independent review.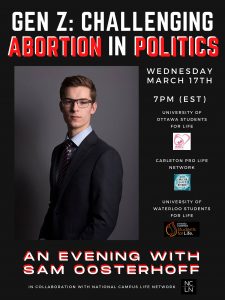 Defending his participation in "Gen Z: Challenging Abortion in Politics,"  Sam Oosterhoff told Press Progress, recently, "I don't think anyone is surprised to know that  that I am pro-life". In 2019 he told an anti-abortion rally outside Queen's Park that he would help make abortion "unthinkable in our lifetime." He's a true believer.
What about the groups running this "evening with Sam Oosterhoff?" One of them, the "University of Ottawa Students for Life" has a bizarre banner on its Facebook site with drawings of 4 naked and pregnant women with hearts drawn on their bellies. It lost its club status at the university in 2017 for "allegedly spreading graphic images in their anti-abortion activism".  Another sponsor, the University of Waterloo Students For Life (UWSFL) is looking for anti-abortion delegates to promote the cause at the 2021 Conservative Convention.
Yet another organizer, the National Campus Life Network (NCLN) pinned a Tweet on February 25 criticizing U.S. President Joe Biden's stance on abortion: "Making abortions an "early priority" is the same as Hitler who made it an early priority to kill the Jews," disparaging women's right to choose, while trivializing the abomination of the Holocaust.  The Tories quickly moved to  distance themselves from Mr. Oosterhoff's colleagues, issuing a statement to Global News "While we respect everyone's right to hold and express their own personal beliefs and views, nothing should ever be compared to the horrific acts committed during the Holocaust." All the attention the group received about this comment caused it to pull back bit, with a statement on Facebook yesterday including the line: "We understand that not every aspect of the Holocaust can be compared with current abortion practices." No concession here.
Sam Oosterhoff needs to relinquish his position as parliamentary assistant to the Minister of Education right away. His views should never have been welcome in a Ministry that spends about $31 billion per year educating students from widely varied backgrounds to be, at very least, understanding, broad minded and compassionate towards one another. His connection to groups that equate abortion with the Holocaust just underscores his unsuitability for the job he holds.