Toronto school board trustees matter now more than ever
Debbie King is a Toronto-based parent, community organizer, communications professional and candidate for TDSB Trustee in Parkdale—High Park. You can reach her at debbieking.ca
Alarms are blaring throughout our public education system and we should all be on alert. The precarious state of school buildings, staff morale and student well-being will continue to crumble without a critical change of course.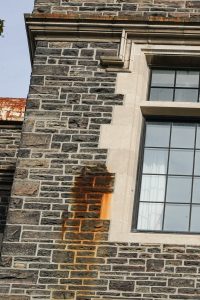 Cracks spreading through the system threaten to exacerbate division in  access to learning, fracturing the foundation of a just society and thriving economy. 
With public education boldly under attack by a provincial government, the role of Toronto school board trustees should become more important than ever — but it could also become more or less defunct. Newly elected boards of trustees can uphold a subpar status quo, or they can challenge the current system, and help chart a new course for Toronto's schools — one that reimagines investment in the infrastructure, programs and support that all learners and staff need to succeed. Heading into municipal elections this fall, the election of local school board representatives may be the most important decision voters don't know they have to make.
Public knowledge is power
Several campaigns for school board trustees are underway in Toronto. First-time trustee candidates like myself are working hard to gain support in an election for which voter turnout is typically low, but stakes are exceptionally high. Within the next four years, we could see significant changes to what, how and from whom our children are learning. Modernized curriculums, in-person learning, the livelihood of education workers, equitable opportunities, and improved outcomes for students are all at stake. As I ring door chimes along tree-lined side streets, and knock on doors in high-rise hallways ready to respond to tough questions from residents, one question arises most. Folks from across my downtown west school ward, ask — "School board trustee? What do they do?" 
The civic right and duty of electing a local school board trustee, along with a city councillor and mayor, eludes many voters, especially those without an obvious connection to public schools. But even some parents of school-age children who presumably have a higher stake in our public school system, admit to only a vague understanding of the political position. Since the trustee role has flown under the public radar, my conversations as a candidate are often the first to familiarize folks with the responsibilities of the role, and why it urgently matters right now.
What trustees do and why it matters
By definition, school board trustees are locally-elected representatives of the public and members of the school board. They are the community's voice and advocates for public education who collectively, set the vision for the school board, develop policies, and allocate resources. 
In the case of the Toronto District School Board (TDSB) — Canada's largest English public board  — a total of 22 trustees, each representing a geographic ward, are elected by the public every four years. Together, TDSB trustees make decisions that directly impact: 583 public schools; 42,000 staff;  247,000 students; and 130,000 adult learners For perspective, that's more people than the total population of Iceland or the Bahamas. 
TDSB states that "with a strong focus on student achievement, well-being and equity, trustees work together to ensure students have access to the programs, supports and services they need to succeed and reach their full potential." Functions listed include:
Establishing policies

Setting budgets and allocating resources

Formulating plans for the Board and setting priorities to reflect community values and goals

Supporting and monitoring student achievement

Overseeing matters related to Board facilities

Recruiting and evaluating a Director of Education 

Collaborating with all levels of government in the best interest of constituents and public policy
The trustee role is defined consistently by the TDSB and Ontario Education Services Corporation as a representative of community voice on the Board and an education advocate. Yet, parents who engage with trustees through emails, social media and formal meetings report a range of experiences from attentive and supportive of local initiatives to disconnected and ineffectual with system-level issues. In the Parkdale—High Park ward, significant concerns raised by parents and school communities over the past year included:
health, safety and online learning through the Covid-19 pandemic

lack of support for special education needs, and

school accommodation changes due to intensified condo development
Also of grave concern were the multiple accounts of racial harassment, including hate mail that targeted a Black vice-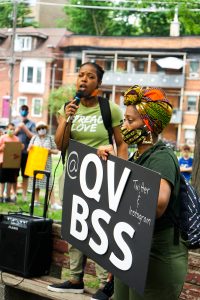 principal, teachers and parents at Queen Victoria Public School (since renamed to Dr. Rita-Cox – Kina Minogok P.S.). The school's parent-led Black Student Success Committee (BSSC) called out the Board's negligence in failing to communicate the incident to the school community, and voiced concerns for the safety of Black students.
Our system of education governance should have the capacity and willingness to engage with local communities, offer support and advocacy and see the trustee's job as a representative of the community, first and foremost. This ideal isn't the reality right now.
Subsequent rallies, an emergency motion and call-to-actions confronting anti-Black racism in the Board were the result of a high-needs community's organizing—one without the privilege of ignoring the impact on their children. In the following year, the community was further harmed by more hate mail, a teacher in Blackface, and the absence of five Black teachers on leave for over a year.
Perpetual concerns from school communities, paired with the slow pace of system-level change begs questions about the will and power trustees possess as representatives and advocates. Insights from education sector planners, policy makers, and politicians help shed light on this question, the longstanding constraints, and need for fresh perspectives among boards of trustees.
Where the buck stops
To understand the constraints and the possibilities that excite trustee candidates like myself, one perhaps needs to understand how the context of public education and influence of trustees has evolved. And more specifically, what trustees can and cannot do today (as well as in the future).
Despite the immense responsibility of guiding the fourth largest public education system in North America, trustees are not the all-powerful politicians some assume them to be. Many significant decisions fall outside of school board purview, essentially limiting trustees to the allocation and manipulation of finite resources within provincially legislated guidelines.
Certain health and curriculum guidelines, like student vaccination policies and de-streaming, for example, are determined at the provincial level. Another major area guided by the province is educational funding. Individual school boards do not dictate the financial resources with which they have to operate. In Ontario, the Ministry of Education determines the amount of funding provided to each school board, based largely on an inequitable twenty-five year-old  "per pupil" calculation. The Ministry also provides fixed parameters for large portions of the funding, and stipulates that budgets must be balanced, or risk financial takeover by the Ministry. Trustees then, are tasked with puzzling together the little discretion they have in the operating budget to best meet educational goals and student needs. 
For the current school year, TDSB trustees were tasked with balancing a $3.4B operating budget inclusive of line items from human resource and instructional expenses to facility and technology costs. Add to that challenge, a deficit of $40.4M primarily due to "unfunded pandemic costs, ongoing Ministry funding shortfalls in a number of areas, and declining enrolment."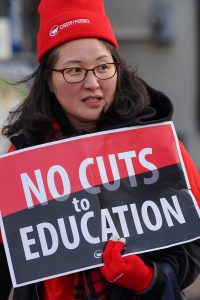 Improvements such as adding additional teachers to reduce class sizes and ventilation upgrades to improve air quality in classrooms were called for by school communities, health specialists and advocacy groups alike. But in developing the budget, trustees had limited opportunity, based on dictates from the province, to manipulate the number of teachers in schools or to enact building repairs across the backlogged system. Public budget consultations communicated a focus on saving costs while minimizing impact on student learning, plus increasing revenue, and planning for deficit recovery. Solutions were found in measures such as increases to international student tuition and permit fees, and projected use of $59.8M from reserve funds.
This begins to reveal important insights about the role of trustees as community voice and education advocates. With diminished resources from a provincial government pointing toward a private education market, and student needs more diverse than ever, it's crucial that trustees are willing and able to advocate for a strong equitable public system. For example, rather than the single direct payment of approximately $100 per child proposed by the Ministry to offset tutoring costs, all students are better served by directing the $225 million this all costs to support classroom learning. Without this appetite for advocacy, we risk further depletion of resources and status quo decision-making that exacerbates system inequities leaving marginalized students further behind
Here we are again
Alarms about underfunding and threats of privatization are not new. The Covid-19 pandemic certainly put unique and unanticipated pressures on board budgets, but persistent shortfalls in funding are well documented over several decades, with reports published by People For Education, the Canadian Centre for Policy Alternatives (CCPA)¹, Elementary Teachers Federation of Ontario and others. 
In a 2022 CCPA report, states that "had everything remained the same over the past four years, school funding should have held constant; ideally, it would have been increased to address structural funding shortfalls like the massive school repair backlog. The past few years weren't exactly ordinary, however, and the fact that schools are getting less funding than four years ago is disconcerting".²
Without the authority to prescribe or generate adequate funding to meet student needs across the system, trustees are left to make impossible decisions and inevitable cuts. Member of Provincial Parliament and former TDSB trustee, Chris Glover, recognizes the unfortunate reality that public school trustees are scapegoats for provincial underfunding. Trustees are stuck between an underfunded school system and a province that uses them to give the appearance of local control while it continues to make cuts to education.
This wasn't always the case. Ontario school boards once had the power to levy property taxes to support local education. That is, they had authority to determine and collect the needed funding from local taxpayers, and required little provincial support to meet educational goals. It was a time of school bands, football teams, full-time librarians and trustees well-equipped with offices and staff to support their work. So what changed? The government that came to power. And soon after, the rules.
In 1997, under the Conservative Mike Harris government, all education property tax became set, collected and distributed by Queens Park. A new funding formula (noted earlier) designed to squeeze funding and centralize control at the provincial level was implemented. According to economist Hugh MacKenzie, the formula "was based on the politics of division, pitting the educational needs of students and the need for infrastructure upgrades of schools against financial compensation of teachers and the power of local school boards."
In 2004, a Liberal government led by Dalton McGuinty took over and minor tweaks were made to the formula but schools still saw cuts to arts, outdoor education and other programs. Education in Ontario remains underfunded relative to what it needs, and that chronic underfunding leads to competition for scarce resources and fails to address inequities based on income, gender, race, newcomer status, Indigenous status, and people with special needs.
Since the Conservatives returned to government in 2018 led by Doug Ford, the funding formula has not changed and cuts have been more severe. In the 2019-2020 school year, TDSB faced $67.8 million in cuts, resulting in the loss of over 300 jobs, closure of school rooms and reduced access to several programs like International Languages and Outdoor Education.
Recall the significant issues related to pandemic learning, school capacity, equitable program access and racism raised by parents in the Parkdale—High Park ward. Each of these issues could arguably be mitigated were the government to provide:
Sufficient

pandemic funding

for a safe school plan inclusive of smaller class sizes, ventilation upgrades, and other Ontario Science Table recommendations

Ability for TDSB to collect

educational development charges

(EDCs) from developers when residential neighbourhoods intensify, as other school boards can

An

updated funding formula

that sufficiently funds a full K-12 curriculum of programs meeting diverse learning needs, inclusive of special education, across the city.

Leadership that exemplifies in policy and practice,

respect and value for all families and workers

including those who identify as Indigenous, Black, women, non-binary, economically-challenged and/or as living with disabilities.
The way forward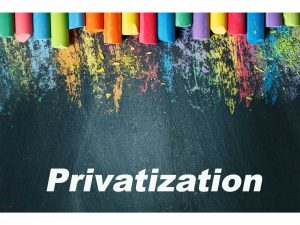 Public education as we know it could end if the provincial government ushers in more options for privatization. Indicators toward this direction include the Ministry's implementation of mandatory online learning serviced privately rather than taught by teachers, and the aforementioned direct payment to parents to support private tutoring. With increased privatization comes a risk of displacing school boards trustees and any earnest opportunity for public voice in the education of our children and employment of education workers. Wherever public schools go from here — for better or worse — school board trustees can help steer the way. This is why voters have an important decision to make in selecting representatives.
Some trustees have advocated substantively, in the past, to course-correct and achieve important wins for student learning and well-being. In current Chris Glover's time as trustee, parents organized and fought cuts to programs like music. Other cohorts of trustees have explored alternative board governance models (e.g. regional structure) for better distribution of resources, and embarked on (albeit unsuccessful) legal cases to claim EDCs. Former TDSB Trustee for Spadina-Fort York, Ausma Malik, recalls new energy among the 2014 Board which represented a 50% turnover of trustees and new mix of backgrounds, expertise, life experiences and a lower median age. The end of the School Resource Officer program was an important win of the time, as was breaking ground on Jean Lumb Public School, the first new downtown TDSB school building in twenty years.
School trustees elected across the city and province this fall can be status-quo minding pawns in a provincial plan to slash, burn and privatize education, or be bold leaders that help reform a broken system. Imagine the fresh perspectives that might come from a composition of trustees with varying intersectional lived experiences. Imagine new ideas informed by diverse professional backgrounds and skill sets. Imagine good governance matched with strong community-building, and a shift from short-term, piecemeal solutions to more fulsome strategic planning.
Bold leadership from a new board might include new methods of school community engagement, shifting organizational culture, cultivating new partnerships, developing revenue streams, and revisiting governance models. The impact of such leadership could potentially create:
Public pressure that at last prompts changes to funding models

Revenue generation that alleviates the reliance on parent fundraising

School communities with greater voice and agency over their needs

Deeper consultation and partnership with parents to improve policies

A broader de-colonized curriculum and greater access to specialized programs

Improved learning outcomes and well-being for marginalized students

Coordination with community programs that foster youth learning and well-being

An organization that attracts and cultivates high caliber education leaders and workers, who maintain and enjoy a safe environment

A leading institution that sets a new standard for public education across the world
It's this vital opportunity to heed the alarms, defend public education and chart a new course for Toronto's school system that excites me. It's what I hope voters will consider as they head to the polls, aware perhaps for the first time, of what's at stake and who is on the ballot.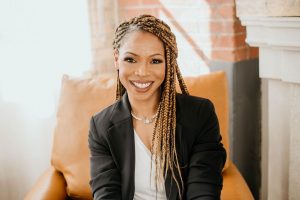 ¹ Course Correction A Blueprint to Fix Ontario's Education Funding Formula, by Hugh Mackenzie, Canadian Centre for Policy Alternatives (CCPA), March 2018
The straight answer: Education funding in Ontario has dropped since 2018 by Ricardo Tranjan, The Monitor (CCPA) April 27, 2022
² The straight answer: Education funding in Ontario has dropped since 2018 by Ricardo Tranjan, The Monitor (CCPA) April 27, 2022