Violence "pervasive" in schools says ETFO
Violence in and around schools isn't only a matter of young people attacking each other – as awful  as that is. Teachers face the prospect of violence as well, with increasing numbers of attacks against them. A School Magazine article in March described situations such as a student running after a teacher with a pair of scissors, thrown chairs, along with  assaults including biting, stabbing with a pencil and punching.
Yesterday, Elementary Teachers Federation of Ontario (ETFO), the union representing public elementary teachers, released a report on its survey completed by about 25 000 of its 83 000 members. More than 75 percent of those who responded said they had personally experienced violence or saw it happen against another person. About 80 percent of those educators believe that violence has increased since they started teaching; two thirds of them say it's more severe. Over a third of them have experienced a class evacuation, during which time students and the teacher must leave a classroom due to some severely disruptive situation – like chairs or tables being thrown about – that might lead to someone getting hurt.
Overwhelmingly, educators say that school violence is a serious concern for maintaining a decent teaching and working environment as well as for classroom management.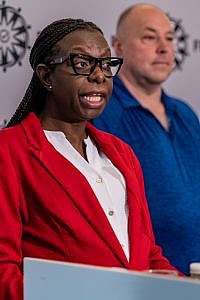 As ETFO President Karen Brown told a news conference yesterday: "The survey results may shock the public, but they are not a surprise to ETFO members. We have been hearing about the pervasiveness of violence in schools from our members across the province, for years." She added that the behaviours giving rise to significant safety concerns are found in classrooms from kindergarten to grade 8.
Violence against educators varies. Ms. Brown noted that women were more likely than men to experience some form of physical aggression against them. Data from the survey similarly showed that Indigenous, LGTBQIA2S+ as well as educators with disabilities are more likely face violence or an attempt at violence. This also applies to Early Childhood Educators and support personnel.
Teachers often are reluctant to report violent incidents or don't even know the process to do it. Asked to comment on that issue, Karen Brown said that often teachers are reluctant to report because administrators don't follow up. ETFO, she said will follow-up on actions taken by administrators and provide training for teachers so they know about their rights to work in a safe environment. The above report, she said, should validate teachers' concerns and encourage them to use the reporting process.
Not only does violence and aggression put educators at risk, it seriously affects what goes on in  a classroom: "When a violent incident happens in an elementary classroom learning opportunities are interrupted an injuries and illness happen," she said, indicating that fifty-three percent of educators on the survey reported psychological injuries or illness, while 24 percent disclosed physical injuries and 11 percent noted physical illness or other health effects. All of this, Ms. Brown pointed out, leads to time away from the classroom as educators take sick leave to deal with the physical and psychological effects of violence in classrooms across the province.
How have classrooms come to a point where, in Ms. Brown's estimation, many school spaces are not safe? The Ford government, she says, has refused to adequately fund public education "The system is suffering from chronic underfunding, underreporting and understaffing, creating an environment where student needs are going unmet." School boards don't have the money to provide assessments of at-risk kids nor are they able to provide needed front-line supports to help avert serious problems in classrooms. Moreover, the funding formula the province uses to decide how much money each school board gets doesn't take the widely different needs of school boards into consideration.
Schools, she argues need more frontline supports: special education teachers, social workers, education assistants, behavioural therapists, child and youth workers, psychologists and others who can help. To co-ordinate services, the province needs to set up inter-ministerial supports.
What about the $25 million to reduce school violence recently announced by the Ministry of Education? "It's not nearly enough," Ms. Brown replied, especially in light of the needs across the province. Does this amount even cover the cost one education assistant per school? Certainly, after the Ministry shelled out $225 million for private turoring, it's a paltry amount.
Rob Hammond, president of the Near North ETFO local, gets plenty of calls for help in dealing with violent incidents, but as he said: "Violence in our schools is preventable. If the Ford government truly cared about the success, well-being and safety of students, teachers and educational workers, it would adequately fund public education and provide our members with the resources that we need." He explained how educators sometimes put themselves in harm's way to help their students deal with a problem – for instance, a kindergarten teacher might risk being struck as they kneel down to the eye level of a child to talk with them.
Mr. Hammond said that teachers call him in tears and anger, but mostly in frustration that so little is being done to help kids who have been aggressive or violent, but also for their classmates who have experienced this behaviour. Teachers are looking for a lifeline.
Lisa Dunbar is a Social Emotional Learning Resource teacher with the Peel DSB and serves several schools advising teachers how to deal with serious behaviour issues in their classrooms. Though she doesn't work directly with kids, she supports their teachers by listening to their concerns and helping them solve day-to-day problems. Her work represents a trend away from withdrawal support for higher needs students to having classroom teachers do that work. She says that violence is not a new issue, not a special education issue, nor is it the fault of students who she argues often can't explain why they did what they did: "Generally they are startled and remorseful about the impact of their behaviour."
More professional development and new programming she believes, is not going to stop violence in classrooms. It's part of a larger problem of underfunding with resulting larger class sizes and fewer supports for students who need them. Community, along with school supports are needed to help families – anything from intensive therapy to simply another adult a child can trust and turn to when stresses are getting overwhelming
Violence in classrooms affects and is affected by a myriad of problems like lack of affordable housing, food insecurity, three years of pandemic, loss of neighbourhoods and, of course, cuts to just about everything in schools. As Rob Hammond said: "It takes a village to raise a child, but right now that village is failing."