What will it take to unseat the Tories? Episode 1
What will it take to unseat Tories across the province? It's a question we'll be writing about in School Magazine over the next few months running up to the June 2 provincial election.
There's been a huge outpouring of opposition to the Ford government since it strutted into the legislature back in June 2018. And of course, there are many excellent reasons for this: the continuous assault on health care, social services, labour, the environment, education  – it goes on. The Fordites' cynicism around fundamentals like elections and raising money for them is reason alone to send them packing. Doug Ford might like to play the populist and help a few people dig out of a recent snowstorm, but the history of his government tells a completely different story. Keep checking  Fordwatch and Fordwatch:Education for more details.
Unfortunately, the opposition to his government has suffered, like everything else, from COVID-19, the focus of everyone's attention. Parent groups like Ontario Parent Action Network (OPAN), are naturally concerned about the safety of their kids in underfunded schools. The same is true for education workers along with those in other sectors. It's an uphill battle. Where tens of thousands of people could show up at Queen's Park a couple of years ago – that just can't happen now. The Tories will take advantage of the fact that opposition just can't be as visible as we'd like.
Possibilities?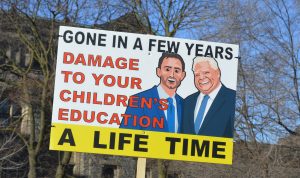 The Tories are ahead in some polls – but the reviews are mixed – which could be a good thing. Abacus Data has them in the lead of voter intentions with 37% ahead of the Liberals at 28% and the NDP close behind at 25%. The view is pretty much the same in latest EKOS Research Associates'  numbers. It's a tighter race if you look at the  Mainstreet Research  survey which puts all three parties within 4 percentage points of each other for voter intentions. What's interesting is that recent Angus Reid poll puts the NDP slightly ahead of the others  at 36 percent vs 33 for the Conservatives with the Liberals trailing at only 19 percent.
There's a bit of light in the details of some polls. For instance, Abacus reports 50 percent of people asked, definitely want a change of government- though more of them wanted to see the Liberals lose 4 years ago. Only 17 percent want their incumbent MPP re-elected – so that could be cause for concern in some of the closer ridings across the province. This is reflected in the Innovative Research survey in which 52 percent of those asked were either somewhat or very dissatisfied with the government.
Doug Ford has lost or kicked out 15 of the MPPs who came to the dance with him in 2018. The dissension within the ranks, particularly around COVID measures and vaccinations, doesn't look good on him. He's lost the seriously questionable support of social conservatives like Campaign Life Coalition, who helped him use the "sex curriculum" as a cudgel to bang over the heads of the Liberals whom he claimed were leading Ontario children toward perdition. This bunch is moving further to the right and it may make it tough for Conservatives in tighter races in socially conservative parts of the province.
The problem is that opposition leaders are neither well-known nor liked all that much. After 13 years as NDP leader and nearly 4 heading the Opposition, it's a problem that Andrea Horwath isn't much on the radar of 41 percent of the sample identified in the Abacus survey. Liberal leader Stephen Del Duca is in worse shape with 52 percent more or less in the dark about him. Green Party leader Mike Schreiner is struggling in 77 percent obscurity.
Pretty well everybody knows who Doug Ford is, but only 32 percent in the Abacus poll like him very much. The bad news is that Andrea Horwath shares that impression – and she hasn't had nearly the chance to draw the anger Mr. Ford has courted. Stephen Del Duca and Mike Schreiner are way behind.
NDP- we need you to step up
For the sake of even moderately progressive politics in Ontario, Andrea Horwath desperately needs to up her game. As, Leader of the Opposition it's her job to oppose the government of the day and this one offers a very wide target indeed. Maybe that's part of the problem, but too often Ms. Horwath goes on about how bad the Ford government is without offering alternatives or, more important, a broad view of what Ontario really could become.
So for instance, like all retail politicians, she reacts to issues like the shortage of health care workers in the province by rightly blaming Doug Ford's cap on public sector wages and the long hard squeeze on health care brought about by both Liberals and Tories over years. But what's her plan? How does it fit into the vast generational problem of gutted public services, ever more privatization and the decline of the public good. She needs to emphasize the big picture perspective of the NDP and distinguish it from that of the Tories – more privatization, lower taxes etc. and the Liberals – the same, but with a nicer face. We certainly don't want the situation like in the 2014 election, where the Liberals ran to the left of the NDP.
And what was she doing defending Steve Parish – the former mayor of Ajax and erstwhile NDP candidate? Back in 2007, he pushed for a street to be named after WW2 German Admiral Hans Langsdorff and stuck to his guns after he retired when Ajax councillors finally twigged to the idea that naming a street after a high-ranking defender of the Nazi regime was baldly antisemitic. Ms. Horwath initially accepted a late-breaking apology, but then relented under pressure and dumped him as a candidate. Schools across the province are looking to find better names than Macdonald, Ryerson and Vaughan to put on their walls. The NDP has to understand this.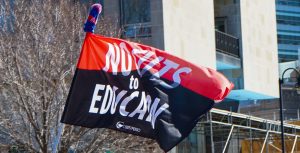 If you just consider education, it would be excellent for Ms. Horwath to come out and say: "Look, education has become a tool for ever more powerful corporate interests. If we get elected we're going to focus on these things: educating, not testing – in classrooms rather than online, restoring funding and fixing a funding formula that doesn't serve kids. We're going to have an accountable plan to get rid of the $16.3 billion dollar backlog of repairs so that people aren't hurt or made sick by their schools. We're going to cut large school boards into smaller ones that have some hope of dealing with the social, economic and equity needs of their communities and kids." We need a glimpse into the NDP's intent and political will.
What's going on elsewhere?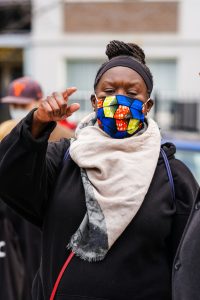 Aside from the official opposition, what's happening elsewhere? There are plenty of education-related groups angry about cuts and the government's inane response to COVID-19. Ontario Parents Action Network (OPAN)  is terrific at developing creative messages  and is working with other groups like the Ontario Education Workers United (OEWU) and Fix Our Schools to get out messages explaining what has gone on in the past few years under a Tory government. But they don't begin to have the capacity to connect with all the others across the province who want to put skids under the Ford government.
In a less fraught situation, they would be part of a common front. There was talk about it soon after Doug Ford took out his axe – but not much lately. The Ontario Federation of Labour (OFL) has had an election strategy out for months now and will promote the NDP for the June election. Action 10 in its 21 strategies calls for connecting and co-ordinating with "existing campaigns and networks and social movements and our communities." The OFL is going both partisan – supporting the NDP and non-partisan- supporting community groups- to get as many people as possible out and working.
The Ontario Secondary School Teachers Federation (OSSTF) "will support the opposition" – not just the NDP –  but will likely work with the OFL planning common actions. Elementary Teachers Federation of Ontario (ETFO) hasn't released its strategy yet and Ontario English Catholic Teachers (OECTA) sent School a statement from president Barb Dobrowolski, to the effect that Catholic teachers will work within communities to advocate for education workers, students and families and expect that Ontarians will remember Doug Ford's "abdication of leadership and refusal to address COVID-19" at the ballot box in June.
Come on – this is not a typical election! 
What's needed as far as schools are concerned, is the energy and alliance between parents and education workers that developed during the strike actions of 2019-20. To get that, unions and other organizations with resources must provide organizers and money needed to bring groups together so they can get out the messages that remind voters of the history of this government and the importance of dumping it or- maybe even more useful – consigning it to a minority. This applies to all concerned groups – health workers, environmental activists, housing advocates, people who want to see something other than highways across southern Ontario and lots of others. They're out there; many are organized into local groups. They need help working on local campaigns where there is a good chance of unseating a Conservative candidate.
It's getting interesting – hey, maybe Doug Ford will go for Erin O'Toole's job now that federal Tories have finished eviscerating one of their own – again. As the months and the political climate gets warmer, School Magazine will look closer into strategies, local possibilities to unseat Tories and signs that groups are working together to bring forward the issues that most concern them. If you have something to tell us about your campaign, please email us at eatomag.18@gmail.com.