What will it take to unseat the Tories? Episode 3
With just days before the 2022 Ontario election begins, the message needs to broaden: Doug Ford's Tories need to be stopped if Ontario would rather not see four more years of even greater cutbacks, paving over green space, a party for developer friends and chaos in health, social services and education. Not sure if the Tories are a disaster for the province? Have a look at Fordwatch and Fordwatch: Education
On Thursday, the Conservatives came out with their "bait and switch" budget aimed at buying votes with money they don't even need to promise. The Tories changed the rules amending their law to produce a budget  by March 31. Instead they held back until just before the legislature dissolves for the election next Wednesday, so that it won't even come to a vote. To top it off, even if you decide you like what's in the $198.6 billion they say they'll spend if re-elected, they won't necessarily reintroduce the same budget. This comes from Finance Minister Peter Bethlenfalvey, who on behalf of his colleagues was essentially calling the people of Ontario a bunch of idiots.
So, home care spending of $1 billion over three years, a tax break for people earning under $50 000 a year amounting to a couple of weeks worth of groceries, more money for education? "We'll see – if you re-elect us." More reliable are the plans to expand roads, go ahead with Highway 413, the Bradford bypass and cut the gas tax by 5.7 cents a litre. After all, these moves target the people whose votes the Tories are really after.
Recent polls show the Conservatives in the lead. Abacus Data's sample of 1 500 people puts the Tories ahead for voter intention at 36% across the province, with 23% for the NDP, 32% for the reviving Liberals (at 20% in 2018) and 6% for the Greens. You can see on this poll how the Liberals are taking back ground in Toronto with 42 percent of intended voters vs the NDP at 19% and 31% for the Conservatives. The latest  IPSOS poll puts the Tories at 35% of decided voters across the province, with the Liberals a bit closer at 32%, the NDP trailing at 23% and Greens at 5%.  The numbers are pretty much the same for both polls, though IPSOS shows the NDP with 21% of the  intended vote in Toronto vs the Liberals 38% as opposed to Abacus' numbers putting the Liberals at 41% vs. the NDP's 19%. The Liberals are coming back, unfortunately for the NDP.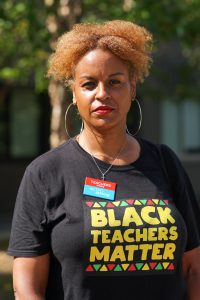 For those hoping for- at worst – a Tory minority government, it's pretty close. Doug Ford's personal popularity has improved since last year when he was tracking at 28% approval; now it's climbed to 41% despite the fact that his party hasn't changed at all. On the other hand, 49% of those polled by Abacus are looking for a change in government, though maybe not enough to quash Tory re-election chances. Abacus also notes that cost of living, housing, healthcare and taxes are on the voters' wish lists. And then there's the question of how much people know about Liberal leader Stephen Del Duca and, sadly after 13 years, NDP leader Andrea Horwath.
NDP platform just released
The NDP released its election platform on Monday. Newsrooms are mostly reporting on the party's commitments to work on Universal Pharmacare for Ontarians, expand dental care in conjunction with the federal government, build 100 000 social housing units and put a tax freeze on low and middle income earners with a cut off of $200 000. Platform details aren't finalized yet.
The NDP would raise the minimum wage to $16 per hour this year and to $20 per hour by 2026, with supports for small businesses to pay the increases. If elected the NDP would also increase base hospital funding by 3.5%, hire 10 000 personal support workers (PSWs) and give them a $5 raise from pre-pandemic levels. It would start work on hiring 30 000 nurses and hire over 300 doctors specialists and 40 mental health workers to shore up health services in Northern Ontario.
There are some noteworthy commitments for people interested in better, more equitable school/communities. The NDP would hire 20 000 teachers and education workers – in sharp contrast to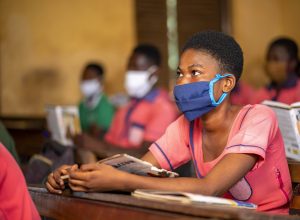 the cuts made by the Tories over the past 4 years. Classes sizes for grade 4 through 8 would be capped at 24. The NDP would increase special education funding and add more remedial programmes for the many kids who've fallen behind over the course of the pandemic. It would hire mental health and youth workers to offer more support to students. After more than a generation, the NDP would review and overhaul the education funding formula, a thorn in the side of schools since it was conceived. It would come up with a plan to clear the $16.8 billion school repair backlog in ten years.
As far as addressing equity in schools, the NDP would amend the Education Act to clarify definitions of racism and anti-racism as well as policies for handling incidents in schools. At a time when groups are worried about white-supremacists and anti-Semites, the platform commits to holocaust education throughout schools. It also supports de-streaming kids into lower level classes, though much more support for those kids is needed.
Contrary to the Doug Ford government that abruptly halted the development of an Indigenous curriculum as soon as it hit the doors of Queen's Park, the NDP would ensure that the Ontario Curriculum, reflects Indigenous experience and culture are reflected in classes. As a broader commitment to basic respect for Indigenous communities,  the NDP would, clean up the mercury pollution poisoning  Grassy Narrows communities for decades. It would come up with both strategies and money to deal with the horrific problem of suicide amongst Indigenous young people and, unlike the Tories, establish a statutory holiday for the national Day of Truth and Reconciliation.
In a significant move for families of autistic children it would introduce need-base funding for these kids with no age caps. This follows a complete mess in funding endured by these families over the years with 53 000 kids now on a waiting list for support.
It's good to see that the NDP commits to end the outdated and unhelpful Education Quality and Accountability Office (EQAO) assessments as well as to scrap the 2 online courses. It's also encouraging to read the commitment to restore Ontario's independent child advocate, cut in the early days when the Ford government was swaggering around looking for positive things to get rid of. The NDP would also convert post-secondary students' loans to grants – something that could vastly improve access to education for young people.
It's good to see commitments like restoring legal aid, stopping the construction of Highway 413 and expanding the Greenbelt. None of this is going to happen if another Ford government gets elected.  So, what needs to happen to buttress any change for the better?
Joining  forces
May 1 rallies across the province
The Ontario Federation of Labour (OFL) is working with other unions and teacher groups to hold rallies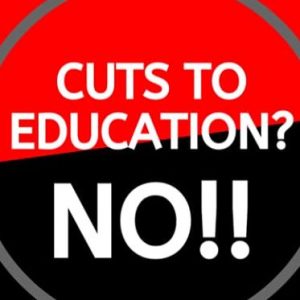 across the province just prior to the provincial election campaign which begins May 4. The one in Toronto begins at 2:00 pm at Queen's Park on May 1, the traditional workers' holiday. Along with other changes, the OFL is calling for a $20 minimum wage, affordable housing, paid sick days, well-funded public services, income supports, climate justice and an end to racism and oppression. Ontario Secondary Teachers Federation (OSSTF) sent 100 members to the OFL activist assembly and is supporting locals across the province to defeat the Ford government.
There are rallies in 21 cities including Barrie, Guelph, Kenora, Kichener-Waterloo, North Bay, St Catharines, Sudbury and Windsor. Check out the OFL website above to find a rally near you.
Here are two terrific groups that have worked for years to bring to light the destructive record of the Tories, especially when it comes to dealing with children, education and schools. Now they're working together on getting out information to support local candidates, remind voters about the history of the Ford government and do leaflet drops. OPAN has already dropped leaflets to oppose PC incumbent Robin Martin in the Eglinton-Lawrence riding here in Toronto and has another drop planned for May 6 and 7 to support NDP candidate, Denis Heng, candidate for Newmarket-Aurora. They're also targeting ridings in Peel and Scarborough. The groups are  also supporting an Education Worker feeder march planned for May 1 with Elementary Teachers of Toronto (ETT) OSSTF, and CUPE 4400. It begins and 12 PM – meeting at Heydon Park SS, 70 D'Arcy St.
Talk about in for the long haul… Fix Our Schools has been fighting for safe, well-maintained public schools, for decades. The group is clear about its priorities for judging party platforms and they certainly don't align with what the Tories put forward back in 2018. FOS says that the repair deficit has risen to $16.8 billion and calls for strategic voting in swing ridings where, for instance, animosity towards the Liberals might have swung the vote in the Tories favour in the last election. FOS suggests that voters vote for the candidate most likely to defeat the one they don't want, rather than the candidate they prefer. This is a pretty transparent call to vote strategically against the Tories. Good for Fix Our Schools!
Here are two other groups calling for strategic voting to flip at least 14 swing ridings across the province.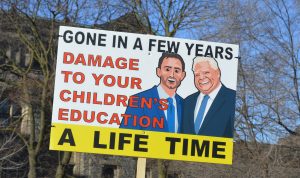 Both groups started in response to the towering need for action against climate change. OVC grew from a group called the Climate Pledge Collective as Myrtle Millares of OVC explains, "Ford on every issue, has failed us in Ontario" – there just can't be four more years of this government. OVC operates independently from parties and candidates. The strategy is to canvass swing ridings with the information about platforms and political history people need to make a decision to vote for a candidate – preferably other than a Conservative.
You can find the top ten  and other close swing ridings here.
ARCA is a non-partisan group of Canadian actors, filmmakers, musicians, playwrights, designers, directors and others of like mind who want to keep "the climate crisis on the front burner." It puts out great videos that should inspire people to work and flip those close Tory riding. Check out their Facebook page – the link is above.
While you're at it, have a look the work Seniors for Climate Action Now (SCAN) are doing to demote the Tories as they promote action to deal with climate change in Ontario. Heaven knows, we could all use a bit of humour right now and SCAN's take on comedians Mary Walsh' and Cathy Jones' Mrs. Eulalia and Mrs. Enid says much of what we think of  Doug Ford in just under two minutes. It's Maude and Millie 22.
This is a coalition of parents, students , community activists and education workers in York region including organizations like CUPE locals, ETFO, OSSTF, Newmarket Parent Network, and the Social Planning Council of York Region. Visali Manimaran is one of the youth representatives for the group who have taken part, over the years, fighting against cuts to education and funding as they push for safe schools throughout COVID-19. Right now, she says, the group is trying to get out the youth vote, which accounts for 40% of voters. A lot of young people don't know how or where to vote and even what their vote means – the power that it gives them both as individuals and as a group. From that perspective her group is non-partisan.
But then there's its opposition to the Ford government. To that end the youth group is sprinkling information about cuts and need for change to its followers and pushing them to get out and vote – see this really engaging PSA.
Walk the talk 
The NDP needs to build credibility. So it needs to get its act together as far as saying one thing about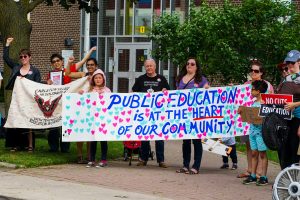 including people and doing another. How did it happen that incumbent NDP MPP for Brampton North, Kevin Yarde came to be defeated by Sandeep Singh whose previous experience amounts to running in 2018 for Caledon town council? Andrea Horwath said the NDP allows incumbents to be challenged if the challenger has passed the party's vetting process, but surely something could have been done to avoid breaking up the Black caucus formed in 2019. Just recently, Kevin Yarde quit the NDP to sit as an independent, saying that he wasn't told that there was a challenger for his nomination until 9 days after the deadline for signing up new members to the party. Maybe Mr. Yarde could have done a better job of keeping up his supporter lists, but his defeat sends a bad message to anyone who wants to believe what it says about equity and supporting those who have worked for their party.
Contrast this apparently hands-off approach the part of NDP management and the situation in Scarborough Centre back in December. Nomination candidate, D Tyler Robinson, a Black TDSB teacher and co-writer of a course on anti-Black racism lost the nomination to Neethan Shan, a former Ontario NDP president. According to an open letter from the Scarborough Centre riding association, the nomination was taken over by the provincial NDP which held up the nomination election despite appeals to move ahead. Mr. Shan's supporter list couldn't be fully scrutinized by Mr. Robinson, since many of its names weren't entered properly.
Tyler Robinson said "we won in Scarborough Centre, won the votes, won the people" – just not according to the party requirements. He thinks the party could have grown the Black caucus fighting for Black and Indigenous issues – now he's not sure if it will continue to exist. Deborah Buchanan-Walford, member of Ontario Education Workers United (OEWU) added: "The NDP realizes they have to relinquish moral imperatives to get elected." It's politics. That's too bad.
It's early times. The writ for the June 2 election drops next Wednesday May 4 and there's plenty of work to do. Come out to one of the May 1 rallies and support progressives –  just not Conservatives.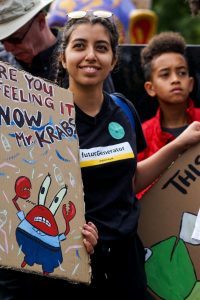 Note: My remark about healthcare cuts in Toronto was incorrect and has been removed form the top of this article.