The freedom-flipped-on-its-head-convoy: readings for educators
Updated to February 21, 2022
Let's understand one thing: the so-called "Freedom Convoy" is at best about what some people consider to be their "freedom" to put those around them at risk of infection without consequence or responsibility, concepts that fly in the face of the convoyers' grotesque sense of entitlement. It is freedom perversely flipped on its head. The very idea of this convoy has, at its heart, a fundamental authoritarianism: dictating others' rights at the whim of a minority of people too disconnected from society to help preserve its health – to just do the right thing. This convoy is not about solidarity; it's not about collective rights. It is, as Ryan Kelpin says in a recent Canadian Dimension, about toxic individualism and it's deeply troubling.
That's at best. But what has become clear since the protests and occupations began back in January, is the powerful right-wing involvement in and support for the convoy. One of the organizers, Canada Unity, demands that the duly elected government resign if it doesn't do what it says and drop all health mandates – it backs off, but you can see the ideology here. Supporters dismiss the swastikas, Confederate flags, desecration of symbols, threatening behaviour and complete disregard for residents who live near wherever the convoyers happen to be, claiming that it's only extremists – every group has its extremists and it's just the media trying to put the rest of them in a bad light – to take another shot at their freedoms. Organizer BJ Dichter scoffs at white supremacy: "Let's assume there were people who do have a Confederate flag … I don't care … I want to hear unacceptable opinions."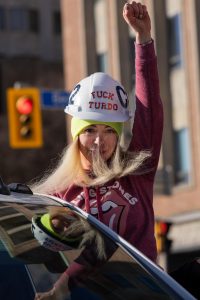 But they won't be dismissed. Both federal and provincial Tories have danced back and forth with them, underwriting their bizarre calls for freedom in the midst of a global pandemic, while asking them to please go home. Not until the economy starts to be affected do they do a 180 and support some emergency measures – sort of. The right-wing People's Party of Canada knows they can gain traction here. Conservatives like leadership candidate Pierre Poilievre stand on an overpass to welcome the convoy to Ottawa because he knows that they will help him pull the Tories even further to the right. Convoy organizers know they have gained traction no matter what happens.
There are important questions to answer. Why the kid gloves on convoyers plugging international bridges and laying siege to the capital city when police were quite comfortable kettling bystanders during the G20 summit in 2010, or moving on Wet'suwet'en hereditary chiefs' supporters who opposed construction of a pipeline across Indigenous lands or carding people for walking while Black? Why did it take the Emergencies Act to get meaningful action?
What can educators do to help their students get some idea about this fearful history unfolding in front of them?
In the past, Toronto DSB Student Equity Program Javier Davila would prepare mailout lists for educators, with readings about current and often disturbing issues hitting the news – he did a great job on the January 6 2021 Capitol Riots.  They used them for background, updates on current events, to spark ideas for discussion in class and so on. In May 2021 when he shared resources about the latest Israeli attacks on Palestinians, the TDSB bowed to pressure from a few Israeli supporters and stopped the mailouts.
Current resources are critical for educators, so School Magazine is filling the gap left by Javier. Here is a list of articles and their links for readers who want to better understand the ominous events that have occurred over the past weeks and their implications.
We'll be updating.
Good luck and stay safe…
General information about the convoy:
Canadian Trucking Alliance Statement to Those Engaged in Road/Border Protests 2022-01-22 Canadian Trucking Alliance – Majority of truckers vaccinated – opposes these protests
Hundreds of truckers headed to Ottawa in 'Freedom Rally' convoy against vaccine mandate 2022-01-23 CBC News
Ottawa braces for 'significant' trucker convoy disruptions as police warn of risks  2022-01-26 Global News
Canada's 'freedom convoy' exposes political missteps — and Donald Trump's ominous legacy  2022-01-31 The Conversation – References desecrating War Memorial, Terry Fox statue, harassing people at homeless shelters, flying Confederate flag, symbols of white supremacy 
Did Kenney's support for 'Freedom Convoy 2022' encourage copycat Coutts blockade he now condemns?  2022-01-31 Rabble– Alberta premier Jason Kenney supports the convoy, then changes his tune as he says the blockade at Coutts AB needs to stop. 
Ottawa mayor: 'Situation is completely out of control' 2022-02-06  Politico -Mayor Jim Watson announced state of emergency in city
Ontario court freezes access to funds raised for protest convoy on GiveSendGo platform  2022/02/10 CBC News
Ontario declares state of emergency in response to convoy protests 2022-02-11 CBC News – after closure of Ambassador Bridge cause shutdowns on both sides of the border
 Convoy protesters tear down fence protecting National War Memorial  2022-02/-12 Global News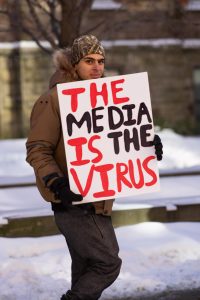 Police break up remaining protest as authorities work to reopen Ambassador Bridge 2022-02-13 CBC News
 Counter-protests grow, block convoys on 3rd weekend of downtown demonstrations 2022-02-13 CBC News
 Mounties arrest 13 'militant' protesters after guns, body armour seized at Coutts blockade 2022-02-14 Calgary Herald Long guns, hand gun, body armour and machete among items seized.
 4 Alberta border protesters charged with conspiring to murder RCMP officers 2022-02-16 CBC News
Emergencies Act
RSC Emergencies Act 1985 Justice Laws website
Federal government invokes Emergencies Act for first time ever in response to protests, blockades  2022-02-14. CBC News – Targeting areas like border crossings, blockades in cities and funding
The federal government has invoked the Emergencies Act. Here's what that means  2022-02-14 CBC News
Doug Ford has played right into the protesters' hands 2022-02-14 "The pandemic is no time to panic in the face of unmasked protesters. Yet that is precisely what the premier has done by enabling and emboldening all those who stand against any and every restriction while the police stand by" Toronto Star
CCLA Statement on the Emergencies Act 2022-02-15 CCLA – The federal government has not met the threshold necessary to invoke the Emergencies Act . This law creates a high and clear standard for good reason: the Act allows government to bypass ordinary democratic processes. This standard has not been met.
Party lines drawn ahead of key Emergencies Act vote on Monday 2022-02-20 CBC News  Conservatives and Bloc Quebecois to vote against use of Emergencies Act
Timeline
 Thousands of semis roll east to Ottawa as part of freedom convoy 2022-01-25 Moosejaw Today
'Freedom Convoy' protest: How did we get here? 2022-02-11 Timeline of events to February 11  – CTV News
What it means for schools
Doug Ford is "bracing for impact." What about everyone else? 2022-01-04 School Magazine – as recently as early January schools were closed with the latest COVID wave. Staff and parents worried about contact tracing, proper masking and vaccination availability.
Teachers, parents express concerns about Ontario's return to school plan  2022-01-11 Toronto Star – Doug Ford had talked about a "tsunami" of COVID cases – parents not sure whether schools are safe enough to send their kids back
Elementary School Students and Teachers Dealing With Harassment as Far-Right Convoy Occupies Ottawa 2022-02-10 Press Progress
'Unmask the children': Anti-vaccine convoy rolls past Strathroy high school  2022-02-11 CBC News  – Convoy is meant to encourage governments to "unmask the children." Some students came out in support.
Truck convoy members try to hijack symbol and slogan of residential school survivors  2022-02-12 CTV Vancouver – Call for people to wear orange to support the protest
RCMP investigating racist abuse hurled at Okanagan students during 'Freedom Convoy' protest  2022-02-14 Victoria News – racist abuse against an Indo-Canadian student and allegedly spitting on another student.
Dismantling 'freedom convoy' must be coupled with education on the dangers of extremism 2022-02-14 The Conversation
Alberta students walk out to protest decision to lift mask mandate in schools  2022-02-14 Toronto Star
Convoy justifiers
 Freedom Convoy 2022 Facebook page:
Trucker 'freedom convoy' rolls into Sask. Monday 2022-01-22 Regina Leader-Post – Support from Tories Andrew Scheer and Saskatchewan Premier Scott Moe
 GUNTER: Roll on, Freedom Convoy 2022-01-25 Toronto Sun Article attributes cause of the protests to Ottawa's insistence that truckers be fully vaccinated to enter the U.S. It doesn't mention that this is also a U.S. rule
Why I took part in Ottawa's Freedom Convoy 2022-02-08 The Post – Long on complaints- but short on arguments
 What the truckers want 2022-02-10 Common Sense   – Gives a pretty good idea about the thinking that choice needn't bear consequences.
Opposition to convoy
 Truckers divided as 'freedom convoy' rolls into region  2022-01-27  Orillia Matters – Division of truckers who have been vaxxed and those who oppose vaccination
 'Freedom protest' a serious security threat as Islamophobic, anti-Semitic elements take front stage 2022-02-07  The Hill Times – Connection to far-right groups, swastikas, desecration of War Memorial, Terry Fox statue
Nine Indigenous senators condemn the Freedom Convoy movement 2022-02-07 APTN News "The display of racist and hateful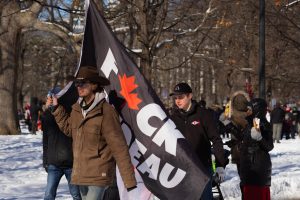 symbols have prompted profound shock and outrage across the country, as well as caused great hurt to our Indigenous brothers and sisters and members of other communities."
 Trucker convoy: Counter-protesters block convoy traffic; Arrests in Windsor as Ambassador Bridge cleared 2022-02-13. Ottawa Citizen
Blockade Backlash: Three-in-four Canadians tell convoy protesters, 'Go Home Now' 2022-02-14 Angus Reid
Analysis
The so-called Freedom Convoy was never about truckers, or border mandates 2022-01-30 Trucknews.com
'Freedom convoy' rolls through Ottawa encouraging the participation of Canada's far-right  2022-02-01 The Conversation
Startling Trump interference points to GoFundMe convoy campaign manipulation 2022-02-04 National Observer
Ottawa truckers' convoy galvanizes far-right worldwide 2022-02-06 Politico – Rightwingers from The U.S. in particular are eager to ride on the "Freedom Convoy"
Canadians Aren't Actually on the Brink of Civil War Interview with Stephen Marche Author of "The Next Civil War: Dispatches from the American Future" 2022-02-07 Slate
What the 'freedom convoy' reveals about the ties among politics, police and the law  2-22-02-08 The Conversation
Freedom Convoy raises questions for us all about law and order 2022-02-09 iPolitics
 Mexico went all in on ivermectin — a disproven COVID cure. Now there's a fight over 'false and misleading science' and claims of 'colonialist' politics – 2022-02-12 Toronto Star. – re: claims that Ivermectin provides a reason to avoid masking or vaxxing.
What the Ambassador Bridge and other 'freedom convoy' blockades mean for Canada-U.S. trade 2022-02-13 The Conversation
How Doug Ford hid from dealing with the Freedom Convoy 2022-02-14 Canadian Dimension "The premier tricked everyone into believing he bears no responsibility for the occupation"
Legal concerns
Canada dispatch: 'Freedom Convoy' protest of anti-vaccine truckers reaches Ottawa 2022-01-30 Jurist
'Freedom convoy' – the good, the bad, and the ugly constitutional aspects 2022/02/10 Queen's Law
Funding
Here's how the so-called Freedom Convoy is still raising 'thousands of dollars' per minute even without GoFundMe 2022-02-05. Toronto Star
Canada Must Investigate the Convoy Money 2022-02-08 The Tyee
Elon Musk–backed 'freedom truckers' in Canada get Bitcoin lifeline after GoFundMe freezes millions in donations 2022-02-08 Fortune
Convoy protest received hundreds of donations that appeared to be from abroad. 2022-02-10 CBC News
Anonymous donations to convoy as high as $215,000 concern Canadian MPs  2022-02-11 CTV News
Canada's 'Freedom Convoy' attracts support from U.S. and around the world  2022-02-10  CTV News
Province gets court order choking off donations meant to fund truck protesters. 2022-02-10 Ottawa Citizen
Hacked convoy data shows more than half of donations came from U.S. –  2022-02-14 CBC News'
Organizers
BJ Dichter gives speech to People's Party Canada convention in Quebec 2019-08-19 YouTube – describes report on the 'interweb' claiming Conservative Party candidates have "alleged ties to Islamist extremism…why do they have such garbage in their party." He goes on to explain how moderate Muslims want to "leave the garbage of their birth country behind them."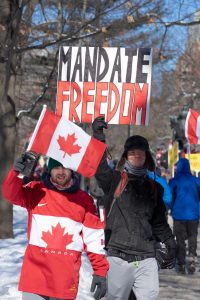 Anti-Vax Convoy Leader Says He Welcomes Protesters Displaying 'Confederate Flags' in Ottawa  2022-01-31 Press Progress– Organizer BJ Dichter: "Let's assume there were people who do have a Confederate flag … I don't care … I want to hear unacceptable opinions"
The Left Is in Grave Danger 2022-02-02 Alternatives International – article by Sid Ryan describes racist antisemitic components of this right-wing protest.
Who is the Freedom Convoy's Tamara Lich — the 'spark that lit the fire' 2022-02-04 Vancouver Sun – notes involvement in Maverick Party and Yellow Vest Movement
Meet the Extremists and Social Media Influencers at the Centre of the Far-Right Siege of Ottawa – 2022-02-08 Press Progress – Includes James Bauder- linked to Yellow Vest movement.
Who is who? A guide to the major players in the trucker convoy protest  2022-02-10 CTV News – includes James Bauder, Tamara Lich, BJ Dichter, Randy Hillier and Brian Peckford
Canada Unity – 2022-02-08 Convoy organizers led by James Bauder who produced and then withdrew the Memorandum of Understanding that called for the Senate and Governor -General to "desist all unconstitutional, discriminatory and segregating actions and human rights violations" and for the government to resign if they don't
Political Response
NDP's Jagmeet Singh denounces trucker convoy, disagrees with brother-in-law's donation to the cause-  2022-01-27 RCI News
Vaccine-mandate protesters are headed to Ontario legislature. What that means for premier Doug Ford 2022/02/04 CBC News– Ford says: "If people want to come down and protest, God bless 'em. I understand their frustration. I really do." 
Erin O'Toole plans to meet with truckers protesting vaccine mandates in Ottawa 2022-01-27 CBC News  – Shortly before O'Toole ousted as Tory leader
Justin Trudeau and Erin O'Toole scrap over who's to blame for 'Freedom Convoy' protest  2022-01-31. Toronto Star
Bergen pushed O'Toole to back convoy saying there are 'good people on both sides': sources 2022-02-04 CTV News – Interim leader Candice Bergen continues to support the convoy
Jagmeet Singh Says The Freedom Convoy's Goal Is To 'Overthrow The Government'  2022-02-07 Narcity
Candice Bergen's nod to Trump is a sign of Canada's descent, but the Charter may save us  2022-02-09 The Conversation – Bergen pushed O'Toole to embrace the convoy following Donald Trump's support for Unite the Right rallies in Charlottesville, 2017 
Ontario has no immediate plans to follow Alberta in scrapping vaccine passport, health minister says 2022-02-09 CTV News
Federal Conservatives call on anti-vaccine mandate protesters to bring down the barricade  2022-02-10 CBC News
Trudeau calls on all parties to denounce 'illegal' trucker occupations, blockades 2022-02-10 Global News
Ottawa mayor lands a shaky deal with the Freedom Convoy 2022-02-14 Maclean's – conflicting positions and statements of politicians and organizers
People's Party Leader Maxime Bernier hands out 'freedom pancakes'; looks to steer 'freedom convoy' his way 2022/02/14. Ottawa Citizen 'It's about 'freedom-loving Canadians'
Ontario moving up reopening dates, vaccination passports gone as of March 1 2022-02-14 Toronto Star
From other parts of the world
Freedom Convoy: Why Canadian truckers are protesting in Ottawa 2022-01-29 BBC News
Freedom convoys: legitimate Covid protest or vehicle for darker beliefs? 2022-02-13 The Guardian – Describes similar movements in France and New Zealand
Police, 'Freedom Convoy' protesters at stalemate near Ontario border bridge 2022-02-13 Washington Post
"Freedom Convoy" shows the Americanisation of Canada's right 2022-01-28 New Statesman
Canada trucker protest – live: Ontario declares state of emergency as protesters outnumber police in Ottawa 2022-02-13 The Independent
There is plenty more information out there. If you have some you think we need to see please email us at eatomag.18@gmail.com