Welcome back Doug!? Not so much…
Doug Ford was nowhere to be seen on Saturday at Queen's Park. But that didn't stop about 1 000 people who showed up and stood in the cold to welcome him back to the legislature from a ten-week hiatus. Actually, it wasn't so much a welcome back as a group commitment to oppose his Tory government and all it has done to harm the common good over the past nearly five years.
Given the nature of the groups involved in organizing this not-so-warm welcome– these are folks eager to harass, cajole, trouble, needle and poke this right-wing government out of office when a provincial election is called in around 3 years from now. Presumably. Given Doug Ford's disdain for democratic rule, that's not something carved in stone.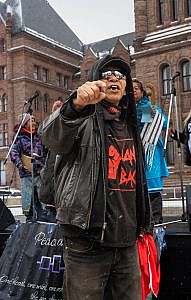 The list of those who would welcome the back of Doug is deep and broad, including Indigenous groups like the Allies of Onkwehonwe, as well as the Greater Toronto Health Coalition, Mississauga Climate Action, Toronto and York Region Labour Council, Canadian Union of Public Employees Ontario(CUPE), Climate Action Muskoka, Green Belt Guardians, OPSEU of Greater Toronto, Ontario Secondary School Teachers Federation (OSSTF) London Region Social Forum, the Ontario Green Party, Elementary Teachers Federation of Ontario (ETFO)and its local, Elementary Teachers of Toronto – that's some of them, but you can find more about  the groups and those involved by clicking here.
They were there to put the Ford government on notice over an accumulating pile of huge issues like stopping the construction of Highway 413  to profit some Tory supporters  as it paves over thousands of acres of farmland in the Greenbelt and adds millions of tonnes of greenhouse gases to the environment in coming years. Haudenosaunee member of the Cayuga Nation, Jacqueline House reminded everyone of the significance of the two-row wampum agreement going back centuries, that represents what should have been respect and consideration between Indigenous peoples and settlers – tossed aside time and time again – more recently as the Tories backtracked on their promise to preserve the Greenbelt and made way for yet more of their supporters to make money from carving it up. Aside from the destruction of thousands of acres of protected land, Bill 23, passed last November, also lets developers off the hook for paying local municipal fees to provide infrastructure for affordable housing.
It's been a long 5 years for health care in Ontario. Natalie Mehra of the Ontario Health Coalition described it in stark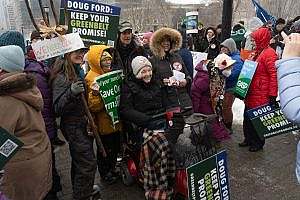 terms: "It is not progress to cement in development. It is not progress to pave over the Greenbelt. It is not progress to privatize the public health care system, something that took the better part of a century in this province to build." It's also not progress, she went on to say, when a government rolls back gains from and rights to collective bargaining, "to privatize the public realm." Just this past week the Ford government introduced the Your Health Act legislation to allow for-profit clinics to conduct more surgeries. The Tories say the status quo in heath care is unacceptable she observed, "…but who made the status quo? The Ford government spent the last five years in office. During the pandemic they put a wage cap on the same workers who literally risked their lives every day…"
Speaking on behalf of Ontario's teachers' unions, Elementary Teachers of Toronto (ETT) president, Helen Victoros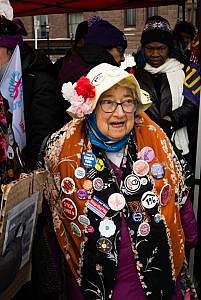 said "We know that the Ford government has lied to every single parent and caregiver and teacher and education sector worker across this province since they got elected in 2018." It's done virtually nothing to deal with a nearly $17 billion repair backlog in the province's schools, address rising violence against students or provide the robust support needed by young people who face racism and poverty. For every thousand students the government funds 1.7 support staff. The Toronto District School Board, alone, was underfunded by $75 million for special education last year, she added. This comes on the heels of a People for Education report indicating that 28 percent of schools across the province have no access to school psychologists – a number that's doubled since 2011. Ms. Victoros pointed out, while there is more than enough money to have strong public sector services, the Ford government "is shovelling what is meant for the common good to the wealthy developer friends that are attempting to take down out Greenbelt as quickly as possible."
Last fall CUPE education workers unions across the province backed off Doug Ford in his third shot at abusing Section 33 of the Charter of Rights and Freedoms enabling governments to pass legislation "notwithstanding" that it doesn't pass the smell test for constitutionality. In this case the bully move was supposed to force education workers into a corner over tiny wage increases and a cut in sick-leave pay. On Saturday, CUPE Ontario president Fred Hahn reminded everyone the ploy didn't work: "that there's more of us than there are of them" – meaning Conservatives – and committing to connect CUPE membership "to this movement." Everyone there, on Saturday he added, represents thousands of others across the province.
Green Party leader Mike Schriener, thankfully didn't join the Liberals, but showed up at the rally to say that there are other ways than creating sprawl to provide people with the housing and transportation they need. NDP leader, Marit Stiles was conspicuously absent.
In the end David Grey Eagle of the Iroquois Mohawk Confederacy Bear Clan, who in the 1950s, was "raised in the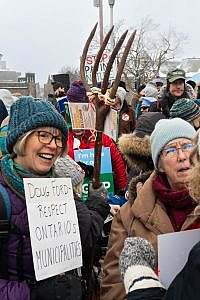 wilderness of Scarborough" explained that action came down to knowing who you are. In that light, he asked one day how he could fight against the destruction of the land around him. His ancestors instructed him to take the land back and that is what he's continued to do, filing a claim in 1999 against the government for non-consultation over a hundred years of land claims. He's chained himself to trees, fought to preserve an ancient village in what is now Markham. The government is still not consulting his people or anyone else without a special interest – "and that's why we're here." Imagine the relentless patience required in this struggle.
As it said in its flyer, "Welcome Back Doug – #Its about everything": Indigenous and workers' rights, health and long-term care, the needs of those less able to support themselves, those who need an affordable place to live, a decent education, a healthy environment and democracy-  the spine to which responsible government is bound. All of this and more is on the wane. What happens next to rejuvenate the common good?
Hopefully those who have committed to welcoming the back of Doug will stay the course. There are many, many groups across the province trying to help their friends and communities cope with the dire situation outlined on Saturday. For this movement to be serious, it needs central support from unions like CUPE (Ontario) and ETFO to strengthen local actions: organizers to train other organizers so that local groups know they have support and can maintain the steady harassment of this government necessary to hold its misconduct in our collective memory. It's about beginning to prepare for the next election.
The last one didn't turn out too well. When I spoke to Fred Hahn about it, he chalked some of the problems up to the exhaustion of pandemic and the disconnection people have felt with government. Part of what we have to do he said is to give people hope that we can make a change "we must have faith in ourselves. It's the only way that change has ever been made is when people come together to make it."
And seriously organize.